An interesting idea that actually delivers!
If you're looking for a toy that keep the clitoral vibration a little subtly but adds some really unique rubbing to your small, flexy vibrator routine then you really should pick this one up. Especially, if you like your insertables on the smaller side. Really nice item.
Published:
Pros:
Nice size, great material, interesting clitoral stimulation idea
Cons:
Easy to turn off accidently, no patterns, and a button that can be hard to push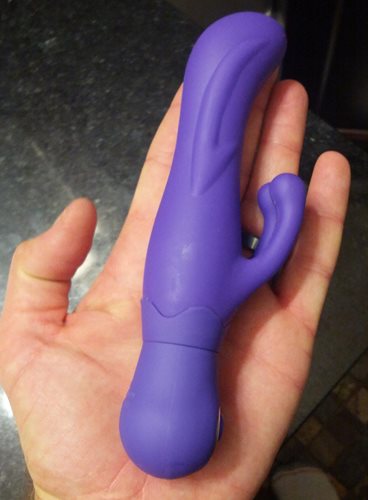 This is a medium-sized descendant of the rabbit genus. I say descendant because while it's shaped like a rabbit vibe the vibrations are centered very differently. A normal rabbit might have a vibration unit in the shaft, but it definitely has some vibration in the ears. This toy has one vibrator (fairly strong, sort of quiet, three speeds, no patterns) and it's right below the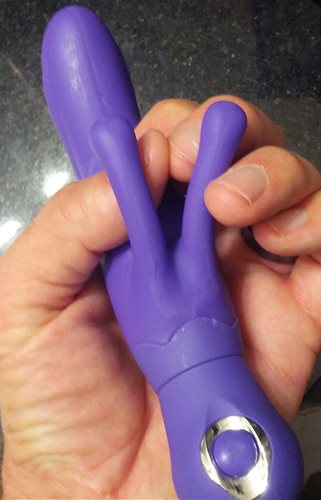 flexy fingers. Those fingers are what set this toy apart from the normal rabbits.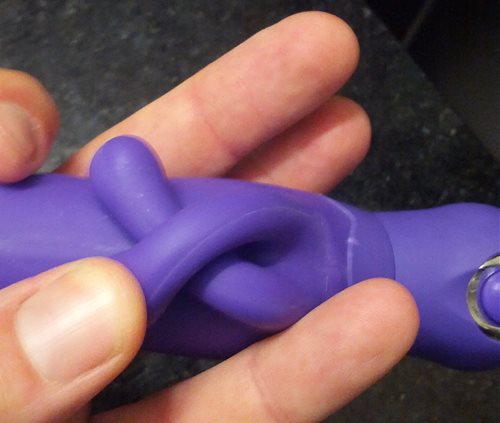 First things first, this is a silicone toy, so don't use silicone lube with it, do sterilize it for use with multiple partners and realize that it cleans up easily with soap and water. This toy is not for size queens, but the wife has a fairly shallow cervix and doesn't like it bumped hard, so this was perfect. The girth is enough to be substantial without requiring stretching beforehand. The button is nearly impossible to push accidentally, and maybe a bit hard to push on purpose. The end twists off with a quarter turn, so the 2 AAA batteries are easy to replace, but if you use this toy like I think it was meant to be used it's really easy to accidentally turn the top enough to make the toy turn off at very inconvenient times. The vibrations on any speed aren't super loud, but you do want a door between you and anyone you don't want hearing you. It's plenty strong enough to get you there, but it's not going win any strength prizes, but it's surprisingly deep and rumbly.
This brings us to actual use. When I took it out of the box I worried that it would be a real dud. It seemed like the vibrations just wouldn't get where they needed to go. But this one surprised me. The silicone transfers vibrations very well and the vibrator is right under those fingers so it stimulates the entrance to the vagina (a favorite place for the wife) and the fingers really do slide right up on the clit and transfer enough vibrations to be really useful. The toy really starts to sing when you twist it inside her though. The G-spot curve hits the right spaces inside and the fingers hug her clit and rub it in delicious ways. You can also get your tongue involved with the fingers and suddenly you're in danger of TOO much stimulation. Use it sparingly.
The shaft is just silicone so it's very flexible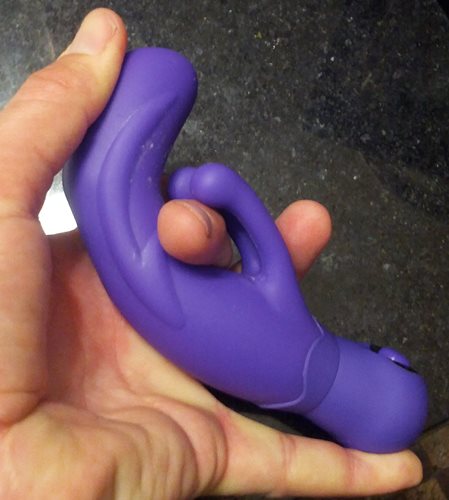 This keeps it comfortable, but prevents really direct G-spot stimulation.
All in all a surprisingly good little toy, sized right for your travel case and full of all kinds of fun.
Experience
This one can be a little subtle unless you really insert it deep and twist it firmly then the balls on the end of the little fingers are perfectly designed to rub her clit in all the right ways. Be careful though. When I used it on the wife we were heading for some great territory (only slightly set back by the three times I accidently turned it off) and then I really got in there with my tongue and the fingers rubbed the side of her clit, I licked the tip and we got her there too fast and she didn't get the lovely plateau as she approached orgasm. Tactical error, but an easy one to make with this toy. Also it just really looks lovely, the purple of the toy cradling her pink clit. An experience not to be missed.
This product was provided free of charge to the reviewer. This review is in compliance with the FTC guidelines.

Thank you for viewing
Posh double dancer
– g-spot and clitoral vibrator review page!