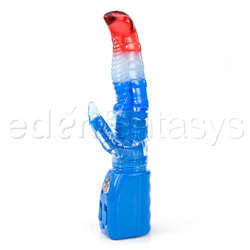 Arousal cobra vibrator
G-spot rabbit vibrator
by Top cat
Arousal cobra vibrator sex toy review
The Arousal Cobra Vibrator first reminded me of an ice pop. With its red, white, and blue sections, it almost looked good enough to eat! The head was nicely shaped to give it a satisfying sensation on insertion. The shaft had both large and small rid
Published:
Many years ago I tried the
dual action vibrator|Dual action & Rabbit vibrators
made famous by an episode of Sex in the City, but unfortunately for me, it didn't live up to its hype. Since then, I never ventured into trying another dual action vibe; I thought they just weren't for me! However, when I received the
Arousal Cobra Vibrator|Rabbit Vibrators: Arousal cobra vibrator
by Top Cat, it was just too cute not to give it a whirl or two.
The Arousal Cobra Vibrator first reminded me of an ice pop. With its red, white, and blue sections, it almost looked good enough to eat! The head was nicely shaped to give it a satisfying sensation on insertion. The shaft had both large and small ridges on the front and back, giving it a pleasurable feeling all the way through. And upon insertion, the tail rested in the perfect position on my clit without having to make any adjustments!
I tested this rabbit vibrator several times over the few weeks I've had it, and this Cobra sure packs a powerful bite. Both the rotation and the vibration slider dials have three speeds: low, medium, and high. The rotation of the shaft, though hard to detect at the low and medium settings, really kicked in once I turned it up to high. The vibrator settings, however, were pleasurable and exciting on every speed. Even with the "vibrate" setting on low, I was instantly aroused.
I have to admit, a gyrating shaft inside of me didn't exactly knock my socks off. But when I turned the rotation off, and used the cobra as a dildo with the vibrator turned on, I was blown out of the water. I thoroughly enjoyed the way the ridges on this cobra felt as it stroked me from within and how the tail hit just the right spot with every movement.
This is a fabulous sex toy for simultaneous penetration and vibration. I would recommend the Arousal Cobra Vibrator to both the novice and seasoned user. It was comfortable to hold when playing alone, and it was also a fun toy to use with my husband. I was furthermore impressed with the soft and smooth feeling of the rubber material; a wonderful sensation, both with and without lube. The vibration (which only occurs in the tail) and the rotation (which only rotates in the shaft) functions are surprisingly quiet for such powerful motors. If you are looking for a
rabbit vibrator
, this is an excellent choice.
This product was provided free of charge to the reviewer. This review is in compliance with the FTC guidelines.

Thank you for viewing
Arousal cobra vibrator
– g-spot rabbit vibrator review page!