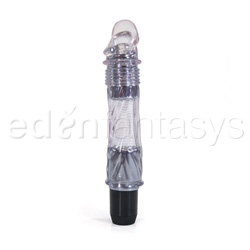 EZ bend slims ridged penis
Traditional vibrator
by California Exotic
Bend It! Bend It Good!
It's a good vibrator for the price, however, don't expect too much. The flexibility aspect is outweighed by lower vibration and breakable parts.
Published:
Pros:
Flexibility, comfortable material, powerful vibration for small batteries.
Cons:
AquaGel material collects dust, fuzz, etc., as well as battery compartment breakage after one use.
I picked this vibrator to review first and foremost, because it was waterproof. I've always been afraid of using a vibe in the bathtub, thinking that I'd electrocute myself as soon as I turned it on. Finally, I got up enough courage to request the EZ bend slims ridged penis and was ready to conquer my fear.
First, I must say that I am amazed at the flexibility of this vibe. The product description said that the vibe could be positioned in any angle, but I didn't realize how true that description was. It can bend to the left, right, up, down, it can even fold completely in half. I'm not sure what purpose bending it in half serves, but it was fun to see how many different ways I could bend it.
The EZ bend slims ridged penis runs on 3 AAA batteries, which give the vibe some power, but not an explosive amount. I gave this vibrator 3 vrooms because you can definitely feel the vibration, it's just not as strong as I would like it to be. For people who like a lighter vibration, this is perfect for you.
Another feature I really liked about this vibrator is the AquaGel shaft. Personally, I prefer softer material to harder plastic even though it has a lower safety rating. The AquaGel on this vibrator is very unique because of the detail put into the ribbing on the shaft and the realistic feel of the head. However, one of the major downsides to the jelly material is that every piece of fuzz in the room is drawn to the vibe, so I'd recommend storing it in the plastic box it came in, or wrapping it in a fuzz free cloth. [Editor's note: this material is also very porous, so condom use is strongly recommended, especially if sharing.]
Unfortunately, my vibrator is no longer waterproof. After using it on the first day, for maybe thirty minutes, I found that while I was using it, the battery compartment completely separated from the actual vibrator part, exposing the wiring. I've tried to put the compartment and the shaft back together, but sadly, it is broken forever, unless I choose to bring out the hot glue or duct tape.
The
EZ bend slims ridged penis
is a very good vibe for the price and also for G-spot stimulation because of its bending ability, I can only hope that I got the one defective vibe out of the bunch and that you will have better luck.
This product was provided free of charge to the reviewer. This review is in compliance with the FTC guidelines.

Thank you for viewing
EZ bend slims ridged penis
– sex toy review page!