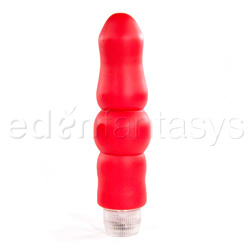 Vivid red hots Briana
Traditional vibrator
by Doc Johnson
Better than a Cherry-dipped Cone
I believe not only did Doc Johnson get it right with the Briana, but when you take a look at the whole Vivid Red Hots line, you are sure to be enticed to try at least one. Priced comfortably, made well, filled with power & pleasing to the eyes with that bright red color, how can one go wrong?
Published:
Pros:
Material - very hygienic, waterproof, easy to clean
Cons:
Screw on the dial base can loosen up & needs occasional tightening. Power settings are limited
I must admit that with my normal shopping preference for vibrator on the higher end of the price scale, I was skeptical about this toy being able to stand up. I usually seek out the ones with the multiple settings, high battery power and a reputation for getting the job done. I just wasn't convinced this toy was in the same league.
Vivid Red Hots Briana by Doc Johnson
however proved me very wrong.
Right from the start this toy appealed to all five of my senses.
Sight
– The Briana is bright cherry red and reminds me of my favorite ice cream treat, a cherry dipped cone, with its three distinct tiers, from the long smooth tip down the shaft to its seamless base, nestled on top of a simple, easy to use, clear dial base.
Smell
– The scent is minimal, if any. I experienced more the scent of "newness" as oppose to a distracting plastic scent.
Hear
– What a quiet little thing this toy turned out to be. No need to muffle it with pillows or heavy blankets. The buzz will lull you into ecstasy, even at it highest setting.
Taste
– Although reminding me of a cherry dipped cone, I must sadly report the taste does not compare (yes, I did taste it). Since we can all agree we are not interested in this toy for taste, I'll move on to the next sense.
Touch
– Who knew that TPR could be so welcoming to the touch? It is a smooth, rubber-like material, similar to those little high bouncing rubber balls you can get out of a gum ball machine. I almost had an urge to throw it down onto my floor to see if it too would bounce. The material is non toxic and is virtually non-porous, making it easier to clean, waterproof and categorizing it as very hygienic.
As I powered her up and held her in my hand, I couldn't help thinking of the story of the Little Engine That Could. The Briana is proof that great things come in small packages and that small packages can make you come and feel great things.
I have come to like that the dial knob at its base is not as exposed as buttons would be, making the possibility of accidentally powering it down in the heat of the moment not so likely. The tapered head, along with the smooth material offers an eager invite to penetration. There are no sharp seams and no loss of vibration power. Each section flows endlessly from one to the other, offering your pelvic muscles a teasing workout.
The simplicity of the Briana does indeed make it a great beginner toy for those new to the toy scene, however for those with elaborate toy collections, don't overlook what the Briana has to offer – you won't be sorry.
Experience
My playing experience with it was wonderfully enlightening. Yes the Briana carries more punch to her than her petite size reflects. Needing only two small AAA batteries inserted in her base, the Briana has delivered the pleasure she was made for. Her vibrations run the entire length of the shaft. Her hand-held size avoids the clumsiness you may experience with larger more elaborate toys.
This product was provided free of charge to the reviewer. This review is in compliance with the FTC guidelines.

Thank you for viewing
Vivid red hots Briana
– traditional vibrator review page!