Big Orgasms in a Petite Teaser
The Posh Petite Teaser 2 is a really nice, lightweight product that won't kill your budget and won't take up much room in a suitcase. I believe it will be my "go to" toy for regular G-spot and anal use. It is easy to use alone with just a fingertip hold, but the LED indicator is great for partners and can be used by women and men. It does exactly what it is designed to do and should be in everyone's toy box.
Published:
Pros:
* Perfect for G/P spot stimulation
* LED light shows what mode it's in
* Great for women and men
Cons:
* Button location too easy to hit solo
* Not for beginner anal
* Low vrooms for clit
Packaging is a simple white cardboard box with a picture of the toy on the front and material information in several languages on the back. The toy comes sealed in a plastic bag. There was a single paper that showed battery directions; it uses 1 AAA battery. The box is the perfect size for storage, but it is not discreet.
Made with Silicone, a 10 on Material safety scale, it is non-porous and easy to clean. You can use soap and water or your favorite toy cleaner. I used antibacterial soap and water and submerged it in the sink. Silicone repels dirt and bacteria. It does, however, pick up some lint and can have a slight drag. It is Phthalates free. Remember silicone against silicone will ruin your toy. Only use water based lubricants and be sure to dry it all the way before storing AWAY from other toys.
The Posh Petite Teaser 2 is firm enough for easy penetration of both the vagina and the anus, but maintains a more realistic feel because of the silicone give. There is a slight drag and lubricant may be needed. There is a slight plastic smell, but not enough to notice unless it is right under your nose. There is no taste.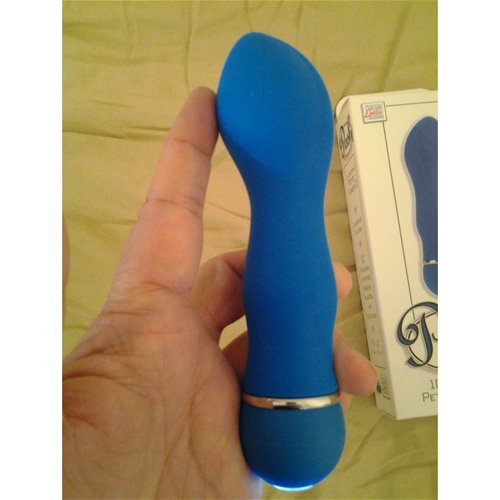 The design is divine with a bulbous head that is slightly curved with a second small flair and taper towards its base. The curve is absolutely perfect to hit the G-spot and the P-spot. It is great for men and women. The second flare added a nice stimulation at the entrances of both the vagina and the anus. Its length is 4 ½ inches, with about 3 ¼ inches insert-able. So, when fully inserted it hits right where the G spot is on women and the prostate is on men. There is no guess work. This toy isn't meant to "fill you" but is great for precision as the outer 1/3 of the vagina has the most nerves.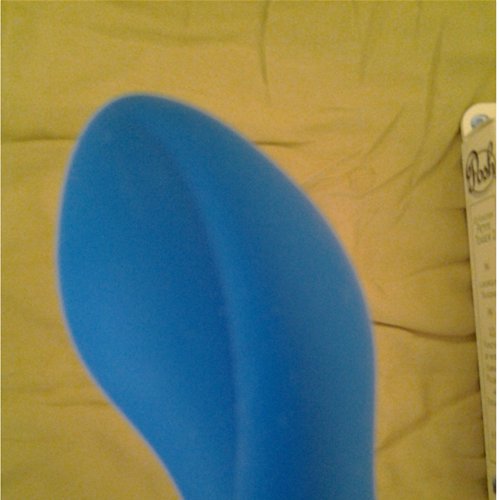 The widest part of the head measure 1.5 inches in diameter. Beginners should only use it vaginally. I found I really had to concentrate on relaxing to remove it anally. The bulb acted like a stopper and the taper is where the anus closes around it. I admit, I took a deep breath and was nervous for a moment. There is a silver plated band where the cap meets the body that is pretty and serves as a reminder of how far you can insert. I kept my thumb on it. This is the only place I could see where cleaning may be an issue but I didn't have a problem.
The on/off switch is an easy to press button at the very base of the toy, which is a rounded twist cap for the battery compartment also covered in silicone. This made for a light weight easy grip with just my fingertips. The button also functions as a mode selector and is lit with an L.E.D. light that blinks in time to the pulses. It has 10 settings with 3 speeds. I found it didn't have quite enough power to bring me to a clitoral orgasm, but, I still enjoyed cycling through the pulse and escalation settings to find what was right for me. Adding pressure increased the sensations. The vrooms were perfect for G/P spots. The one major flaw is that the button is so easy to push that I found myself pushing it by accident. This was very distracting. You have to hold the button for 3 seconds to shut it off.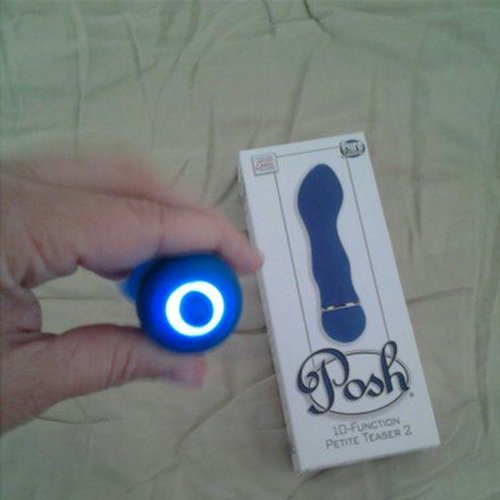 My Sir absolutely loved the LED light. He said it increased His stimulation by knowing exactly what rhythm was happening and He could tell by sound what speed it was on. As a bonus the LED acts like a small flashlight to find the lube in a low lighted room. That was a funny moment.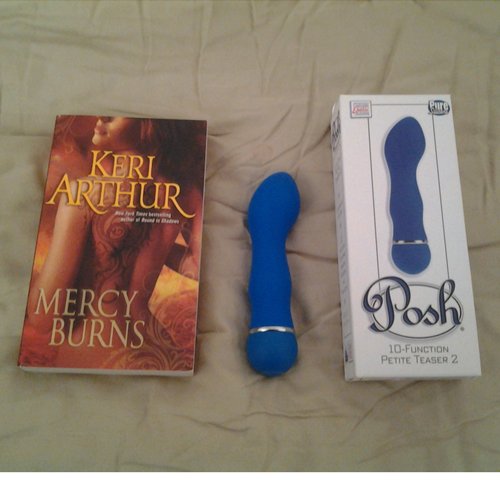 It feels very sturdy and well made. While I am careful with my toys, I am not afraid to drop it. Its size and weight make it perfect for travel, but it is not discreet. Remember to take the batteries out before storage so airport security won't be concerned about a vibrating suitcase if the button is hit. I am told this happens often.
As far as noise level goes, it has a louder and higher pitched sound with the higher settings. I could hear it through the bed covers, but not through the door. Like I said, my Sir liked the sound and light cues a lot. I think this will be His new favorite to use on me… not that I'm complaining.
Experience
While my Sir watched, I used the Posh Teaser 2 solo. I started on my clit and cycled through the 10 settings. I found 3 favorites: The first escalating setting which felt like multiple fingers tapping; shortly after there is a low vibration thump that felt good with added pressure from me; but my favorite over all was a high speed quick tap. It was nicely stimulating, but again, not enough power to send me over clitorally. Next, I used it vaginally with a steady high speed vibration. Oh my god, it went straight to my G-spot and it didn't take me long at all!!! I did play with the settings but found that to be my favorite there. Finally, I used it anally. I liked that the curve isn't too sharp and the bottom of the bulb covers about a half inch area, so there is no guess work and the length is perfect. I liked all the settings there, even the low ones. This was good because that is when I had the hard time with hitting the button as I am used to pushing from under the base with plugs. It was quite comical I am sure, but annoying the same. There is no wide base to act as a stopper for anal use, so I used the silver band with my thumb as my do not go past line. My Sir loved watching the light so He knew exactly what setting I was on, although He laughed at my plight. I am sure that with practice I will find a better hold. The hardest part was removing it from my anus as my muscles just didn't want to let go and the shape acted like a stopper the wrong way. More lubricant and relaxation techniques should help this. I can't wait until next time when He will be in control of it.
UPDATE: Tried it again, this time He was in control. My Sir loves using it on me. He is crazy about the LED light and now wants all vibes to have one. No problem this time with anal.
Follow-up commentary
4 months after original review
While this is no longer my personal "go to" toy, it still works great and is one of my Sir's favorite to use on me. Yup! It is still used on a regular basis.
This product was provided free of charge to the reviewer. This review is in compliance with the FTC guidelines.

Thank you for viewing
Posh petite teaser 2
– discreet massager review page!