Big pink marshmallow broke after 1/2 hour.
I LIKED this toy and was able to orgasm after about an hour and a half. The pulsing setting is nice and strong. After getting stuck on pulse I attempted to fix it and it stopped working all together. This toy is so cheap I'm not even going to bother sending it back. It is a pretty shade of pink and the material is extra soft and pillowy.
Published:
Pros:
really soft
cute color
somewhat powerful
Cons:
broken
cheap
I was so looking forward to using the Large Soft Bullet after reading the good reviews on it, and the low price tag was a huge plus for me as well. After saving up enough Eden Points, I got this for a steal at a mere 2 bucks. After not even an hour of use, I'm really starting to regret this.
The packaging on this toy is pretty tacky. It is a small pink/purple box with a naked girl hanging onto a stripper pole. Honestly, the expression on her face doesn't look like this toy impressed her much either. The package claims this toy is waterproof, which I find hard to believe due to the fact this toy is barely masturbation proof. It then states a few facts about the toy, including that it is 13 cm long. It's much longer than a finger, and about the width of two fingers.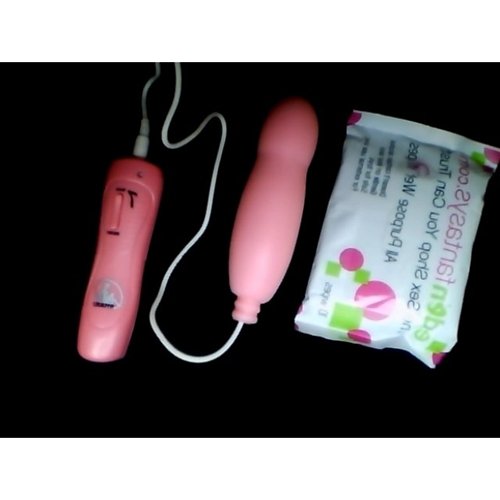 This toy claims to have 7 functions of vibration. The only ones I got to test out were a long and steady vibration and a really fast, strong, pulsing pattern. I did attempt to scroll through the different patterns before testing this toy out and I only remember a low, steady vibration, and a high steady vibration. There are also a high pulsing (which my toy got stuck on before it broke) and a pattern that was pulsing from low to high vibration (which I assume is escalation?). The lowest vibration was 2 vrooms at best and the highest a 3 MAYBE 4. The bullet is only 1 and 1/4 inch long located in the 'head' portion at the top part of the toy. The bottom part of the 'bullet' is hollow, so do not expect to get a huge five inch firm vibratior. The hollow portion is a pretty handy handle to hold onto.(After my toy quit working I fumbled with the bullet for a bit, and it slid out of the upper bulb portion into the portion that is hollow and got stuck there. The texture of the toy makes it very hard to get back into to tip were it belongs.)
The texture/material of this big pink fluffy I adore. It is super soft, and reminds me of one of the giant marshmallows use to cook smores. The only part that is semi-firm is the small bullet in the tip, but the sillicone cusions this also. The hollow portion I mentioned above, is great when using it as a handle while the bullet sits on the clitoris. The downside to this is it may be harder to apply pressure to the clitoris, because it is extemely flexible. But your fingers won't go numb, the vibrations dont travel well into the hollow portion, which is a plus. The control/battery pack is simple and cheap feeling. It has an on/off button, and a (7) mode button. When shifting through the patterns, a bright red light blinks according to the function you're on. It is lightweight and fits comfortably in the hand. It takes 3 AAA batteries that you have to allign accoding to the little image behind the cover of the control pack. The cord is a short 12 inches.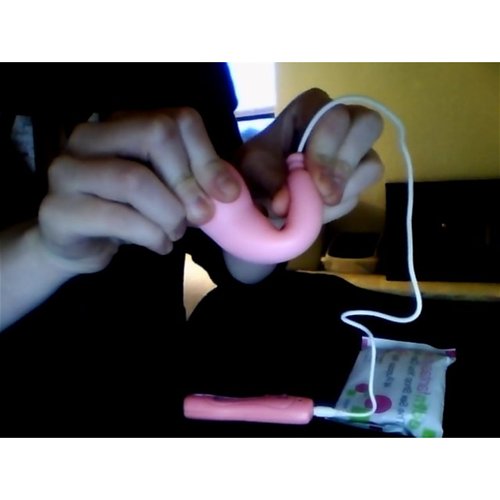 During my quick session I found the high and steady mose most appealing, and I also got to try the the fast pulsing out, where it got stuck. Instead of ruining my build-up for an orgasam to detect what was wrong when I tried to switch patterns, I left it alone and finished with pulsing. (I only used this as a clitoral vibe). After I was done I took the batteries out, replaced them, fumbled with the control pack for a bit to no avail. The toy simple stopped working all together. This toy is a cheap gamble, and just didn't do it for me.
Follow-up commentary
1 day after original review
I can't really write much of a follow up to the large soft bullet, because it's broken. I can tell you that while fumbling with the control pack (to see if I could magically fix it) the wire that is connected to the bullet completely came out, and I wasn't tugging on it or anything. This toy is a hazard, and I would recommend people to stay away from it. I've never been dissatisfied with any toy from Eden, but this one is a real nightmare. I regret using my points towards it. Buy a better bullet.
This product was provided at a discounted price in exchange for an unbiased review. This review is in compliance with the FTC guidelines.

Thank you for viewing
Large soft bullet
– bullet vibrator review page!