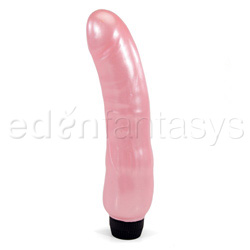 Jazzy power vibe rumba
G-spot vibrator
by Topco
Bigger Than I Thought
This toy was larger than advertised, but gave pleasant stimulation because of it. The vibrations were present, but not enough to really make a big deal out of. I would not recommend this toy to people with no experience using large length or girth toys, or for anal use because of the materials tendency to tear.
Published:
Pros:
Small pleasant vibrations, smooth life-like feeling.
Cons:
Toy is larger in girth and length than advertised.
When I got this toy in the mail, I must say I was surprised. The description of
The toy on the site says that the toy is 8", with 7" of insertable length, and 1 1/2" in diameter. The toy was a little bit larger than that. The packaging and my own measurements revealed that the Rumba was actually 9.5", and had about 9" of insertable length.

This was not much of a problem, as the length was about the same as my partners, but what made this toy a little intimidating was the diameter. The diameter was almost 2" which I will admit is thicker than my partners. When I showed him the toy he laughed and said we were going to have fun with it, and that he wasn't intimidated by its superior thickness. I was, however, concerned with the difference in advertising.

The rumba is made of smooth gelatin-like rubber. When I first opened the package I could smell the distinct scent of rubber. I also noticed that the toy was slightly, sticky, even after washing with warm water and mild soap. Because it is rubber, it is not compatible with hot water, and harsh detergents, and as always its better to use a condom with this type of toy in order to make it last longer. I did use a condom with this toy after I noticed that the sticky feeling was still present after washing. Lubrication helped, but still made it uncomfortable to use without a lubricated condom.

I would not recommend using any kind of cloth, especially towels made of fleece, to dry this toy after cleaning. The rubber attracts lint like a magnet, and it get a little difficult to get it off. Also, never drop it on the carpet like I did! Carpet fibers are very hard to get off of this toy. I recommend mild soap and warm water, or toy cleaner, and air drying. I have not used toy cleaner wipes on this toy, but I assume they would be fine for this type.

This toy uses two AA batteries. I don't think that the vibrations were transferred very well through the rubber. You can feel the difference between new and old batteries, even if the vibrations are small to begin with, so I suggest new batteries. I also liked the dial feature, which gave me more control over the level of vibration.

Upon arrival, I noticed that my toy had a split where the dial for the vibrator portion and the rubber were supposed to be connected. I could actually peel back the rubber and see the layers of foam underneath. For this reason I know that my toy will not last as long as I expected, because wear will happen faster.

I would not recommend this toy for anal use because of its ability to rip open at the end seam so easily. There is a larger base, meaning that it would stop it from being fully inserted, but the penchant for tearing could mean bacteria can get caught in the toy layers and cause infections.

My experience with this toy was a nervous one. I am very comfortable with my partner's length and width, and it is very pleasurable. This toy was almost the same length, but much thicker. I noticed it was very uncomfortable for me to insert the first time. I could feel my entrance stretching to accommodate the girth which was helped by the vibrations which relaxed my vaginal walls. With this particular girth, I would caution beginners to try. It does make you feel very full, and that you can get the maximum amount of stimulation. However if you are not accustomed to this length and/or width, you will feel a little uncomfortable using the toy; and the day after. I compare the feeling with the first time having intercourse, if you have had no experience whatsoever.

Overall I enjoyed this toy, but as I was expecting a smaller toy. I may not use it as often as I had hoped. I do feel like the larger girth may affect the sensations I feel with my partner, just because my vagina may become accustomed to relaxing much more, the more I use the toy; which could result in less stimulation with my partner. I was also disappointed in the amount of vibration transferred through the rubber. It was present, and pleasant, but left me wanting. Some may enjoy this, but I would rather it not have the vibration at all if it was so small.
Follow-up commentary
1 month after original review
This is still one of my least used products. I just don't enjoy the process of insertion. It's uncomfortable for me unless I have assistance.
This product was provided free of charge to the reviewer. This review is in compliance with the FTC guidelines.
Thank you for viewing
Jazzy power vibe rumba
– g-spot vibrator review page!