blueMotion or buzzMotion?
If you do not mind buzzy vibrations and noise, while also preferring to clean your vibrators with wipes, the OhMiBod blueMotion might be for you. The toy provides a unique experience for long distance relationships while also having a great range in patterns through its unique controls. However, if you do not meet those requirements, steer clear of this toy due to its fatal flaws.
Published:
Pros:
Innovative technology, can be controlled via WiFi, great shape, great variation in patterns.
Cons:
Not waterproof, buzzy, loud, WiFi capabilities require additional purchase.
I had high hopes for the OhMiBod blueMotion - it could have been the perfect vibrator for those in long-distance relationships and/or those that crave to discreetly masturbate in public. Alas, it is fatally flawed and cannot fulfill either of those roles.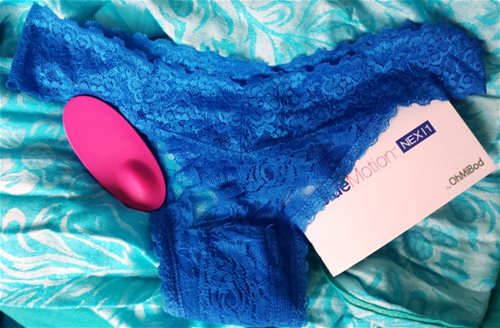 blueMotion Nex 1, thong, instructions
The blueMotion is a panty vibe and fits the part well. It is made entirely of ABS Plastic, with the part touching the skin having a PU coating. The vibrator itself is rather small, measuring 1.75" wide by almost 4" long and about .75" tall. The overall shape is somewhat curved, letting it contour better to the body. There is a nub that comes .25" out of one of the sides, meant to increase stimulation in either the clitoris or vaginal opening depending on how it is worn. There is only one button on the toy which turns the toy on and off, and also functions as a light to inform you of when the toy is on (blue) or charging (pinkish purple). The patterns and such are controlled via a free application that can be downloaded onto Apple and Android phones, with a variety of patterns available. This design is effective for what the toy is meant to do; it is large enough to cover much of the labia, while also being small enough to not be an awkward bulge when worn under jeans.
The toy comes with a one-size-fits-most thong that actually will fit most sizes, though it look more like a lace bikini than a lace thong on smaller sized women. The thong has a pouch in the crotch area that the blueMotion can fit into, though not without sticking out a little.
Now for the flaws...
Flaw #1: It is not waterproof.
This is a deal-breaker for me; to be honest, I probably would not have gotten the blueMotion had this adequately been disclosed. I don't like having a toy that is only splashproof in such close proximity to my genitals, where discharge or sweat can easily ruin the toy for good. Sure, there is a charging port cap, but it has come undone for me before. Toys this expensive should not be afraid of water.
Flaw #2: It is loud.
I assumed that a panty vibe would be quiet enough to be worn discreetly in public, but, sadly, no. Instead, it can be heard through a closed door on the highest settings while still being fairly loud on the lowest settings. It's annoying, really - while testing this toy, I had to have
How I Met Your Mother
reruns on so that my roommates would not hear it. Sadly, this makes the toy impractical as a discreet panty-vibe unless you either don't mind everybody knowing that you're wearing it or are going to really loud places.
Flaw #3: It is buzzy.
While testing out this toy, I constantly had the strange feeling that my labia is itching. It was not a reaction - no, instead this was just a sensation that I kept feeling because of the degree of buzziness. I'm not somebody that only needs rumbly vibrations, but there comes a point at which buzzy becomes too buzzy for me to enjoy it. This is that point. It feels (and sounds) more like a cheap, low-end vibrator than a luxury toy.
Flaw #4: You have to pay for the WiFi capabilities.
I understand that not everybody needs this functionality, but after paying so much money for a toy it would have been nice for them to have included some kind of a code to access the WiFi capabilities for one device for free... I highly doubt that they would be losing that much money had they done so. I admit - this is a petty complaint that probably would not have bothered me much had I actually liked the toy... but, as I did not like the blueMotion, I reserve the right to complain about anything that I please.
There are certain people that would enjoy the blueMotion. For example, if buzzy vibrations and noise do not bother you and you mainly use wipes to clean your toys, you can probably overlook the fatal flaws and actually appreciate the variation in patterns that this toy offers. Alas, I am not one of those people.
This product was provided at a discounted price in exchange for an unbiased review. This review is in compliance with the FTC guidelines.

Thank you for viewing
blueMotion Nex |1
– vibrating panty review page!