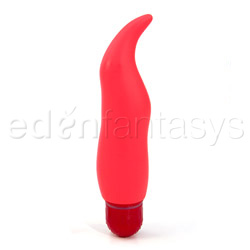 Silicone probe
G-spot vibrator
by Top cat
Challenging Curves
Despite its interesting shape and pleasant thickness, the silicone probe just didn't have the right curves to hit my spot.
Published:
Pros:
Good vibration, nice solid yet pliant feel, waterproof.
Cons:
That pointed tip can be a little intimidating, and limits range of motion.
The "challenging" shape was what drew me to this G-spot vibrator. Like a finger crooked in a "come hither" gesture, it looked just right for concentrating all the power of an AA battery right on my G-spot or for delivering a strong, firm buzz to my clitoris.

Phthalate-free silicone makes this probe firm yet pliant, and it's waterproof for fun in the tub. Just make sure, since it's silicone, not to pair it up with silicone lube. Water-based only! It had a slightly sweet smell out of the package, but that faded quickly. The dial is plastic and nubbed for easier turning with wet or sticky fingers.

The G-spot isn't something you can dive right into without a warm-up, so I teased the buzzing tip around my clit a while and teased it at my hole until I was dripping wet and absolutely craving those curves inside me.

The tapered tip makes insertion easy, and it swells to a thickness that I found extremely pleasant, but unfortunately that's where my pleasure with the design ended. We're all shaped differently inside, and the silicone probe's curves didn't quite match up with mine. When I slid it in, I found that it was just a little too short to reach my G-spot, and with the firmness of the crook at its tip it was very uncomfortable to thrust in and out. This one's made for staying in place and wiggling a little - the tip isn't so solid that you'll poke yourself with it, but I found it too firm to drag it along my sensitive inner walls.

I experimented a little, playing with other toys until I was close and then letting this one vibrate near my G-spot to push me over the edge, but I still found the length and shape to be an issue. I had really high hopes for this one, and I ended up disappointed.
Experience
I know it can be frustrating trying to track down that elusive spot, but if you're just starting out and you can't find your G-spot with this toy -- or any individual toy -- don't give up. We're all shaped differently and you may just have not found the toy or the angle that best fit your own internal curves.

I know where my G-spot is and how to hit it, and how it feels when I do. This toy just wasn't shaped right to reach. I have a male partner who despairs that no toy he's ever tried has been able to hit his prostate just right, and I was reminded of him while I wriggled the probe around inside me.

In summary, it felt... good, but not good enough to get me there on its own. If it'd had just a slight variation in shape, or been a little longer, or been a little more thrustable, or... something, I think it would be taking a place among my favorites. It's got a nice buzz, and a nice thickness. It may be a better fit for your body shape than mine, and even if it doesn't tickle your g-spot, it's still not a bad option if you just want that feeling of fullness along with other, external stimulation.
This product was provided free of charge to the reviewer. This review is in compliance with the FTC guidelines.
Thank you for viewing
Silicone probe
– g-spot vibrator review page!