Conquering My Other Vibes
The Conqueror could be like so many other vibes out there with a similar bulbous-head shapes. But the strong and unique vibrations, combined with the pulse patterns make this one exciting ride. Whether you use this on the clit, inside, or both… an orgasm is just about a guarantee.
Published:
Pros:
*Strong, unique vibrations
*100% silicone
*Pulse patterns
*Shower-buddy
Cons:
*Not water-proof
*Easily bumped control
USE/DESIGN/SIZE
The Conqueror by Touché is ideal for ladies' solo internal and external stimulation. It's perfect for thrusting, and the head massages the g-spot with each stroke. It can even be angled for deeper/firmer g-spot pressure. The vibrations carry well throughout the entire toy, making it perfect for nipple and clit stimulation, and other erogenous zones. I can't recommend it for anal-insertion, however, as it lacks a flared-base to prevent over-insertion.

The design is pretty simple; a straight 8" (7" insertable) non-phallic shaft, with a tear-dropped shaped bulbed-head. The head flares out to 1 3/4" diameter, and then back down to 1 1/3" at the neck, slowly back to 1 3/4" at the base. The head also sports a lip that pouts out midway down, and flows to a shallow "V" with a small dot connecting the curves, reminding me of a closed tulip. Inside, this lip is't really felt. However, when rubbed in slow, stroking, circles over the nipples or clit, it provides a lovely caressing sensation. At the base is another design thats like a thin snake coiled distinctly around the base three times. It feels great rubbed up and down the clit as well, although the location is somewhat cumbersome. Rather, it brings awareness to your entrance when inserted fully that feels almost like being massaged with each stroke.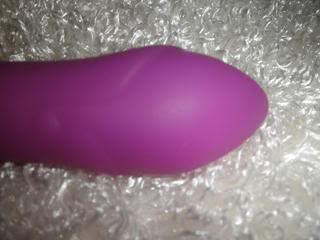 Although this toy isn't overly long, it's quite thick, and as such may not be entirely suitable for those preferring slim-lines. It isn't discreet either, in size, color, or appearance… so you won't want to leave it out. It's a bit large for tucking in a purse, but I can happily state that it will make it successfully through airport security in a check bag (from the USA). However, you might want to check out security parameters for other countries, as I found the hard way that in Mexico all bags are manually checked… in front of a whole line waiting behind you. Oh yeah.
MATERIAL/TEXTURE
The Conqueror is made of bright magenta-purple, 100% medical-grade silicone and ABS-plastic base. It has no taste or smell. With a light touch, the silicone is butter-soft, with a moderate amount of drag that turns super-slick with a little lube, and is completely seam-free. With a firm squeeze, the Conqueror has only the smallest amount of give, and only the mildest amount of flexibility located in the neck.
FUNCTIONS/PERFORMANCE/CONTROLS
The vibrations are controlled with one large, easy-to-push button that is located on the bottom of the base. This was problematic for me, as I like to place my fingers on the bottom to guide the toy, causing the pattern to change. I was able to avoid this by placing my fingers on either side of the button. However, any slippage results in the pattern changing. I actually thought mine was broke at first, I held it down for two seconds. Nothing. Changed batteries, tried again. Again, nothing. For this particular toy, the button needs to be held down 4 seconds. Once its on, each push of the button will scroll to the next level. Hold the control down for 3-4 seconds to turn off.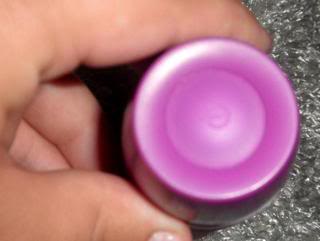 The vibrations are very quiet, and wouldn't be heard through a closed door. And they feel different, which is likely due to the ultra-sonic motor. I will do my best to describe them and the patterns:
#1) Low-level steady vibrations that are deep and thuddy, and almost feel as though they "flicker" like a pulsation. Though I've called them "low", they are probably still strong enough for many users to orgasm with on the clit.
11111111111111111111111111111111111111111111111111111111
#2) It almost feels like two simultaneous vibrations. Like the initial thuddy vibes described above, but adding in a moderate-high, high-frequency factor.
22222222222222222222222222222222222222222222222222222222
#3) This level is identical to #2, but stronger. To me, its like having the vibrations from both my
Form 2
and
Siri
combined, and I would say as powerful as either of them on their respective highest settings.
333333333333333333333333333333333333333333333333333333333
#4) Escalating low to high
111111222222233333311111122222233333311111122222223333333
#5) Series of quick pulses with a prolonged high
222 222 222 222 222 222 333333333 222 222 222 222 222 222 333333333
The vibrations are concentrated on the head of the toy, and aren't felt near the base. However, they are diffused across the entire head, and I can't find a place where they are "pin-point". As such, if this were strictly a clit toy, I would be slightly disappointed. But since it is ideally designed for insertion, I can't complain as they do resonate well inside.
The Conqueror does run off two AA batteries, which are included. I find them to be as powerful as my lithium Duracells'. And even after several uses that ranged from 20-30 minutes or more, the battery-life is still going strong.

Experience
CARE AND MAINTANCE
The Conqueror is compatible only with water-based lubes, avoid others and they may cause the silicone to deteriorate. It is marked as splash-proof, but does have a rubber O-ring. I had no trouble when I took it in the shower, but avoid submersion in the bathtub or for cleaning. Cleaning should be done with toy cleaner or mild soap and warm water. To sanitize, wipe with a 10% bleach solution and allow to dry. Store with the batteries removed (to extend battery-life), in a toy pouch away from other materials such as jelly or realistics.
PACKAGING
The Conqueror arrived in an elegant black matte packaging with a shiny black box design and silver stamping and lettering. The front featured a cutout window showcasing the toy and the back had a full-length magnetic flap that included the product features. It opened to another window, giving a 360 degree view of the toy. Inside, the Conqueror was held in a clear plastic clamshell, along with a detailed instruction manual (in 8 languages) and batteries.
Since the box does show the toy, its not quite discreet. However, it would be great for gift-giving if wrapped. The toy could be stored in the box, but it would be unnecessarily bulky, so I recommend a toy pouch (not included).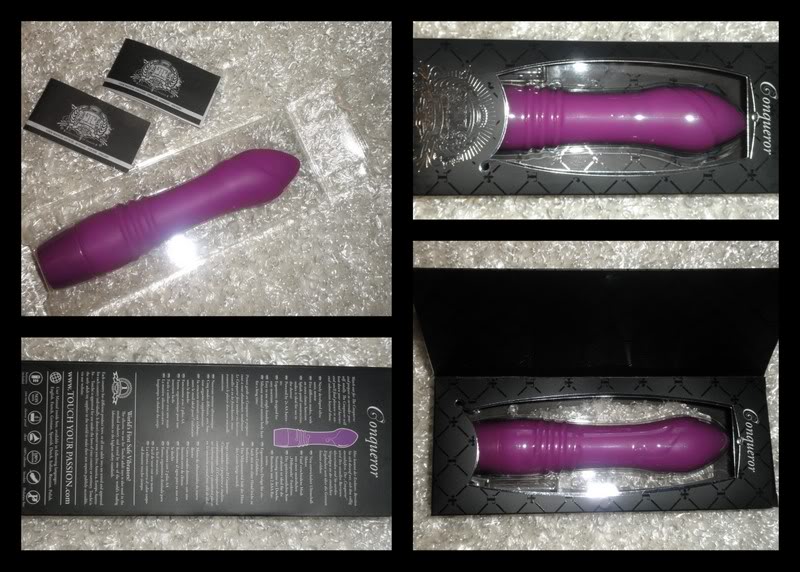 Follow-up commentary
4 months after original review
I still enjoy using this vibe, but it seems that I use it mostly in the shower. Before Conqueror I didn't tend to use anything other than clit toys in the shower, but with the bulbous end on this one it does stay in rather well without having to constantly keep a close hand to keep it from falling on the bottom of the tub. The vibrations are amazing, but I do feel they are a bit more diffused than I would like them to be for clit stimulation. So I find it ideal to use this in conjunction with removeable shower head (wowza!).

If it weren't such a good travel buddy, I probably wouldn't use it that much anymore. Its not that its not a great toy, I just have other ones that I like better. But the material, motor, and battery-life are holding up well, so I wouldn't hesitate to recommend this to anyone!
This product was provided free of charge to the reviewer. This review is in compliance with the FTC guidelines.

Thank you for viewing
Conqueror
– traditional vibrator review page!