Dang Impressive
I am very impressed, it is quiet and it leans more towards rumbly type of vibrations. It is very versatile and works great in the perineal area for stimulation. It passes the waterproof test. It's silicone feels good and isn't a lint magnet. This one is great for beginners and for experienced toy players alike.
Published:
Pros:
Quiet
Waterproof
Patterns
Easy to hold on to
Silicone
Cons:
could be stronger
Lux Epiphany by California Exotics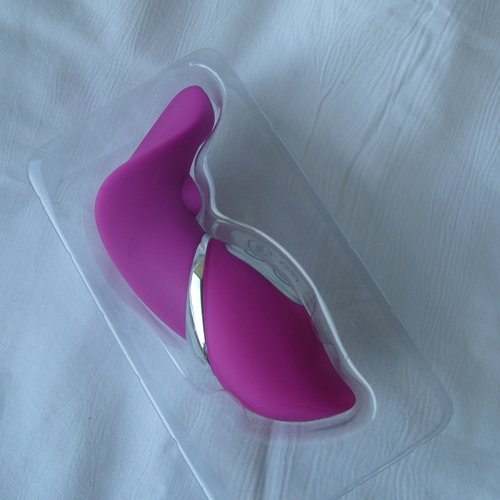 The Lux Epiphany is a neat hand held clitoral vibe that has some insertion ability. It's duck billed portion can dip in a few inches to excite your outer vaginal area , your labia and your clit. You can also use it on other areas of yours and your lover's erogenous zones.
It has several ways that you can hold it to use it in different manners. You can hold it so that the handle points towards the ceiling and the bump on the curve hits your clit. You can turn it the other direction so that the bump hits your perinea area which is pretty nice too. You can insert this one anally as you have the hand held area. It does feel nice as a "rimming" type of stimulator. The duck billed area can be inserted anally as it is made from silicone.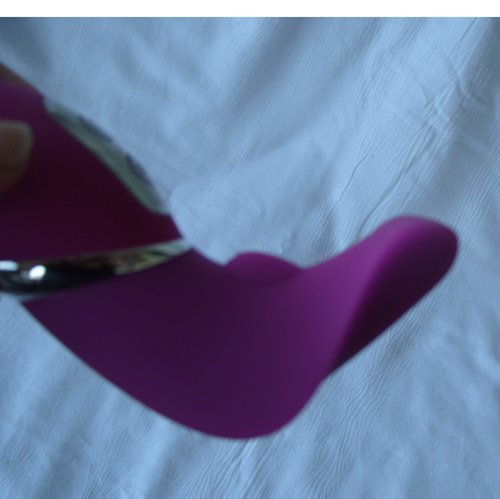 Materials/Texture
The Epiphany is completely smooth. No textures at all. It's silicone area is soft and velvety and it doesn't collect any lint or hair. The handle area is made from plastic and PU coated plastic, it too is very soft and velvety. The PU coated plastic has an Eden safety rating of 7, and the plastic has a safety rating of 8. Of course the silicone has the rating of 10 and is one of the safest materials for sex toys. They are all non porous, hypoallergenic. They are latex and phthalates free. These materials are safe to share with partners. They are easy to clean. The silicone is firm but flexible in the duck bill, it has some give to it. The handle is solid.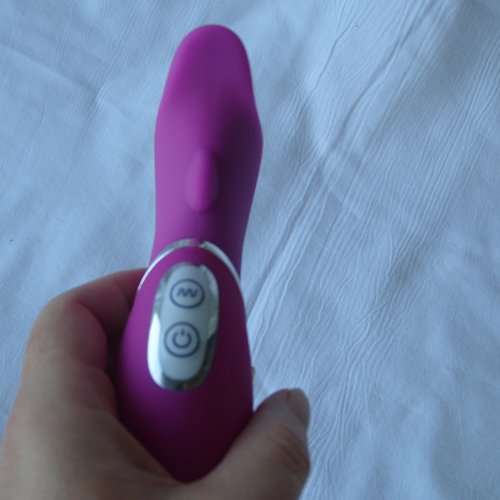 Size/Shape/Design
The Epiphany has a handle area that has a total length of 4 ¾ inches, the duck bill insertable area is 3 ¼ inches long with it's diameter being approximately 1 inch. The insertable area is more of a triangular shape than round. The handle area has a diameter of 1 ½ inches. It is very easy to hold on to and fits nicely in the palm of my hand. The clitoral bump is located on the inner curve and it is raised approximately 5/8ths of an inch at it's greatest height. When you hold on to the handle with the duck bill area at the top you can hold it like you would hold a pistol and the trigger area is where the clitoral bump sits.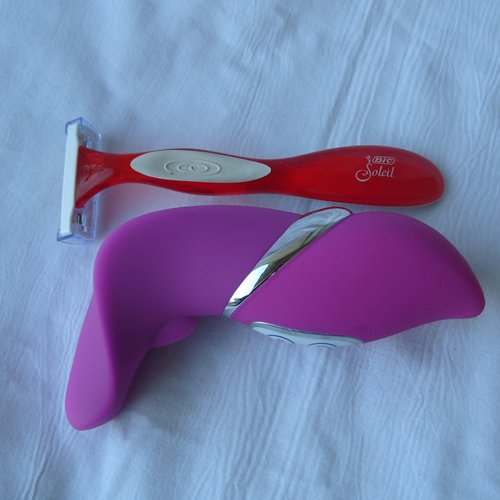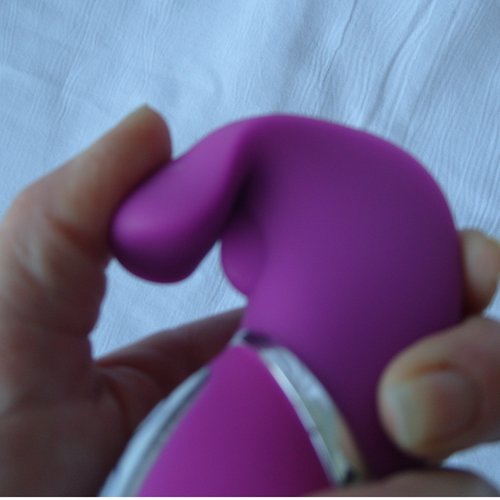 Functions
The Epiphany runs on 2 AAA batteries that are inserted in the bottom potion of the toy. The cap comes off completely. It is waterproofed with a silicone piece that completely sits over the battery area. The cal exotics logo is on the cover of the battery compartment. There are 2 buttons present to control the toy. The button that is closest to the end of the toy turns it on and off. The other button with the squiggle marks on it controls the settings.
There are
7 settings:
1. Low constant vibration
2. Medium constant vibrations
3. High constant vibrations
4. Escalating low to high vibrations
5. Pulsating
6. Very fast pulsations
7. Fast and then slow pulsations in a chaotic fashion
The Epiphany doesn't have any memory so when you turn it off it starts at the lowest vibrations setting. On the lowest I would give it 1 vroom and at it's highest setting I could go to a vroom of 3. I cant say that all the patterns and vibrations are rumbly but they are better than buzzy. They sit more towards the low end of rumbly and I am impressed at how quiet this toy is. It cannot be heard over the covers.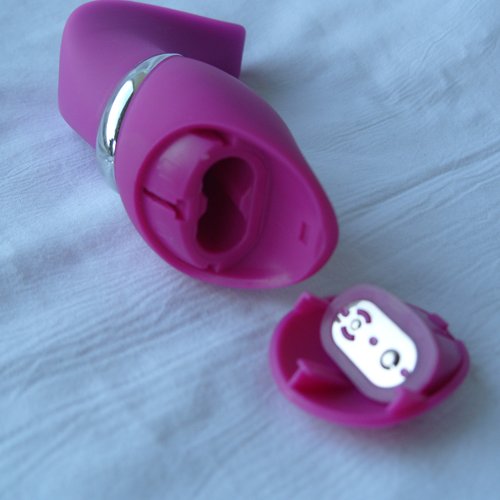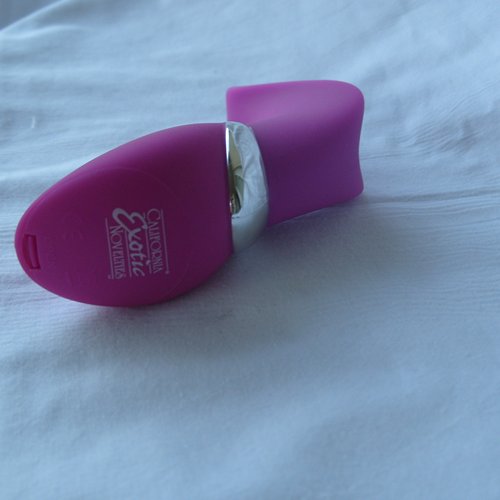 Care and Maintenance
The Epiphany is easy to clan up with some antibacterial soap and water, toy sprays or Eden wipes. It does pass the waterproof test. It cannot be boiled or placed in the dishwasher due to it's motor. It can also be wiped down with at 10% bleach solution for good sterilization. It can be stored in the plastic box that it came in or in a toy pouch or I just place it in a plastic baggy to keep it from my other toys. If you let silicones lay with each other they can ruin each other's finishes. Use only water based lube too so that the finish doesn't get compromised. The metal looking band can be an issue with cleaning so pay close attention to that area.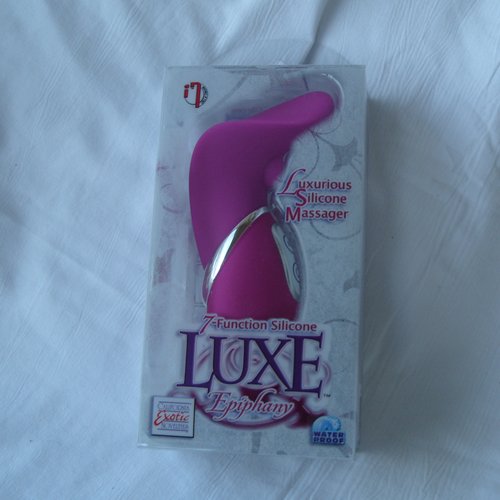 Packaging
The Epiphany comes in a clear plastic box from cal exotics. I personally hate these boxes because the seams break apart and they get sharp. The packaging is nothing special with some product information on it.
Experience
I actually really enjoy using this one. It works great for some "rimming" type of action with out all the ickyness. It is quiet and waterproof. My husband enjoys it being used in his scrotum and perineal area for some great foreplay. It can be turned different ways for different types of stimulation. I insert it and hold the handle towards the ceiling and use a pulling upward type of motion to really hit my clit. It is not as strong as say Mimi or Salsa but it is impressive. Now if we hand a salsa with this type of handle on it, that could rock the world!!! I can get some great stimulation but it doesn't bring me to a full blown orgasm.
Follow-up commentary
2 months after original review
I am very impressed with this one especially since it is battery powered. I won't compare it to the power of the salsa but it is good and great for beginners.
This product was provided free of charge to the reviewer. This review is in compliance with the FTC guidelines.

Thank you for viewing
Luxe Epiphany
– discreet massager review page!