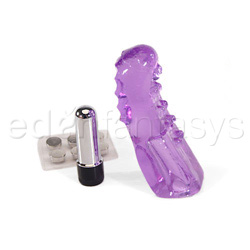 Julia Ann's clit teaser
Discreet massager by California Exotic
Julia Ann's clit teaser sex toy review
This toy could be good for women who have a significantly easier time getting off than I do. For tough girls like me, it is more of a hassle than a help.
Published:
When
Julia Ann's clit teaser
showed up in the mail, I was very excited. I opened and unwrapped the jelly toy, its small vibrator, and the two full sets of batteries that came with them.
The first thing I did, since I am horrible at reading directions and equally convinced that I know how everything works, was open the bullet vibrator, take out a pesky plastic sheet inside, indicating which direction the batteries should face, and put the batteries in. Wrong idea, that plastic strip is there for a reason! The vibrator turned on and would not turn off until I unscrewed it and took the batteries back out!
Once I had the batteries correctly in the vibrator, I set to checking it out. I slowly turned the adjustable dial and found that after about a quarter turn, the vibration began, rather high for a starting vibration in my opinion. I figured that since the vibrator was designed to reside within the larger jelly piece, maybe it needed high levels of vibration, and wondered just how much higher a vibrator could go. Once I had it cranked all the way up, I realized that the answer is "no higher" and that the vibrator has no nuance at all. Despite its dial, it turns on and off like it has a switch.
I also noted that the vibrator is rather loud, compared to other
vibrators
I own. I attributed this to the fact that it is designed to be encased in jelly. And again, I was wrong. I turned the vibrator off and inserted it into its jelly casing, which is a difficult task in itself, and turned it back on to find that it was still loud, making it a significantly less practical toy for dorm use.
I climbed in bed to try my first jelly toy and quickly learned how jelly differs from hard plastic. With plastic vibrators, pressing harder increases the effect of vibration. With the jelly toy, pressing dulled what little vibration survived the dulling jelly. I did find that the two contours of the jelly shell well designed. Flipped one way, it cupped my mons, the end with the vibrator closest to my clitoris. I found this was a good way to begin arousal. The other way, a grooved "foot" was clearly designed for purely clitoral play, but the foot was at the far end of the toy from the vibrator and carried almost no vibration.
I found myself more frustrated than aroused, despite trying to use it multiple times. Once, I yanked out the bullet vibrator, an even more difficult task than putting it in, and tried to use it for clitoral stimulation. Its small size and high vibration made it only slightly better. This could be a good
toy for women
who have a significantly easier time getting off than I do. For tough girls like me, it is more of a hassle than a help.
This product was provided free of charge to the reviewer. This review is in compliance with the FTC guidelines.

Thank you for viewing
Julia Ann's clit teaser
– discreet massager review page!