Double the sexy fun!
This is a toy box essential, the choice of 2 different shaped bullets which feel completely different is perfect for anyone from beginner to advanced toy collector, the long cables, the wired remote, what's not to like, they are powerful smooth and gorgeous to touch. I love these.
Published:
Pros:
2 different sized bullets, Smooth polished surface, rumbly and buzzy bullets, Long wire remote,
Cons:
I wish there were 2 connectors to use both at once because Im greedy,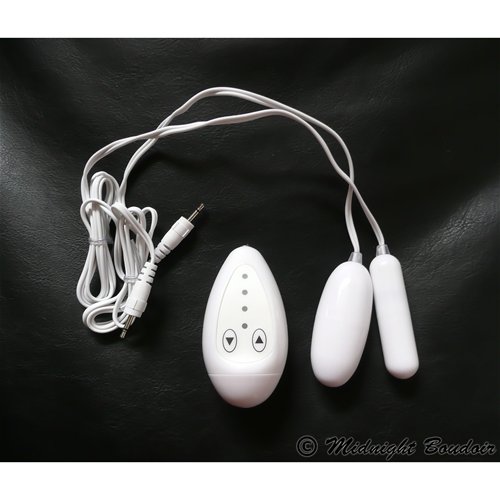 Description
The Dual Delites (Bullets and remote control) are made of a shiny white ABS plastic with a gorgeous polished finish. (Pthalate and latex free). The remote control unit has a single connection to choose which bullet attachment you would like to use. You can then cycle through the 4 speeds of increasing vibrations; perfect for couple and single play.
Packaging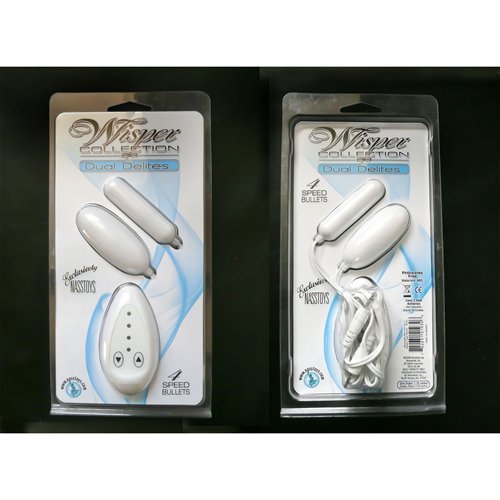 The packing is nice and simple being a plastic clam-opening shell formed over the shape of the bullets. The graphics are clean, simple and elegant.
The Bullets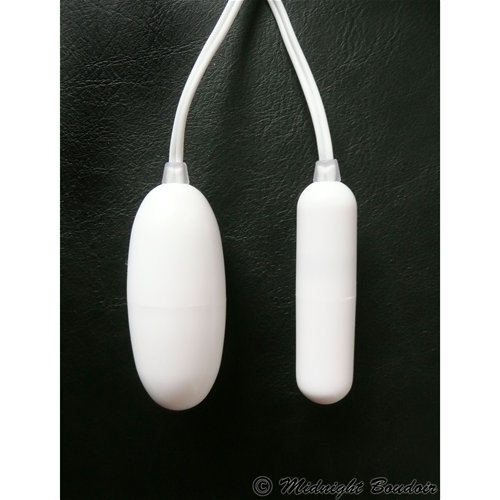 This gorgeous item comes with 2 bullets for whatever your mood.
Skinnny bullet
Bullet 1 is the standard shaped mini cigar bullet clitoral stimulator. The standard size bullet bullet that can be used in so many ways, with its attached cable of 80cm/32 inches long.
Length is 6cm, Width is 1.5cm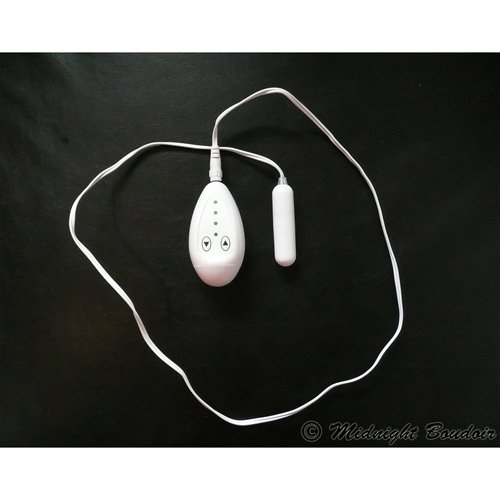 Chubby Bullet
Bullet 2 is slightly chubbier between a bullet and a love egg again with its own attached cable. This bullet is the same length but double the width of its brother and can be used in a completely different way with a completely different feel to it.
Length is 6cm, Width of widest part is 2.5cm,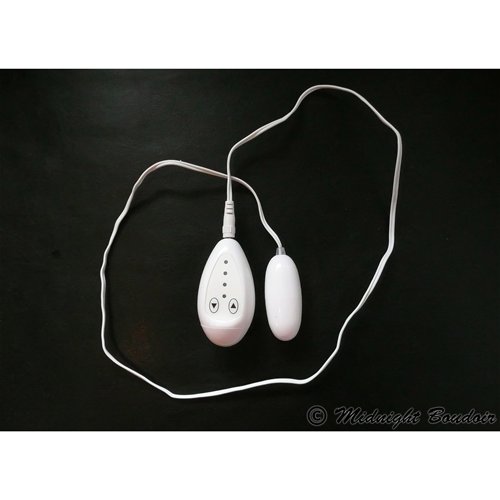 The Remote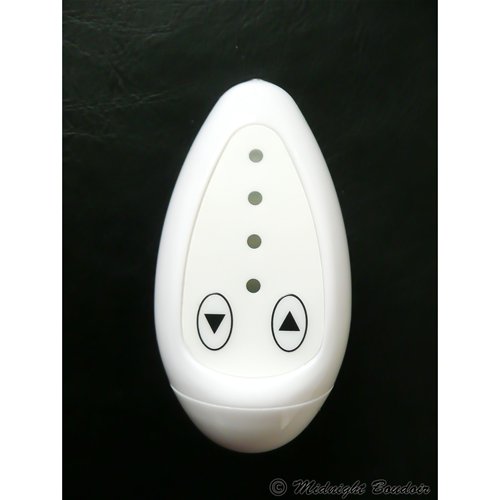 The ergonomic egg shaped remote feels comfortable in your hand, it has a sealed button panel with an up and down arrow button.The remote control unit is;
Length is 7.5cm, Width of widest part is 4cm,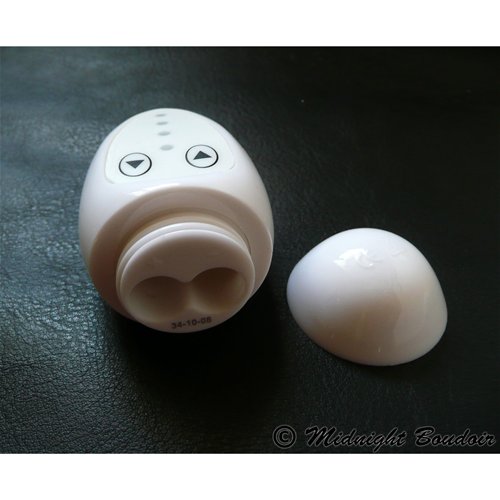 The base of the remote twists off to replace 2 AAA batteries.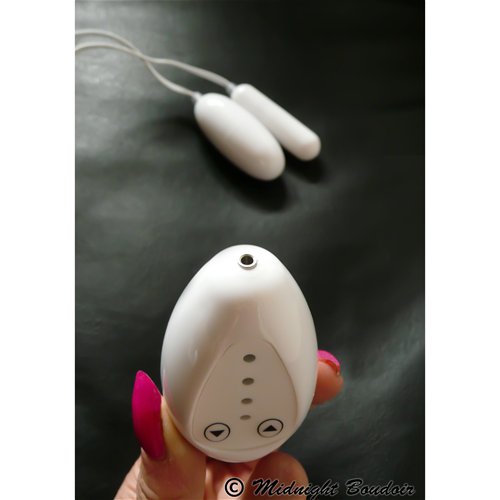 Either Jack lead will plug into the top of the ergonomic remote making it comfortable to hold in the hand, the connectors have well-defined click showing a well made product. The remote offers 4 increasing speeds, for both bullets depending on which you have plugged in at the time. I love a wired bullet so I don't have to be fumbling around with buttons on the toy itself where it can get slippy or if you have to remove the bullet to change speed and re-insert...now that is a pain. Not with the Dual Delites you have no fumbling you simply insert the bullet and your away, lay back relax and play through the vibrations, better still let your partner do it.....so much more fun.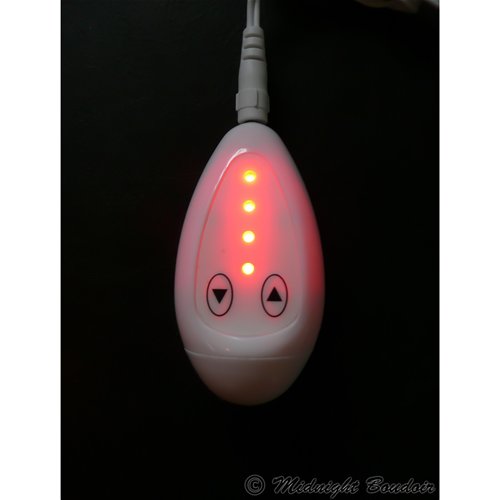 It has 4 exceptionally bright LED's depending on speed of vibrations.Im a sucker for toys that light up and these look gorgeous in the dark.
Vibrations
The 4 vibrations on both bullets were a complete surprise to me; the small slim bullet is fast and slightly buzzy but still quite powerful. The chubby bullet blew me away with its power, this chunky bullet is a low frequency, low revving and rumbly with an off camber kick to it. The comparison thought up by my brilliant OH is a V12 Perkins diesel truck compared to Nissan Micra..sorry Micra owners.
You have 80cm/32 inches of cable to play with; perfect for couple play and teasing each other, the bullets are sealed well with a secure bung where the wire leaves the bullet and with no fear of losing the bullets with such a long retrieval cord. For extra sensation use your favourite lube you can use any type as they are ABS.
Noise
The slim bullet is very discreet and cannot be heard through a door or under the duvet. The Chubby bullet is a little louder as its more rumbly so on loudest it may just be heard through a door and under a duvet; but hey you have the choice and you have a bullet to use on any occasion.
Cleaning
The bullets themselves are waterproof so you can run them under warm soapy water and spray with sextoy cleaner. Paying attention to the ends where the cables leave the bullet and the bullet seams even though they are fairly smooth compared to many bullets I own. I want to point out the bungs are exceptionally larger than most bullets this makes cleaning so much easier. Obviously the remote isn't waterproof due to the jack connector just the bullet.
Experience
Use
I have a nice collection of bullets now but these 2 are the best yet; they feel excellent quality in your hands and I have the choice of which bullet depending on my mood. I adore having a 2 for 1 toy and this is no exception. Both sized bullets feel smooth and sleek in your hands I really love ABS toys and the remote has a nice substantial weight.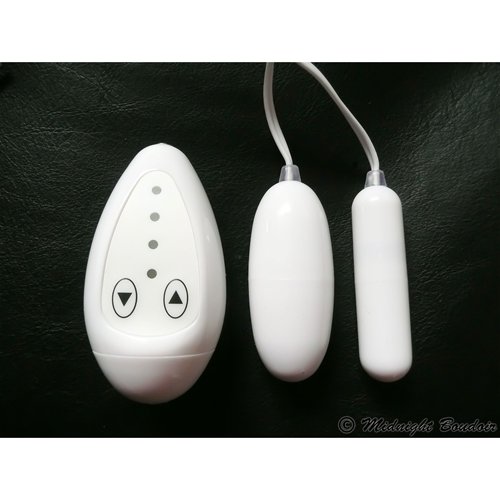 I loved the high setting this worked for me pretty fast with both bullets, I preferred to insert the larger egg being a bit larger and it also sits between my lips perfectly. This bullet really can give quite a kick, its the strongest bullet I own.
The slender bullet is perfect for me for clitoral stimulation and teasing if you have a partner who is average sized you can also insert this while he penetrates you, so you both get to enjoy the vibrations; but for me I can only just handle my OH on his own let alone a bullet too as he's a very much larger guy...lol. So I use this for a quickie clitorally and during sex so we can still share the gorgeous vibes.
I also enjoy just wearing either one in my knickers and handing my OH the control, it also makes doing the housework so much more fun. I actually enjoy doing the washing up now...shush dont tell my OH! For me these were also perfect to play with other toys, like my glass or silicone dildos so the vibes transfer along it, turning your standard dildo to a vibrator....just brilliant. They really are brilliant for stimulating your nipples and other erogenous zones. Either bullet could be used easily for anal play although I have yet to try this, but I would always suggest using a condom if you plan to use them vaginally too, or keep the egg for vaginal use and use the slender one for anal play its up to you.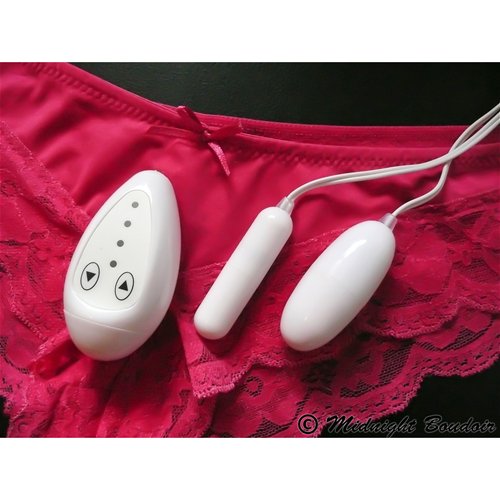 I'm actually raving about these 2 bullets I'm sorry but they really deserve it, I loved the elegant look these bullets have with the gorgeous bright white glossy shine and I loved having the choice of bullet to use during play. They were both a complete surprise for me, the power of rumbly chubby bullet and the opposite buzzy slender bullet make Dual Delites a perfect 2 in 1 toy, I'm surprise too, how much I use these little guys for the both of us. (Especially in the dual connector remote!).
Perfect for vaginally and anal play, masturbation, stimulating your nipples and body, use for a quickie or for your OH to take control and tease you, use to add vibrations to dildos or combine with your favourite vibe the variety of ways of using these are endless.
I'm so impressed with these little guys as most of us enjoy using bullets at some point, with this set you have 2 choices and being wired you have the control and the comfort which also add a fun twist for couples or by yourself.
Follow-up commentary
1 month after original review
This double bullet set is still so much fun, I love the choice between the fat and slim bullets and the power is still fantastic for such small toys.

I love handing the control over to my OH and he loves taking the control, they really make some extra fun between us; plus they are great to take travelling.

I would absolutely still recommend these bullets they are sleek smooth and discreet what's not to like.
This content is the opinion of the submitting contributor and is not endorsed by EdenFantasys.com

Thank you for viewing
Wisper dual delites
– bullet vibrator review page!