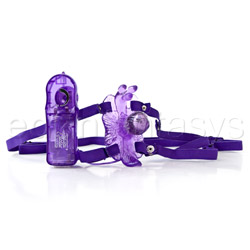 Emma's exotic flower
Butterfly strap-on vibrator
by California Exotic
Emma's exotic flower sex toy review
I would save my money and purchase a vibe that I know will do the job. I wouldn't even recommend this vibe for a beginner.
Published:
Pros:
Quiet, fully adjustable straps.
Cons:
Not large or firm enough to stimulate at all.
Ok, my mother always taught me if you can't say something nice about someone or something, don't say anything. Well, Eden Fantasy wants me to say something about
Emma's Exotic Flower|Emma's exotic flower
so I will try and find something nice to say. Uhhmmmm, (taps finger against table while thinking). It's purple, it's quiet, it's made of a soft phthalate-free TPE material. That's about it.
When I received my Exotic Flower I was excited. I was interested in trying a toy that I could wear under my clothes and wear out without anyone being the wiser. Well that part works. It is a very quiet little bullet vibe and once inserted and under your clothes, it can't be heard. I am also a larger lady (size 22/xxl) so I was a little concerned about the fit on the straps. No concerns there. The Exotic Flower comes with fully adjustable elastic straps that do adjust well to fit even someone larger than I am. That is about all the good I can say about Emma's Exotic Flower.
Now for the not so good.
Even though the adjustable speed bullet is imbedded into a little "flower bud" meant to be inserted into the vagina the operative word is little. Although it inserts easily and without lots of lubrication it doesn't insert far enough in to have any stimulation that matters. Even adjusted to the highest speed it didn't turn me on at all. The three little "pistils" on the clit side are too soft and don't fit well on my clit. That may just be me though and may work for someone else. I did get a little bit of a tickle on the anal-stimulating "leaf", but it was so brief I'm not sure that it was because of the vibrations or if I moved just right against it. The bullet being in the insertable flower bud takes all the vibes up into the vagina and doesn't send any of the vibes into the pistils or leaf. Even pressing the pistils against my clit didn't do anything.
Unless you are a very sensitive person where the least little touch or tickle sets you off this little flower just doesn't do the job it's supposed to. I wonder, do the stars who put their name to these toys even try them out ? I wouldn't want to put my name on something that sucked this bad.
This product was provided free of charge to the reviewer. This review is in compliance with the FTC guidelines.
Thank you for viewing
Emma's exotic flower
– butterfly strap-on vibrator review page!