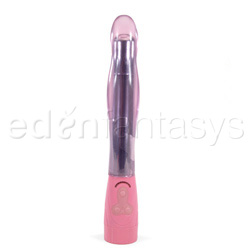 Endless love rechargeable vibe
Traditional vibrator by Topco
Endless love rechargeable vibe sex toy review
Overall, the Endless Love is a very satisfying toy. The vibrations can be a little strong, but since there are variations to it, most people will find this a wonderful addition to their sex lives.
Published:
Pros:
Variation of vibrations and pulsations.
Cons:
Hiding this toy from plain sight while charging.
The
Endless Love Rechargeable Vibe|Endless love rechargeable vibe
is a pleasant edition to my collection. The possibility to charge a vibrator instead of replacing batteries is the reason why I wanted this item.
A couple issues I have with the Endless Love stem from the same reason that I got it in the first place, the charger. It takes too long, in my opinion, for it to charge fully. In addition, where are you going to place it where nobody sees that you are charging a vibrator?
The charge seems to last about thirty minutes, at least in my case. I am sure if the timeframe varies with the different settings it has to offer. This vibrator is not meant to be used while on the charger stand, so I would not recommend using it until it is fully charged due to obvious safety concerns of electrical shock.
Do not get me wrong; this vibrator has a nice smooth coating on it that makes entry easy. It also has a wonderful range of vibrations and pulsations, including a buildup of vibration that then pulsates. It is a unique combination in my opinion.
The Endless Love is slightly longer than most toys I get. Due to the smoothness and the contouring of this sex toy, I had no complaints though. It is of what I would classify as an average diameter that inserts easily and should get you sexually aroused pretty well.
This toy is so unique with all the different variations of vibration. Any person who likes to change things up will enjoy this toy. I know that I enjoyed it when my wife inserted it into me. However, the vibrations weren't as strong in the location I wanted it due to the fact that most of the vibration was in the middle of the shaft. Even so, once she switched it to the pulsating and surging settings, I was on my way to another great orgasm.
The Endless Vibe can turn any beginner into an adult toy connoisseur. Besides saving on batteries and the variable vibrations, pulsating, and surging settings, this toy is also waterproof. I would recommend this toy to any beginner or expert user.
The Endless Love is an easy toy to clean due to its smooth Jel-Lee material. Once finished with the toy, I was able to fit it into my toy box along with my other
sex toys|Selection of vibrators, dildos, BDSM for women
. Don't worry; it most likely won't sit in there long since I know it will be used again and again. Hopefully, I can steal this one back from my thieving wife.
The negatives to the Endless Love are trying to hide it while charging it in an outlet and the higher level of noise that it produces while in use. Yet I still have to rate the
Endless Love vibe
at four stars. This vibration will knock your socks off, if that is your goal, and have you rolling your eyes to the back of your head.
This product was provided free of charge to the reviewer. This review is in compliance with the FTC guidelines.

Thank you for viewing
Endless love rechargeable vibe
– traditional vibrator review page!