Finally, A Good Rabbit! Err... Dolphin!
Danny Dolphin is a nice rabbit vibrator that delivers what it promises. The vibrations are strong and last a while, the rotations feel nice and the textured head and shaft add stimulation while inside. If you like rabbits but aren't up for the standard clunky bunny, Danny Dolphin is right for you.
Published:
Pros:
Good functions, long lasting power, flexible and easy to use.
Cons:
Clitoral attachment is oddly placed, a bit on the small side.
*Use*
This wonderful rabbit vibe doesn't fail to deliver. It is intended for vaginal and clitoral use although the clitoral attachment is a little bit close to the shaft. I must say this is a good rabbit because I always have a hard time with dual stimulation vibes but this sucker makes me smile.
*Size, Shape and Design*
Danny Dolphin is 8 1/4" long (with 5 1/2" insertable) and a diameter of 1 1/4". The clitoral attachment is 3" long and an inch wide. It's in the shape of a dolphin and protrudes about an inch out from the shaft. Although it is quite flexible, the attachment is built tight to the shaft and doesn't move around much while in use. This can be good for some depending on anatomy, but bad for others who want a looser attachment. I compare it to a TV remote: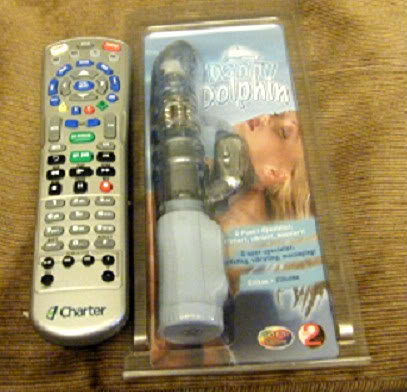 There are a few rings wrapped around the shaft to create a rib like texture while thrusting. This can't be felt that well, but the nubs on the bottom of the curved head can. This head is slightly pointed upward to caress the g spot while inserted.
The vanilla set of rotating beads is placed halfway up the shaft and spin well as opposed to the beads of some rabbits I have tried.
*Material and Care*
Danny the Dolphin is listed as being made of
TPE
on the product page, although the packaging states that it is silicone. I am guessing maybe it is TPR silicone? It is smooth to the touch and a little bit more flexible than TPR.
For those of you who may not know, TPE seems to be a softer form of TPR as was discovered
here.
It is a bit softer than TPR and can be maneuvered a little bit better.
TPE can be cleaned with soap and warm water, and should be before and after each use. A quick rinse or wipe would suffice as well; just be sure not to share this or switch between holes without a condom.
Be sure to store this toy in a nifty little place on its own to prevent the absorbing of materials and dyes. It will also prevent the toy from melting in extreme heat.
*Functions, Performance and Controls*
The clitoral stimulator is operated by a decent strength bullet that cycles through 7 levels of vibration. These range from low steady vibration to different kinds of pulsations and escalations. The strength isn't bad for a rabbit, although it's medium strength overall.
The top on/off button controls the vibration of the clitoral stimulator only. The "7" button functions through the 7 vibration patterns. There is a light next to the buttons that colors from red to orange to green with each different function.
At the bottom of the control panel is a separate on and off panel for the rotations. The R/S button simply rotates the shaft left and right while the on and off arrows cycle you through 3 different speeds of rotation.
The Dolphin is operated on 3 AAA batteries that are inserted into a battery case that slides into the bottom of the shaft. The cap screws on with a water tight seal, making this vibe waterproof. I haven't taken it into the shower yet because previous experiences with rabbits failing in the water scare me. I have washed this in the sink, however, and I can testify that it is indeed splash proof.
Experience
I must say I had a good time with this vibe. I have had some pretty bad rabbits in the past, and despite my bad luck I keep trying more. Once in a while I get in the mood for a double stimulation vibe and go scouring through Eden to find one.
Well I finally found one that actually lived up to my hopes. This Dolphin has great pinpoint stimulation and doesn't fail to deliver.
I am curious as to what the deal is with the packaging, though. The package says silicone but it is clearly TPE. Unless they are talking about the base...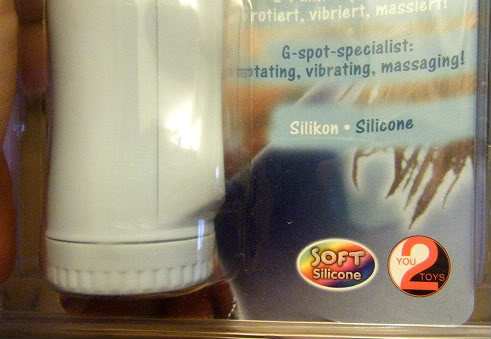 This product was provided free of charge to the reviewer. This review is in compliance with the FTC guidelines.

Thank you for viewing
Danny dolphin
– g-spot rabbit vibrator review page!