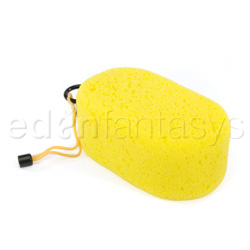 Sensual bath buddy
Massager
by California Exotic
Forget the scrubbing, get to the rubbing.
The Sensual Bath Buddy is fantastic for an in-water massage, by yourself or with a partner, though I wouldn't count on getting clean with this sponge.
Published:
Pros:
Powerful, waterproof, doesn't eat through batteries, nylon cord to hang it.
Cons:
not good for washing, loud outside of shower.
I'm not really into discreet toys. To me, they do not generally appear like they would be powerful enough to get me off or do anything. Also, where would I ever be that I would need a discreet toy? I am a college student and I do live in the dorms and I do not particularly care to masturbate in the shower, but I thought maybe the
Sensual Bath Buddy
might be something I would like. Soon after requesting this big yellow sponge, I was pulling it open and putting two AA batteries in the black battery case.
The sponge is very large and thick, but most of the inside is taken up by the battery case and the vibrator. When I put the batteries in and screwed on the top, I found that it is a
very powerful vibrator
. It also happens to be super loud. I turned it off and got ready to take a shower, dropping the
Bath Buddy
into my shower caddy.
When I got into the shower, I turned on the sponge and found that with the water running it was not nearly as loud as it was just in my room. I tried to use it as a sponge. I put soap on it and everything and went at it. My liquid body wash started slipping right off the surface of the sponge, so I rubbed into the sponge a bit and then started washing away. I did not feel as if I was getting clean so I rinsed all the soap out of the sponge and just used it as a massager. Rinsing the toy took some time because it was difficult to squeeze all the soap out from around the massager because so much of it was the battery case and vibrator.
Since the vibrations are so powerful and transmit extraordinarily well through the sponge, the
Sensual Bath Buddy
gave me a really great massage. It is definitely something worth trying with a partner – I am sure it would make for some excellent foreplay in the bath or shower or just a romantic massage session for two in water. I do not have a partner so I am out of luck for trying this toy with a partner.
I did try to use the massager on my clit, but since it is so big, I got more of a genital vibration. The sponge is not made to target specific small areas but rather larger areas and so it did not really work out so well over the genital region. Also, the lack of control over vibration speed was unhelpful for the genital/clitoral massage.
If nothing else, I would definitely recommend this toy to anyone who enjoys massages in the shower or bath.
Experience
I really enjoyed the way the toy felt on my back, which is why I think it would make for a great toy with a partner. If you're able to sit then the toy also feels nice on the feet, if you're not too ticklish.
Follow-up commentary
2 months after original review
The Sensual Bath Buddy continues to give a great back massage. I touched it to a friend's back when she came over to check out all of my toys. She was impressed, to say the least. It is a delight and perfect for relaxing after a long and stressful day. It'd make for a perfect gift to anyone, if the packaging weren't so....un-gift-able.
This product was provided free of charge to the reviewer. This review is in compliance with the FTC guidelines.

Thank you for viewing
Sensual bath buddy
review page!