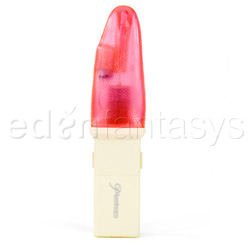 Jelly tongue twist - her
Clitoral vibrator
by Pipedream
From a Galaxy far, FAR away…
OK, I gotta state the obvious. The first thing I noticed was its size. Its HUGE! Lol! I mean, if it's supposed to be an genuine imitation of a real tongue, it's SO not a tongue from this part of the universe. In fact, it's a good thing that I have a sense of humor / adventure when it comes to toys, because I imagine that this baby has intimidated its fair share of novices. As it was, I couldn't help the snickers while I was getting it ready for my own version of a close encounter...
Published:
Pros:
Great for teasing / fantasy play
Cons:
The Noise factor
Now, I have no clue how this compares to the Tongue. I realize that this toy is a rip off on the popularity of the other, and as such most likely isn't as good. One day, I'll find this out for certain and I'll be sure to post my review of the toy that is the inspiration of this concept. But despite the most likely decrease in quality, this is still not quite a bad little investment. Yes, it's large, but it has to be in order to do what it does, which also accounts for the weight. I imagine the Tongue is probably a little bit smaller, and more dexterous, but it is also more expensive. Whereas this toy is trying to be more accessible to the wallet which can sometimes be a good thing.
I will say that it did surprise me that the
Jelly Tongue Vibrator
didn't have more movement. The only part of the toy that moves is the very tip of it. It rotates in a circular motion, the speed of which is controlled by a slide switch on the controller. A separate slide controls the vibration. When I first turned it on, I was a bit disappointed and already thinking that there was no way this toy was going to get me to orgasm. I'm a very fickle power queen, and love strong vibrations, and although the vibes on this toy are strong, they are not as strong as say, my
golden nugget
which is the pride and joy of all of my
clitoral vibrators
. I also didn't feel at first that the rotations would be felt very keenly as they appear rather subdued.
Well, the toy surprised me. Maybe it was the novelty of it, or the visual of it between my thighs and the ease of which my imagination could take flight off of that sight, but the sensations of that subtle rotation on high became more noticeable as the seconds ticked by. That, coupled with the vibration at its maximum setting as well, had me going off in just a few minutes. For a toy made to mimic a form of manual stimulation, the oscillation of the tip will most likely please those who enjoy that type of play.
It's too large to insert anywhere, which will bug some people. I also got to say that to assume its REALLY like oral sex is hoping for the moon. It's not like the real thing, but with a little bit (or a whole lot) of creative imagination and a some lube, it's a nice little vacation to worlds unknown. It is more of a fantasy accessory than some other toys. The visual of it going to work will get you off as much as the actual stimulation will. With that in mind, I would recommend using it in the daytime, or at the very least with the lights on. It's also more of a
teasing type toy
, so there are many ways which that can be applied, particularly if you have a partner along for the ride.
The only serious detraction from this
Tongue Vibrator
is the noise level. It is LOUD. Very loud. So if this is a problem for you, then look somewhere else. It's even more obnoxious than the Hitachi. But, in my opinion, it's worth it. But then volume level doesn't really bother me. I just queue up some music to help drown it out and go along with it. It can't help being loud, given what it does and sex toys just haven't advanced quite as much as we may have liked them to. But for the price tag, this one is a nice enough prototype of what we can expect in more advanced forms in a few years. It's been a worthy addition to the toy box, and although I have to be in a particular mood for it, I have high hopes that it will continue to entertain me for a few years to come.

This product was provided free of charge to the reviewer. This review is in compliance with the FTC guidelines.

Thank you for viewing
Jelly tongue twist - her
– clitoral stimulator review page!