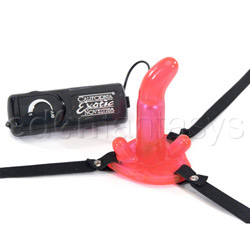 Heart shaped G - spot
G-spot strap-on vibrator
by California Exotic
G-spot strap on review
My conclusion, this toy is poorly designed. Don't believe that it will stimulate your clit, anus and g-spot simultaneously… it won't unless your anus and clit are an inch apart. The vibrations weren't strong enough to make me orgasm, but it did provide a low level arousal. It was fun to wear out of the house though, and since the motor is very quiet it worked well for this.
Published:
Pros
Quiet vibrator
Cons
Design: clit and anal stimulators are an inch apart! Vibrations were too weak
The thought of having a strap on vibrator really intrigued me. The description boasted "hands free orgasms" and I could just picture myself wearing this little toy walking around town trying to disguise my orgasmic pleasure. I picked this particular one because it looked like it had the best of all worlds- a g-spot, clit, and anal stimulator all in one! But when I opened up the package I was sadly disappointed. I don't know what idiot designed this thing but they obviously had no concept of the female anatomy. The anal and clit stimulators are located only a little more than an inch apart from each other. I don't know about you, but my clit and anus are further apart than that! But I am a determined person so I figured I would try the toy out anyway. If nothing else the
g-spot stimulator
would still be nice.
Putting this contraption on was straightforward. The elastic straps are fully adjustable and quite comfortable and surprisingly do the job of holding the toy in place fairly well. Once on, I decided to see if I could walk around with it on and not have it pop out. Although it did come out a bit, it managed to stay in place for the most part. With this test out of the way I sat down and tried out the vibrations. The motor was very quiet - a definite plus for my plans of wearing it out in public. The strongest setting on the dial, I would put at a more moderate level. I was left wishing that it would go stronger. However, this may have been partially because the little clit stimulator wasn't actually on my clit (due to the already described design flaws). Hands free this toy was not going to get me to orgasm at all. I tried adjusting it and using my hands to manipulate it around a bit and although it felt good, it just wasn't enough to make me cum.
Even though this toy doesn't provide any orgasms for me, that doesn't mean that it can't still be fun. I decided to enact my fantasy of wearing it out in public. I put the toy on along with a pair of panties and jeans overtop and tucked the remote into my pocket. With a long shirt on the cord coming out of my pants going into my pocket wasn't visible. Since the vibrator is super quiet I was able to have it turned on while I went out shopping with my husband. With the stimulating vibrations and the thrill of being out in public using a toy, I got quite turned on. By the time we got home, I was dripping wet and ready for sex.
This product was provided free of charge to the reviewer. This review is in compliance with the FTC guidelines.
Thank you for viewing
Heart shaped G - spot
– strap-on vibrator review page!