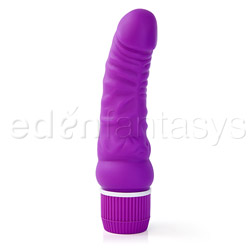 Spellbound stud curved jack
Traditional vibrator
by California Exotic
Giving a whole new meaning to 'Jacking' off!
This toy does not bring anything new to the table - but it doesn't NEED to. It is a great take on a classic type of toy, and it's simple elements are very well done - coming together to create something anybody can enjoy.
Published:
Pros:
Easy to clean, strong, not too big or too small.
Cons:
Small groove near the bottom of the toy is a bit hard to clean.
Looking at this toy, I thought it would be pretty average- but I also was pretty intrigued. As someone who's owned a fair number of rubber cocks, I was anxious to see if this toy could hold it's own against a veritable sea of competitors in it's range.

It can. Oh, it can.
While I can say that this toy may not impress people looking for innovation, it is an excellent retake on a classic theme, and that's something I can appreciate. It came in simple packaging, without much documentation - just some bland warnings on the back, and a slip showing how to insert batteries into every product Cal Exotics makes - but despite that, as soon as I put batteries into the toy and turned it on, I knew there was more to this than meets the eye.

This toy is strong. Really strong. As in, I can use it for clitoral stimulation, and since I've brushed off many a clit vibe without another thought - that means something. The dial base works great, with medium-pitch vibes and the ability to adjust the intensity from a purr to a roar- but without the noise of other powerhouse vibes. Its design is simple, unassuming. A matte finish in either pink or purple (I got purple), thick veins and a realistic, curved penis shape with two bulges at the bottom. It's also really waterproof, and managed to survive being submerged- though I do not recommend leaving any electronic device submerged for a long period of time.

It is just curved enough to give G-spot stimulation, and yet it still feels natural, despite being considerably more rigid than the standard realistic fare. Coupled with the vibrations, I find it hard not to orgasm with this toy.

Even the material is not really a downside on this toy - Sure, it's not the safest material in general, nor can it be shared, but it is labeled 'Safe and Pure" by California Exotics, which means it is phthalates-free, and PVC is really easy to clean and care for.

It's compatible with silicone and water-based lubes, allowing you to use this toy with the most popular lubricants, and it can be cleaned simply with soap and water, toy cleaner, or toy wipes. The only issue I had when cleaning it with toy wipes is the small ridge where the toy joins the base- but if you fold up the wipe (or paper towel, cleaning cloth etc) and press it into the ridge, it's easy enough to just go around it once or twice and make sure it's clean.

Unfortunately, due to the material, there is no way to make sure this toy is completely sterile. Most toy cleaners are antibacterial, however, and cleaning it before and after each use, or using a condom with the toy will ensure that you have the safest experience possible. As well, due to the material and the design of the toy, you probably should not use this anally- and you especially should not share it between orifices, or between partners without condom usage.

However, all these things don't bug me much - because I, personally, would never share this toy (I'm selfish). It's simple, but very well done, and its kind of.. comforting in that simplicity. It's easy to understand, not threatening at all, and I think it'd be good for anyone new to toys or even for people who are a bit jaded with the same-old same-old who're looking for a refreshingly well done, no frills toy.
Experience
When I requested this toy, I was intrigued by the shape. I know I'm probably in the minority, but I like realistic toys, and at the moment I only have a few of those that are made out of a material that doesn't require 10 minutes of aftercare after every use. In fact, over all this time, one of the toys that consistently stays in the top drawer of my toybox is- well, my friends call it the
blue banana
, but I think it's pretty nice. I can safely say the curved jack will be joining the old blue banana in top-drawer status, but hopefully my friends can refrain from giving this one a nickname.
I'm not one for graphic sexual descriptions, but even using this with the non-world-class rechargeable batteries I picked up at the store it is a powerhouse. It takes just two AA batteries, and isn't very loud at all- it's easily covered up by TV or a fan if you're worried, but I don't think you need it. I was really surprised. It outclasses every other 'plain' toy I have, power wise, but the shape is great too. Obviously this will vary from person to person, but its just enough pressure on my g-spot to give me a satisfying orgasm - and pressing the base of the toy against my clit, with the matte finish of the material..
Even if you do think you're a bit jaded to 'average' toys, I really recommend picking this up. I had a great time with it, and I know that'll continue because it's quiet enough to use any time, even in my minimal-privacy living situation.
This product was provided free of charge to the reviewer. This review is in compliance with the FTC guidelines.

Thank you for viewing
Spellbound stud curved jack
– traditional vibrator review page!