Good concept, terrible execution
The TPR sleeve sweats some kind of mystery substance. Does it really matter what else the toy does or doesn't do? I mean, seriously. If you insist, though, a condom could make this a serviceable insertable vibrator.
Published:
Pros:
Decent vibration strength and quality, multi-speed and multi-function
Cons:
Doesn't hold its shape, TPR stinks and sweats
This toy was a total loss for me. It's labeled as pthalate-free TPR on the package, but it behaves like jelly. Read on for the great mysteries of the Flexi slim!
The specs
The Flexi Slim is 8.5" long with about 6" insertable when you're holding onto it. It's 3" in circumference at its thinnest point, 4" at its base.
Here's a questionable photobooth pic for scale: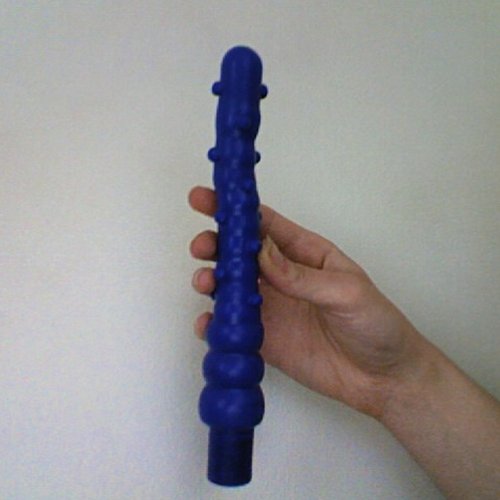 It has a hard plastic core (which has movable joints) with about a quarter inch coating of plush thermoplastic rubber (TPR) that's tacky to the touch. The nubs feel much more mild than they look: the TPR is so soft that I could barely feel them.
Fresh out the package, the TPR had a strong rubbery smell. Worse yet, it left some kind of unidentifiable residue on my hands. My fingers felt somewhere between greasy and powdery after handling the toy, and they stunk like rubber.
You guys, I really didn't want to put this in my vag after that. But I did. I did it for you, dear reader (but I used a condom).
I washed it with anti-bac soap and warm water. That took care of the weird residue (temporarily), but it didn't kill the smell. I washed it again, and then once more, but the smell still lingers. It's not nearly as funky as it was fresh out of the package, though.
After sitting in disuse for a week, the residue returned. The TPR sweats. TPR is not supposed to sweat, but jelly does sweat. Be warned that this product may be mislabeled.
I don't know
what
it's sweating out, but any time a toy sweats (or stinks), you know it's leaching chemicals. When you put those chemicals on your mucous membranes (your mouth, crotch, butt), you're putting those chemicals in your body. I recommend using a condom on this thing, if you must use this thing at all. Even if you don't mind mystery chemical sweat, I still recommend a condom. This is a porous material (whatever it is), so it can pick up and harbor viruses and microbes. Definitely use a condom if you plan to share with a partner, unless you're fluid-bonded.
"Flexi" function: a flop
The hard-plastic joints in the core of the toy creak like that floorboard you always try to avoid when you're creeping around your house at night. The creak gives the illusion of locking joints, like they're clicking into place as you bend the toy, but it's not so.
Without applying any pressure to the toy, it will stay in place when it's bent.
Here it is at maximum bend (and look, the sun came out!):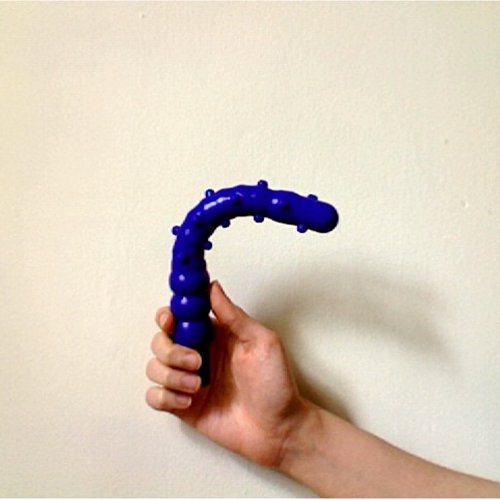 If you apply any pressure against the direction of the curve, it bends out of shape.
In use, then, that G-spot friendly curve you can bend it into is useless. The pressure of inserting it bends it a bit, and applying any pressure at all to the spot bends it completely out of shape.
If you make it straight and use it for straight-up thrusting, it stays straight. If you bend it into an L-shape so you can have a nifty handle, it holds its shape (as long as you don't apply pressure against the curve).
Vibes: Not bad
I was surprised by this toy's vibrations. The strength is moderate, and the quality is on the buzzier side of rumbly. They can be felt throughout the shaft, and they're just barely strongest mid-shaft. I could get off using this as a clit vibe.
It has three speeds (low and medium = 2 vrooms; high = 3 vrooms) and 7 patterns (variations on rollercoasters and pulsations). It's whisper quiet at any speed, easily muffled by a comforter.
The control is a single button at the base of the toy. Push to turn on, push to scroll through. You have to cycle through each function to turn off the vibrations.
This thing runs on 2 N batteries, and it comes with 4 N batteries.
Experience
Now, for the fun part! Since I'm never going to use this, I took it apart.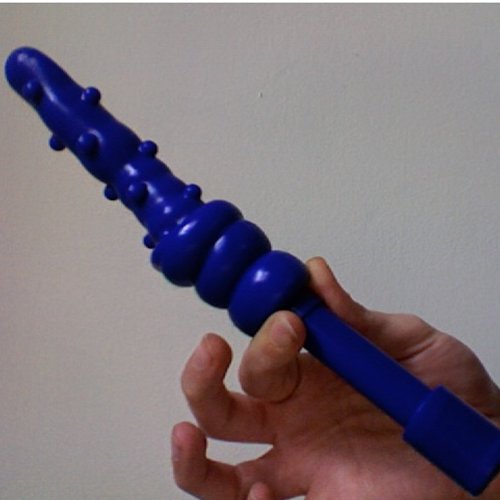 The TPR sleeve slips right off... (Supposedly this thing is waterproof, but I'm going to go ahead and say you shouldn't submerge it.)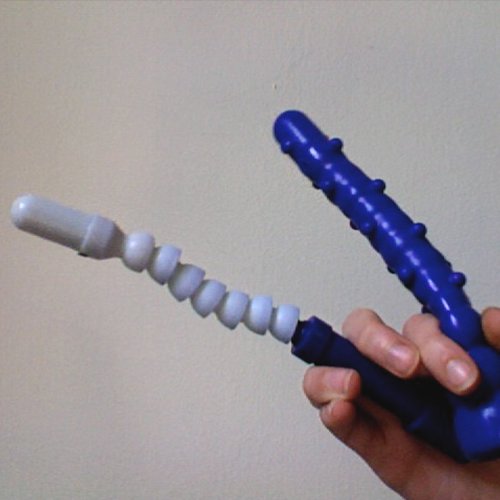 The hard-plastic core is a series of cup-and-ball joints. You can see the vibrating bullet at the tip (weird that it felt like the vibes were strongest in the middle, no?). If I had a silicone penis sleeve lying around, I might try to see if I could pair it with this core, but alas, I have no such thing.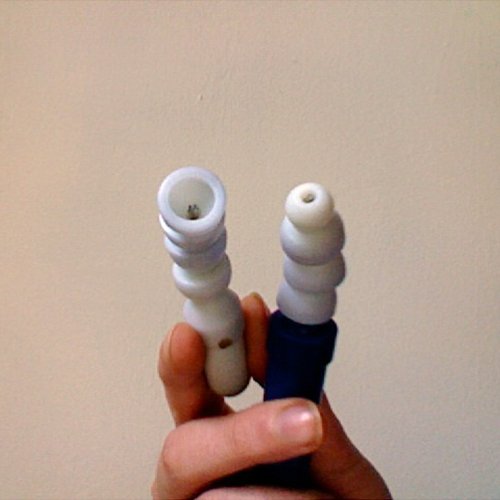 So I snapped it in half, naturally. It took pretty significant force to break it, definitely more force than you'll ever use on a vibe like this, but I was able to do it by hand. You can see the wire for the bullet in there.
So that's that! I'll put the TPR sleeve in a plastic bag in the sun, and I'll report back when it melts.
This product was provided free of charge to the reviewer. This review is in compliance with the FTC guidelines.

Thank you for viewing
Flexi slim blue wave
– traditional vibrator review page!