Great for a Beginner! The Nubby Softee really IS nubby and soft(ee)!
The Nubby softee is an excellent vibrator for inexperienced toy users like myself. It is isn't intimidating in any way, it is nice and soft, and the multi speed function is quite powerful. If you are more experienced, you may not find this as mind-blowing, but it is definitely a product you should add to your collection!
Published:
Pros:
waterproof, multi-speed, nubby texture, great for new toy users
Cons:
if you tighten the lid too hard, it will not work properly
Before discussing the product information and experience, I would like to note that this is my first vibrator that has a nubby texture, as well as my first that is bendable. What that means is that my review is from an inexperienced perspective. I would recommend this product for an inexperienced toy user such as myself, but I do not think that the quality of the product would amaze the more experienced toy user.
When I received the Nubby softee, my very first thoughts were that the packaging is very "cheap" looking. It looks like a product that would be sold at a discount store. I suppose the packaging really isn't what matters, but if you are giving it as a gift to someone, then it might. You can see from the photo below that the front of the package is very basic. Beneath the product is text that states the qualities of the item: waterproof, multi-speed, power-packed tip, Soft, nubby texture, and whisper quiet. On the back of the package, it repeats what is on the front, and also in very fine print at the bottom, it tells you how to use it properly.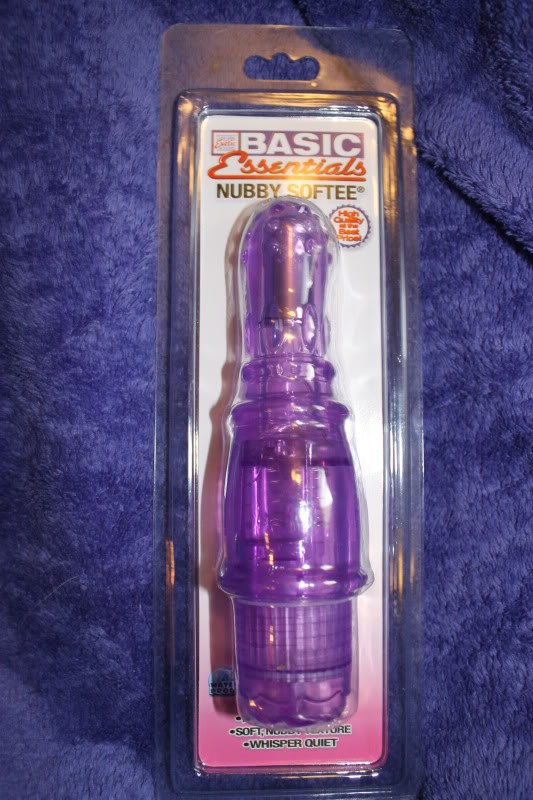 When opening the package, I did not find the vibrator to have any scent to it. There are no care instructions inside of the package, so if you are a stickler like me about directions/etc, be sure to keep the outer package.
The vibrator requires 2x AA batteries. The battery compartment is located at the bottom of the vibrator. This product is "waterproof", so it is important to ensure the cap is tightly sealed before using it in water. This cap is very easy to twist on and off tightly without a struggle (unlike other products I have used).
As for the design, shape and size:
The vibrator is a purple colour that is transparent so you can see the bullet in the tip of the vibrator, along with the batteries in the base, etc. The product, like the name says, is nubby and soft.
The Nubby softee is made of plastic and TPE.
Length: 6 1/2 inches
Insertable length: 4 3/2 inches
Circumference: 5 1/2 inches
Diameter: 1 1/2 inches
The pictures below shows the flexibility of the vibrator. It can bend easily to a 90 degree angle.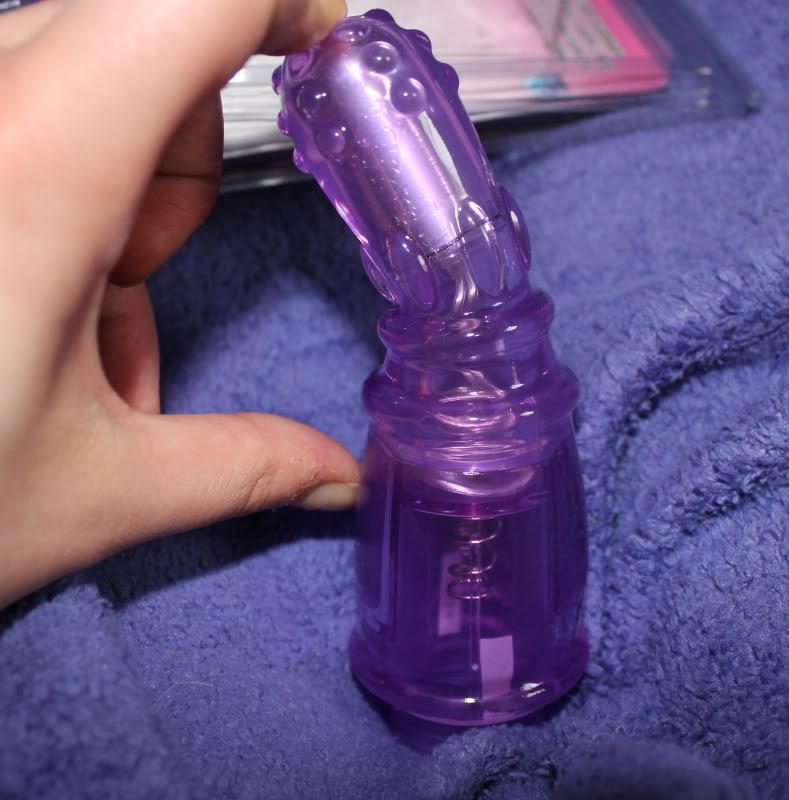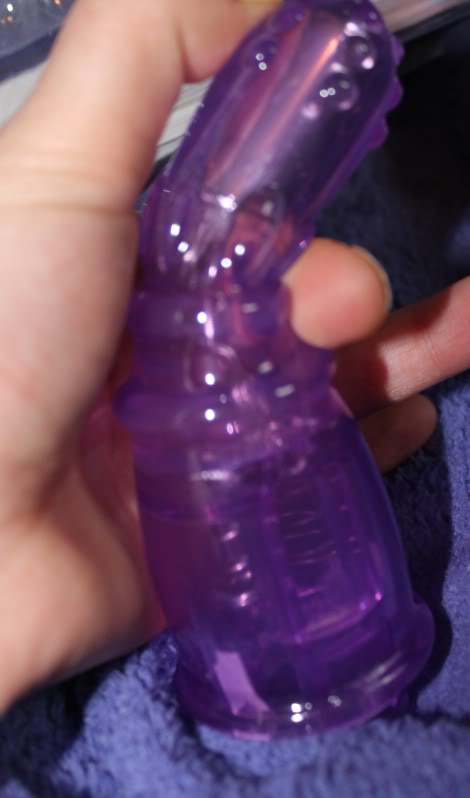 The Nubby softee is multi-speed through a twist dial to increase the vibration intensity. The lower vibration speeds are quite powerful for a low setting. When turning the dial to it's maximum, it is extremely powerful. As you turn up the vibrations, the sound is also increased. The package claims that it is "whisper-quiet" but I beg to differ.
At the lowest vibration, it is not a whisper. Actually, maybe a very LOUD whisper. You can not hear it through a closed door, but if another person is in the room with you, they will hear it. The maximum vibration is EXTREMELY loud. When turning it on to hear the sound, my cat jumped off of my lap and ran and hid. Yes, it is THAT loud.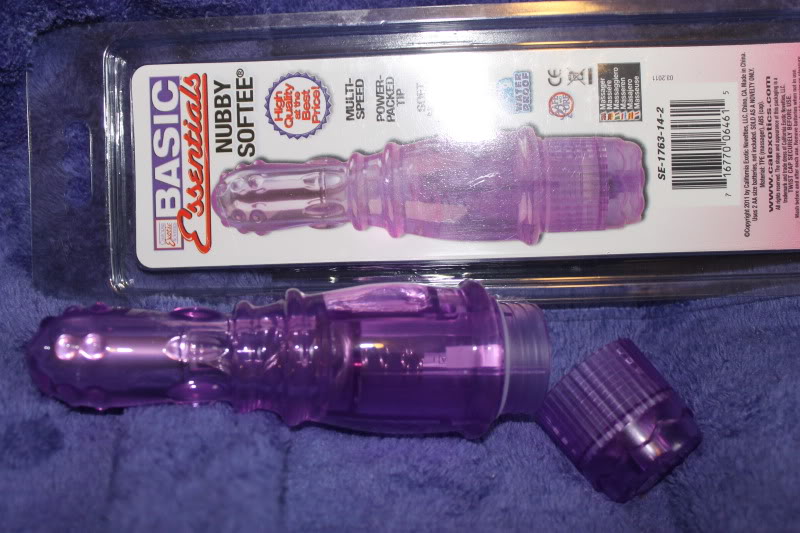 You can use this product for vaginal or clitoral stimulation. Although I do not practice anal sex, I assume that this product could work well for anal insertion as well because of its wider base.
The vibrator is very easy to clean with soap and water and I suggest doing this before and after each use. If you are going to share this product, be sure to use condoms while using it.
Experience
I found that when I twisted the battery compartment cap on too tight, the vibrator would either not turn on, or would not turn off. When I untwisted it just a bit from its tightest fit (yes, that rhymed), it worked properly. Perhaps the reason is because I twisted it too tightly, but I get worried that if it's not extremely secure, than water will get into the battery compartment when using in a water setting.

I personally really enjoyed using the Nubby softee. As I had said, this was my first nubby textured, soft vibrator, so it was a new experience! I prefer this vibrator for insertion over the others that I have used in the past because of how you can bend the product to explore your internal areas.

For clitoral stimulation (which is the only way I can orgasm), I prefer my smooth textured products over the nubs. When I tried using it for clitoral stimulation at the lowest vibration setting, I found that the bumpy texture was uncomfortable and started to numb the area. If your clitoral area is sensitive like mine, you will not want to use it this way either.

I decided that this product deserves a 4 star out of 5 (for a beginner) because it IS a great vibrator! Though, the fact that when I secure the lid too tightly it will not work, makes it 4 instead of a 5.
Follow-up commentary
1 month after original review
I still love the Nubby Softee, but since the review, I received my first rabbit vibrator. I'll admit, Mr. Nubby has been collecting a bit of dust now that I have a rabbit to please me. I need clitoral stimulation and the nubby softee does not provide that for me. I still like the product, but it' no longer on the top of the pleasure drawer. It's just a lot easier using a rabbit, then using the Nubby Softee along with a bullet vibe for clitoral stimulation.
This product was provided free of charge to the reviewer. This review is in compliance with the FTC guidelines.

Thank you for viewing
Nubby softee
– traditional vibrator review page!