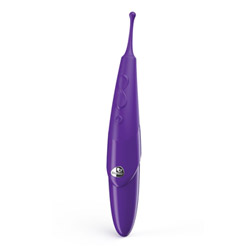 Zumio
Luxury clitoral vibrator
by Entrenue
Guaranteed multiple orgasms for me!
Overall we believe the Zumio is well worth the purchase price. It has certainly increased our activity level in the bedroom over the last couple of months. I have always been one who has had difficulty reaching multiple orgasms, and the Zumio has taken away the frustration of not being able to "get there again." We've gone from me having maybe 2 - 3 orgasms a week, to quickly and easily having multiple orgasms several times a week.
Published:
Pros:
Direct clitoral stimulation. Pinpoint stimulation. No numbing effect from prolonged use.
Cons:
Could be too intense for some.
Well, it was a sad day when my trusty Tango died. While not necessarily my favorite toy on every occasion, it was certainly one of my favorites if I was just looking for a quick and easy orgasm. I'm definitely the type that likes direct clitoral stimulation, so we decided to give the Zumio a try.

It wasn't available to buy from EdanFantasys at the time, so we purchased it online from a different source. It arrived early in the afternoon on the day expected, and we gave it about 8 hours to charge.

Following the suggestions that were included, my husband began indirect stimulation by working the area surrounding my clit with the Zumio on the lowest setting. As I began to get worked up, he moved closer and closer and continued to tease. It didn't take too long, and I was begging him to "either find the right spot or let me drive." At that time he moved it directly to my clit, and I quickly let him know that it was too intense. So he positioned it a little lower so that the circular motions were just barely nudging my button. I experienced a strong orgasm almost immediately. I remember thinking, "Wow, that was quick!" And the second one followed soon after.

We didn't pay much attention to the 60-second orgasm claims that Zumio had made, but they were not too far off. Definitely under five minutes for the first one, and a few more minutes for the second. It may have been faster with a higher setting, but we weren't in any hurry.

We continued where we left off the following night, this time with me using it on myself. He watched as I experimented with different locations and different settings. After a while, I zeroed in just off to the right side of my clit, on the lowest setting. Multiple orgasms quickly followed.

I'm not multi-orgasmic too often because after a while direct stimulation with a vibrator tends to cause me to go numb in all the wrong places. In order to orgasm again, I need to increase the speed considerably, which makes the numbness worse. If I do manage to get there again, it seems to take forever, and it's never as strong or feels as good as the first O. So I generally quit after getting the first climax. I don't have this issue with the Zumio. The second, and sometimes even the third come quickly and are just as strong and feel just as good as the first.
Experience
After a couple of months, here's what we think:

1. The Zumio is super precise and super intense. You can pinpoint the stimulation to exactly where you want it. You will definitely want to start a safe distance away from your clit and then work your way in as you become more aroused. Starting directly on your sensitive part will surely bring tears to your eyes! I would rate the intensity a full 10 on a scale from 1 to 10.

2. If you're not the type of person that enjoys direct stimulation than this toy is not for you. I like direct stimulation, but positioning it directly on my clit is too intense even for me. I've found that when I'm using the Zumio on myself, my sweet spot is off to the side where I can easily move in a little closer when the timing is right. The hubby has provided me with one orgasm after another by making circular motions around my clit. The closer he gets, the closer I get. When he feels I'm ready, he ever so slightly brushes my button, and that sends me right over the edge every time. Then he backs away and builds me up for the next one.

3. If you like a lot of pressure, then the Zumio may not work well for you. The more you press, the slower it gets until finally it completely stops.

4. Unlike a traditional vibrator, the Zumio doesn't seem to have a numbing effect following prolonged usage. Even the rumbly vibrations of the Tango tended to cause numbness for me after a while, making multiple orgasms difficult to achieve. The first one would come fairly quickly, but then the numbness would set in.

5. We've really only used the lowest 2 settings.

6. Battery life has not been an issue. I'm done long before the Zumio is.

7. The Zumio is fairly quiet. Noise is a concern for us because we have teenagers in nearby bedrooms. You will not hear it through a wall or a closed door. On a scale from 1 to 10 with 1 being the quietest, I'd put it at around a 3.
This content is the opinion of the submitting contributor and is not endorsed by EdenFantasys.com

Thank you for viewing
Zumio
– luxury clitoral vibrator review page!