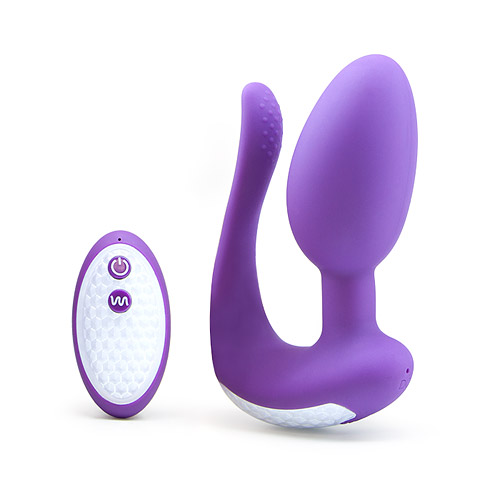 X-spot charmer
Rimming butt plug
by EdenFantasys
Hands free fun...with options!
This toy was not the best for vaginal use but, with a little time, effort, and patience it is amazing for anal stimulation. Definitely will fill you up and drive you wild!
Published:
Pros
Well-made; waterproof. Fun to try in different ways! Powerful vibs to stimulate your tender bits.
Cons
Not for beginners when using it for anal stimulation.
Alright...I have to admit that I didn't understand the true intended use of this toy. Yes, the title literally says "Rimming Butt Plug" and the description has words like "toss your salad", "assgasmic", "analicking", and "booty" (several times), but all I saw was a wearable vaginal vib with a teasing tail! Oh well, I'm not one to be tied down to social constructs so I'm going to review this my way...but perhaps try it the intended way as well!
This toy came in an unmarked brown box, inside of which was a very nice sealed box. The toy, and the included remote, were seated beautifully in a foam insert - protected and secure. Under the foam you will find the charging cable and instructions.
The toy itself appears very well made, with no rough edges, and appears to be waterproof. It is entirely encased in silicon, except for the bottom which has a plastic cap with the power button (water based lube only). The remote is small, but cute, and also appears to be well-made. You will need to remove the small plastic tab from the remote, labeled "Pull" to activate the battery. The charging port is on the side, and uses an insertable plug which connects to a USB charger. Looking at the toy, the more bulbous insertable portion is soft, yet firm with just a little squishiness from the silicon. The tickler portion is very flexible and can be bent just about in any direction, but does spring back.
At first glance, especially after FINALLY realizing this was a butt toy, I immediately thought "there's no way that's going to fit!" I have it shown here compared with a small butt plug and a medium sized dildo.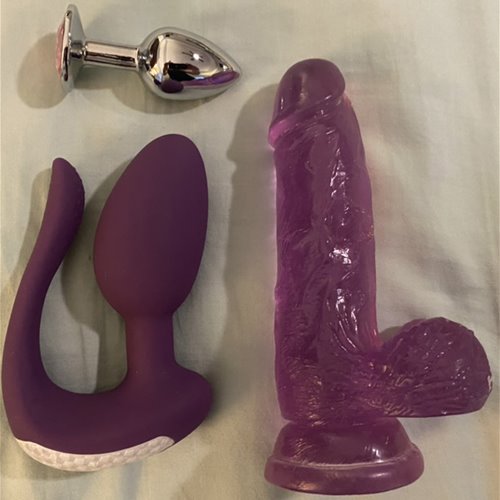 Keep in mind that anal is not my "go to" for sex. Sure, we play around some (why else would I have the small shiny butt plug) but I'm mostly a clit and vaginal stimulation type of girl. If you're a person who enjoys stretching your limits (pun intended) this may not seem too large for you. To me, however, it was a bit intimidating. That being said, as I mentioned before, I had other plans for this beauty!
To turn the toy on you push and hold the power button on the base of the actual toy. This will enter a "standby mode" to use the remote. However, you can quickly push the button on the toy to cycle through the patterns as well. If you want to use the remote, push the power button on the remote (with the toy in standby mode) then press the button with the wavy lines to cycle through the same patterns remotely. The various patterns turn the larger insertable piece, the rimming base, and the finger-like tickler on with varying frequency and intensity. The vibrations are fairly intense, but also pretty quiet.
Experience
Determined to make this work "my way" I wanted to try it vaginally. As I mentioned before, the toy is coated in silicon, making it very slippery with just a bit of lube. It slipped right in with a bit of foreplay however I noticed it didn't quite hit the right spots...no clitoral stimulation and just not quite on the g-spot either. The vibrations felt great, especially the tingly tail piece sitting between my cheeks, but when I cycled through the settings the rumble around the base (the rimming part) felt a little weird on my labia. I used my trusty wand on my clit and the combination was definitely intense, although I couldn't help but want a little more pressure and movement inside. After a bit of play time I'll admit I slipped it out and replaced it with a more traditional dildo. Don't get me wrong, this toy is so much fun to play with, but the design is obviously more for anal play.

Sooo...a few days later I figure the time was right. Knowing that I could not simply stick this up my butt I started by using a smaller plug for a while, then a slightly larger plug for a little longer. When I felt up to the challenge I used a good bit of lube and was able to slowly (and admittedly a bit uncomfortably) slip this in. I'm sure for those of you used to more anal play this will not be much of a challenge, but for me it did take some patience. Once in place, it felt surprisingly comfortable. Enough pressure to be felt, but not painful at all. The base sits comfortably against the skin and the tingly tail is just long enough to tease the back of the labia. Honestly, I think I could walk around with this inside without fear of it falling out or being at all uncomfortable.

Thankfully I remembered to turn the toy on (in standby mode) before inserting it, as it might be somewhat of a challenge finding the button once the toy is inside. Lying down on the bed, I turned on the remote and cycled through the settings. First the tail started...a pleasurable tingle. Once again I took out my wand and started massaging my clit. I began thinking "this is nice, but not overwhelmingly so" but when I continued playing with the remote I got to a setting where the rotating base and larger part of the toy roared to life. Oh my goodness! In no time I was having an intense orgasm. I'm talking about writhing in the bed, biting the sheets, gripping the edge of the mattress type of orgasm!

After coming down from cloud nine I thought about how I was going to remove the toy after working so hard to get it in. Thankfully this was not as uncomfortable as inserting it...maybe a bit of discomfort as the larger part of the toy passed through, but definitely worth the experience overall.
This product was provided free of charge to the reviewer. This review is in compliance with the FTC guidelines.
Thank you for viewing
X-spot charmer
– butt plug review page!