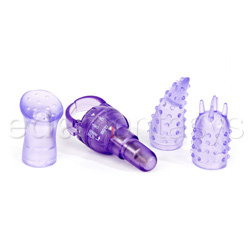 Alethia
Finger massager
by California Exotic
Helping hand? Not Really
Alethia is a sweet little finger vibe thats great for beginners or seasoned pros who are looking for something new and different. It comes with three little attachments that will change the experience just by changing the attachment. If you are looking for something with weak to moderate vibration, give Alethia a try.
Published:
Pros:
Travel friendly

Great for beginners
Cons:
Weak vibrations

Awkward to use
Alethia, by Dr. Berman and the Berman Center, is a clitoral vibe, great for beginners. You can use it anywhere but in the shower/bathtub. It's great for on the go. This can be used for either solo or partner play.

The vibe itself is made of plastic. The little attachments are made of TPR. Each attachment has little nubs and ticklers that both add and detract stimulation. Typical of TPR, there was a plastic smell that will go away after a few washes. The vibes base will fit most fingers. It is adjustable, just in case you have larger fingers than normal.


To really describe the vibrations, you have to look at each attachment because each attachment provides a slightly different sensation. This little finger vibe can be used sans attachments. Since there is nothing the vibrations have to travel through, the vibrations are going to be felt most strongly here. So here we go:

1) Looks like a bumpy tongue. This attachment provides the most precision playing. The vibrations carry fairly well, and it is moderately successful. The nubs can be felt and adds a lot of sensation. Unfortunately, shortly after I opened up the toy, my dog chewed this one up.

2) Resembles an ice cream scooper and has a few bumps on the top. There is no texture on the sides like the other two attachments. The only way I found for this one to work was place the scoop right over the clit. It covers the most surface area and the vibrations can felt all over the clit and even outer lips of the vagina (if that is something you like). For me, I was not a big fan of that. The vibrations were the weakest in this attachment.

3) Looks somewhat intimidating. It's covered with nubs, and has 5 little ticklers on the tip that are both flexible and rigid. Again, just as in the first attachment, the nubs can definitely be felt. I found this attachment by far the most successful. The only thing you have to be careful about is the "spikes" because it can be pretty painful if you press it too hard into you clit. It is easy to do if you are like me and really get going; the next thing you know, Ouch!


To turn on this little vibe, all you have to do is turn it a quarter turn to the "on" position. There is only one speed. NO VARIATIONS. No patterns. There are no instructions or directions on how to open up the toy or how to place the batteries. I was disappointed by this. It took me 15 minutes just to figure out how to open it. You have to twist it past the "off" position. It takes 2 watch batteries. You are given a pack of 4 watch batteries, which I appreciate. To close it, you want to match up the arrow on the bottom part of the toy to the "insert" position on the top part of the toy. Give it a quarter turn so that it will then be in the "off" position. Once you figure this out, it's quite easy to open up the toy.


Alethia is made of plastic while the attachments are made of TPR. To clean, I just give them a quick wipe down with warm water and a little bit of soap. You can most certainly use your favorite toy cleaner/wipes. Please be careful when cleaning this toy to not hold it under running water as it is not waterproof or even water resistant for that matter. If needed, I would stick to water based lubes mainly due to the attachments being made of TPR. It also comes with a wonderful little pouch. When I'm done cleaning it, I just toss it in the pouch. Having that pouch is a great way to keep all the little pieces together. This way you don't lose any of the attachments. It also makes this toy very travel friendly. You can easily slip this in your suitcase or overnight bag or even your purse. The pouch is sheer, so it's not exactly discreet.
Experience
I got Alethia more for my husband. He likes the whole idea of watching me play with myself. To get off clitorally, I have to have vibration. I thought this would fit the bill. It's a finger vibe, so he can still get to watch me "play with myself" without having this big vibrator in the way.
However, I found this toy rather disappointing. It's awkward. The vibrations are weak. While I did describe the variation of vibrations depending on the attachment, it's still quite weak. Unfortunately, I was unable to orgasm with this toy. I tried solo, sans husband. I tried solo, with the husband. Even the husband tried himself. But alas, no orgasm.
It was successful in one thing; providing a great chew toy for one of my dogs. I'm going to guess it was the wonderful plastic smell that made him sniff out the toy and demolish one of the attachments.

I do give it kudos for a having a decent battery life, as I haven't had to change the batteries yet.

I must remain hopeful that perhaps there is a learning curve and one day it will lend a helping hand. Perhaps.
This product was provided free of charge to the reviewer. This review is in compliance with the FTC guidelines.
Thank you for viewing
Alethia
– finger massager review page!