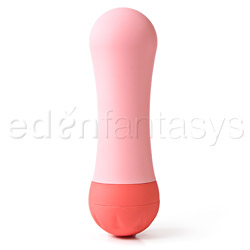 Luv touch Contour smooth
Traditional vibrator
by Pipedream
I'm picking up good vibrations (or vibrators).
This vibe is 100% worth it. Its powerful, has a great shape and will do everything but leave you disappointed. If anything, you'll want more. I know that in the short time we have had it; it has taken the number one spot with no future plans of getting bumped down.
Published:
Pros:
Great and powerful vibrations, wonderful surface area of tip, variable speed, waterproof.
Cons:
Screw on base is a little clumsy to take on and off sometimes. Might be too large for penetration.
I expected a
smaller travel sized vibrator
, but when the box came I was pleasantly surprised. The packaging is very unique. It consists of a clear tube that unscrews in the middle, and inside, suspended by a clear plastic holder, is the vibrator. I'm going to try to find another use for the cigar tube like package, it's just that fancy.
I washed the toy, dried it, and happily inserted two fresh double A batteries. The low, rumbley vibrations it produced even at the lowest settings told me this vibrator was going to be different from previous ones I (and we) have used, but more on that later.
The business end has a wonderful broad curvy shape to it, and a taper in the middle. We found through usage that the edges of the blunt tip produce some very powerful vibrations. This isn't one of those high super fast make you numb vibrators. This one rumbles, and can be felt deep inside.
We tried to use it for insertion purposes, but it was too large for either of us. The bluntness of the shape did not lend itself well to our needs. However, it was great for clitoral stimulation.
The overall shape and size is great. It has some weight too it, which provides a substantial feel. The shape is proportionate on both ends, and the base makes for an easy to grip vibe. I would almost speculate that it could be placed flat on a surface and used that way, but we haven't tried it yet. Also, the material is soft and easy to clean.
The noise was minimal and not nearly as loud as it could be for how powerful this vibrator is. And, as a bonus, it does not eat batteries as quickly as some of our other vibes.
Experience
I first experimented with it, just to get a feel for what to expect with my better half. I found that even on the lower settings, the stimulation it provided was fantastic on my various penile areas.

My wife, life partner, and soul mate then tried it. She found it to be above and beyond anything she's used yet. The large surface of the front provided a great way to cover and stimulate large areas and practically the entire clit. Also the material is very slick and is a great combination of power, size, shape, and function.

When used together, I found it to be easy to use. I generally have a hard time staying in the correct areas, but with the Luv Touch, I had no problems. I attest this to its shape. It's just that great. The broad curved surface is just fantastic and it makes an even better vibe.

When used during sex, the vibrations easily transferred to both parties and enhanced the experience greatly. And, once again, the large shape helped to make sure that the important parts were being made happy.
Follow-up commentary
10 months after original review
We've been using this for almost a year now, so I thought it was time to do a follow up review. This is still a fantastic vibrator and it is used almost exclusively. It has held up well, with no signs of wear, breaking or slowing down. In fact, we have found that using lithium batteries gives this vibe even more vroom. If and when this one goes to the great toy box in the sky, I will not hesitate to replace it.
This product was provided free of charge to the reviewer. This review is in compliance with the FTC guidelines.

Thank you for viewing
Luv touch Contour smooth
– traditional vibrator review page!