If you have a Product by EB, why not?
If you like products by Emotional Bliss and have one already, this promo Isis was a great deal! This only is a good option for recurring customers since those new to the product line will need another toy in order to receive a charger. Still, not bad for the price.
Published:
Pros:
Price, Rechargeable
Cons:
No Charger, Cuffs can Get Lost, Eh
What's this?
This is a promotional Isis. It is promotional because Emotional Bliss tends to include an Isis with their other products. This works because many (of not all) of their toys use the same charger. If you have an item (like Womailia or the Femblossom) by Emotional Bliss and you have an average to low sensitivity to vibrations, then this promotional Isis is a good grab.
DO NOT even think about purchasing this if:
-You need at least 4 Vrooms
-You don't have a previous product by EB
-You want multiple patterns or intensities
With that out of the way, we'll continue. Isis is a clitoral finger vibrator. It also comes with 3 finger cuffs: small, medium, and large, which are fairly easy to place and remove. It's not very loud, so it's an option for those who live with others. It is not at all waterproof since water could easily get inside the charging port (it has no cap). This is more oriented towards beginners since it is an affordable, rechargeable vibe made of solid materials. It doesn't have many bells or whistles but if it's strong enough for you then it could be a fit.
Give me some stats: Material, size, etc.
Isis is made of plastic. Plastic ranks an 8 out of 10 on the materials safety scale. It is non porous, so bacteria cannot thrive inside the toy. It is also hypoallergenic and made of food grade materials. The toy is a finger vibe, so it's on the small side. It is 2.5 inches long and .75 inches wide. Here it is compared to its sister, Chandra. The size is very beginner friendly and since it's not meant for internal stimulation, size isn't as big of an issue.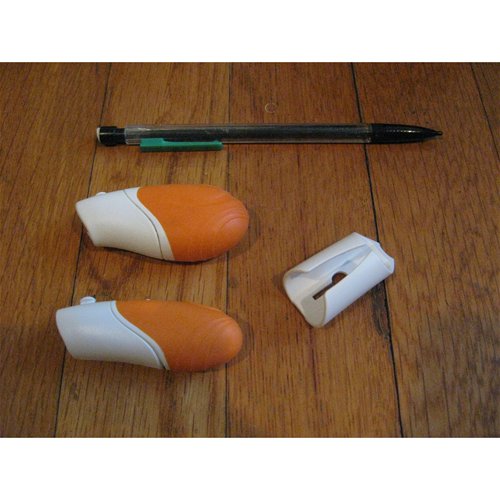 The 3 finger cuffs are also made of plastic. The small one is perfect for those with slender or petite fingers. The medium cuff will works for many women and is probably the most universal of the cuffs. The 3rd cuff is the largest and will fit women with larger fingers and probably many men as well. To use and remove the cuffs, you'll notice a white nub on the top of the toy. It punches in a bit at the base. Each cuff also has a keyhole shape; a thin end turns unto a circular hole.
Place the circular hole of the cuff on the plastic nub of the toy. The circular hole should be closer to the head of the toy then the thin rectangular one. Then, with your thumb, push the back of the cuff forward toward the head of the toy. This motion, back and forth, is how you manage the finger cuffs.
Tell me about the controls
The controls are very easy on Isis. It is simply one button at the tail end of the toy. Simply push the button and you will attain Isis's only setting. It is one, stand vibration. It feels more on the buzzy end then deep and rumbly. The cuffs help from getting your fingers numb. If you try and use Isis without a finger cuff, or you lose the finger cuffs, this toy can become difficult to use.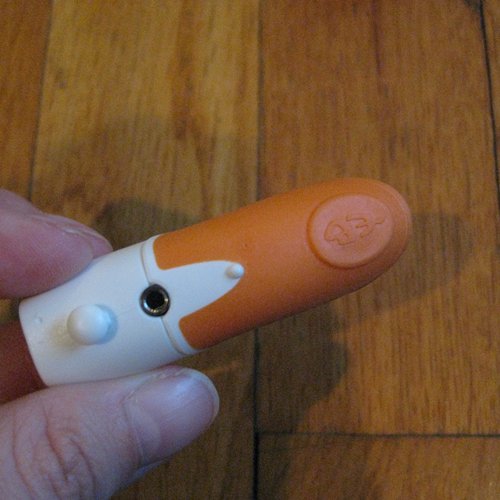 While some may scoff at the single vibration, a lot of research by EB went into both Chandra and Isis. They did studies in order to determine the frequencies of vibrations that women best respond to. They discovered that younger women in their studies best responded to a frequency of 80 hertz while women older than 30 tended to repsond best to a frequency of 110 hertz. Isis has a frequency of 80 Hertz. I would say it's about 3 Vrooms, which works for the average to sensitive users. Users who either want deep rumbly vibrations or the ability to hit 4 Vrooms with a toy need look elsewhere.
The toy is not waterproof; as you can see, the open charging port is on top of the toy. Charging is relatively simple. However, you'll most likely have to remove your finger cuff to charge it, which means an increased chance of losing your cuff. The instructions recommend charging Isis for an extended period of time. It is stated to charge Isis after every use, up to 12 hours for maximum use and to basically always have charging. It's nice that extended charging won't kill the battery, though. And also, for a toy this size and price, being rechargeable is a huge plus. The battery life for Isis is a little over an hour.
Experience
Maintenance and Packaging

The main goal when cleaning Isis is not to get water in the charging port. For this case, I think wet wipes are your best bet. They provide moisture safely and it also allows you to get into the crevices around the texture of the toy. Once clean and dry, Isis can be stored placed in a lint free cloth, pouch, or even a sock. She doesn't collect lint, but you'll want to keep her and the cuffs together. Because of the cuffs, I wish a mini pouch came with the toy.

This Isis came in a small, plastic bag akin to a thick sandwich bag. There was nothing else other than the instructions and finger cuffs. It's a promo item, so I didn't expect much.

Experience and other comments

To be honest, I only bough the promo Isis to get the finger cuff size medium since I lost my last one for my Chandra. It's my OCD; I don't even use Chandra or Isis. My preferred clitoral vibe is Life by Leaf and Tango by We-Vibe. I guess I just wanted the ability to use the toy if I ever wanted. That's about it, really. I think both these finger vibes are great, affordable clitoral vibes for the beginner and those who don't need hardcore stimulation.
This content is the opinion of the submitting contributor and is not endorsed by EdenFantasys.com

Thank you for viewing
Promotional Isis massager without charger
– finger massager review page!