It's cute!
Besides being loud and coming with no directions, it's a fun toy to use. It's great for foreplay or just using it by yourself. It's easy to clean. It's rechargeable.
Published:
Pros:
-It's cute.
-Fit's in your hand.
-USB.
Cons:
-Loud.
-No directions.
-Need's a light.
The Mood breezy Heart Shaped Vibratator is by Doc Johnson. When I first saw this cute heart shaped vibrator, I knew I had to get it. Not only is it cute, but it's a vibrator. This cutie has 7 functions. It's USB rechargeable, so no more buying batteries. When I first tried to use this toy, I was so lost. It doesn't come with directions, and there isn't any on the box either. After pulling the bottom of the heart apart I started to try and charge it up. There is no way of letting you know if it's charging or if it is already charged up. It would be better if it had a light to show you.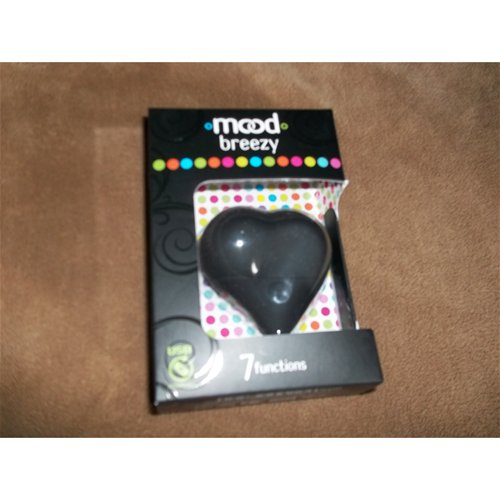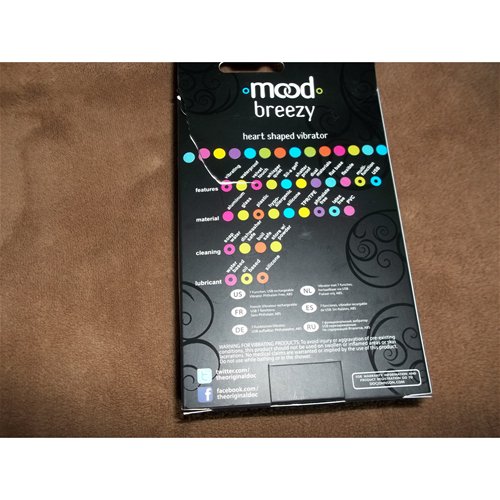 This is the back of the box which lists all features, materials, how to clean it, and what lubricants you can use.
Features:
-Waterporoof ( Is always a good thing).
-Velvet Touch ( It's smooth).
-Whister Quiet ( Which it's not at all).
-Sil-A-Gel ( Is an anti-bacterial compound, it help stop the spread of bad bacteria).
-Shatter Proof (If dropped, the bottom piece will pop off and could brake the USB).
-Flat base ( Which is not flat at all).
-Flexible ( It's not at all).
-Multi-Function ( It has 7 different functions).
-USB ( It's rechargeable, NO BATTERIES).
Material:
-PVC ( Plastic).
-Latex Free ( Great for people who has allergies to latex).
-Aluminum ( Is a chemical element).
-Glass ( Not sure why it has this in it).
-Hypo-Allergenic (Is always a good thing).
-Silicone ( Has No smell).
-TPR/TPE (Thermoplastic rubber, and Thermoplastic elastomers).
-Phthalate Free ( Is an acid that helps increase flexibility, transparency, durability, and longevity)
-Plastic
Cleaning: It's very easy to clean. Just use soap and water. On the box it says it's also dishwaster safe. For me I don't trust that. You can try and use the dishwasher, but I didn't take the chance. You have to store it with powder. Also, the box says it's boil safe. I will not be trying that either. I just use soap and water to be on the safe side.
Lubricants: For me I use water base lube with any silicone toy. The box does say you can use silicone lube. I know I'm new to the toy world, but I thought you couldn't use silicone lube on silicone toys because it would mess the toy up, so I will not be using silicone lube. You can also use oil based lube on this toy.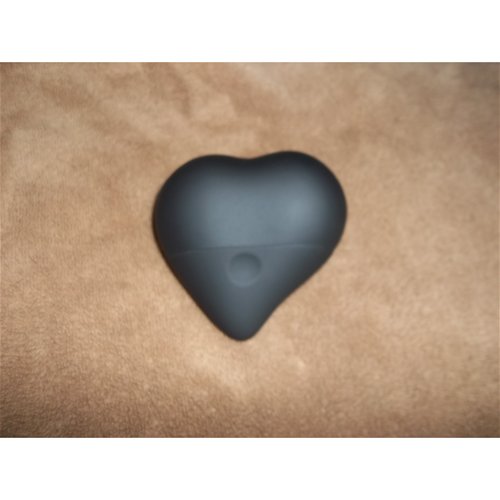 You could use this toy as a massager, which I think it should be called. It's nothing but a vibrating massager. Using this toy on the inside of you is out of the question. There is no way for that to happen because of the shape. It's small and fits in the inside of your hand, but is too big to insert into your vagina. It is a great toy for clitoris play. It's also great for giving massages all over the body.
To work this toy, you will have to hold the button for 3 seconds before it comes on, which I didn't know because it has no directions. You must hold the button down for 3 seconds to turns it on and off. Hit the button 1 time to change the vibration setting. This toy is not whisper quiet. It's really loud. Someone will be able to hear it in another room, even if the door is closed. It sounds like clippers at a barber shop, it's so loud.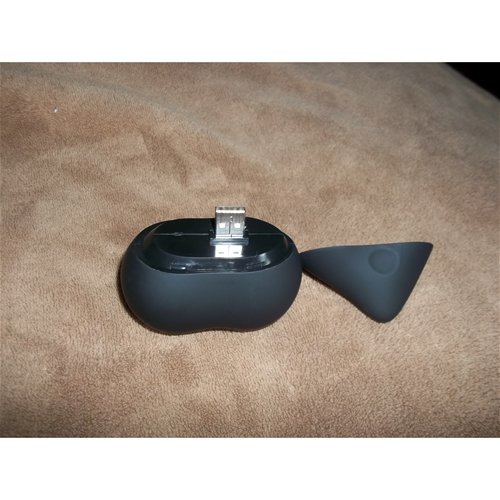 The USB.
This product was provided free of charge to the reviewer. This review is in compliance with the FTC guidelines.

Thank you for viewing
Mood breezy
– clitoral stimulator review page!