Kit #2?? No! This is my #1!
The Orgasmic Foreplay Kit 2 by Cal Exotics is an erotic, sensual, and very orgasmic toy that can satisfy you in many different ways. I love this kit and think it was damn near my best purchase so far from Edenfantasys. So far, it has been my new 'go to' toy for personal satisfaction through powerful orgasms. I use it while working on cam and off. I give it 4 stars. The reason I don't rate it 5 stars is because of the noise level and the amount of batteries it takes.
Published:
Pros:
Realistic Head, Powerful, Great Design, Beaded Massaging Shaft, and Duel Action
Cons:
A. little on the loud side. Takes alot of batteries (6).
The Orgasmic Foreplay Kit #2 is a sensual yet aggressive toy. It features a uniquely designed dolphin rather than the conventional rabbit. It is brought to us by Cal Exotics and I am very appreciative to them for this exquisitely crafted piece of heaven.
Those who enjoy the classic rabbit style vibrator are sure to enjoy the precisely placed dolphin on this piece. The dolphin is sure to give you the right feel on your love button.
This toy that is beyond a doubt perfect for anyone that prefers more than the typical straight forward vibrator. It is multifunctional and duel action for the optimal pleasure. Best of all, it provides sensations that are sure to get your hips working and keep you coming back for more.
This vibrator has a comparatively realistic head that provides a somewhat life like feel when inserting it. Also, its shaft is filled with little pearl like beads that provide marvelous stimulation while being plunged in and out! When inserted, the dolphin tickles and vibes on your clit with a fair amount of power giving you more and more pleasure leading up to that big 'O'.
Along the shaft are seahorse and other water creatures which are raised. This provides a little texture. Although I think they are not big enough to be felt, those who are sensitive to texture might find this irritating. They are cute and add a nice flair to overall appearance.
The handle of this vibe gives you a large and easy to grip area and is also where the controls are located. It is very easy to use and control, which is great when it comes to keeping your mind on the task at hand.
There are three rows of controls.
From the top, the first row is the on/off switch.
The next row controls the rotation which the head spins in clockwise or counter clockwise directions. I personally enjoy switching between the two to really get my hips working with it. Fortunately, the spin is equivalent to your finger going around in a small circle. Therefore, you don't have to worry about it flapping around uncontrollable and leaving you beaten and bruise with mushroom tattoos.
The third row has two sets of controls. You can choose from on/off and high and low settings. Each allows you to individually control the dildo and dolphin. The high setting has a good amount of power. I really enjoy it on high, although even on low you get quite pleased. This first part of the toy, in my opinion, was worth the price all on its own. But it has more!
Also, included with the Dolphin vibrator is a separate probe which has a corded remote control. This is a simple probe with a rounded tip with graduating bubbles down the shaft. Though this may appear to be a great to use anally, it is
not safe
to use in this manner. Because there is no flared base you run the risk of having it slip up into your anal cavity; which will have you playing a whole different game. When used vaginally, it had enough power that I really enjoy it. Over all, the vroom was great with this attachment and it is a welcomed bonus.
The sizing is as follows:
Length 10" / 6 1/4".
Insertable length 4 1/2" / 5 3/4".
Circumference 3 3/4" / 5".
Diameter 1 1/2" / 1".
Clitoral attachment shape is a dolphin. It is about 3" long and will hit the spot and hit it good.
Weight is 1 lb.
The Probe is about an 1"1/2 circumference and about 5" 1/2 inches long.
It is made of
Jelly
and has a rubber feel. As I said above, it has some textured sections.
It cannot be sterilized. Therefore, it is best to use a condom over this toy, especially if you are sharing it between partners. Although it cannot be sterilized, it can be easily washed with anti bacterial soap and water or toy cleaner. It is
not water proof;
therefore
do not submerge it under water
.
Just out of the box, this toy has a powerful smell. Fortunately, this smell subsides when it is washed with soap and water.
Both toys take a total of 6 AA batteries; 4 in the dolphin vibe and 2 in the separate probe. So far, using Rayovac brand batteries, it has lasted me for about a week with at least 1 use per day but up to 4 times a day. Each time ranging from 5 - 20 minutes. This is actually quite good for me (and the cheap batteries) considering I have many toys that use more batteries in less time and without all the options this toy has.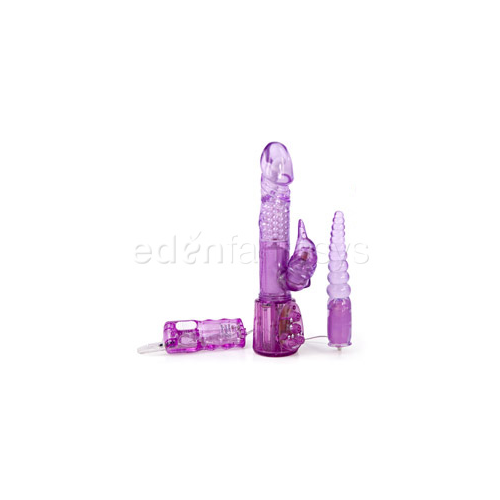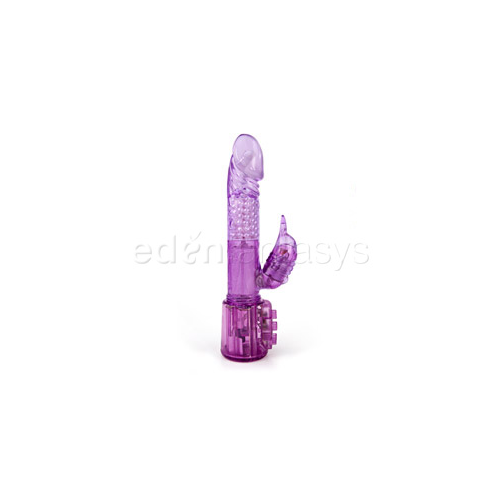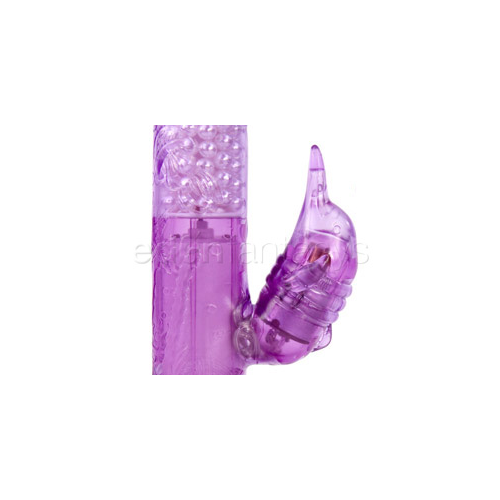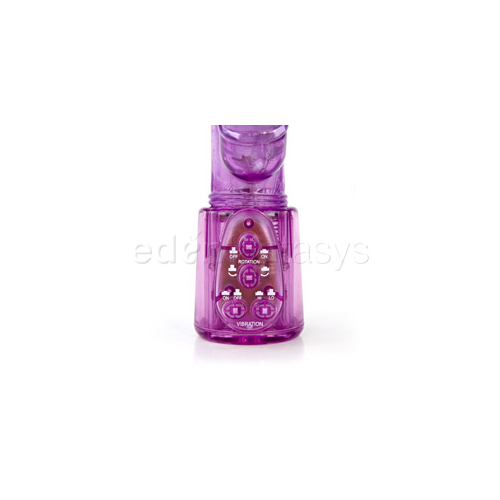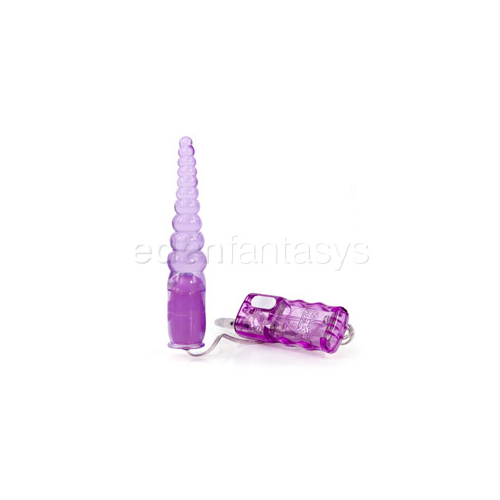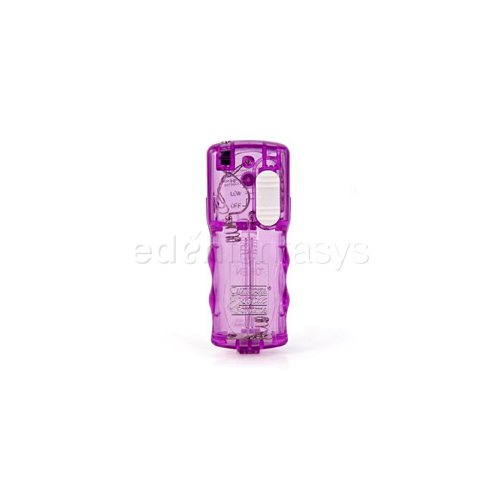 Experience
This dolphin vibrator has quickly become one of my favorites. I find that with the realistic shaped 'head' gets be turned on quickly by its sensual feel. The beads pulse throughout the shaft giving a massage inside me that makes everything more intense.

Oh my, the dolphin kisses and teases my clit and makes everything breathe taking. Some toys can take me 30 - 45 minutes or more to get me to come full circle with a great orgasm. Happily for me, this one can do it in 20 minutes or less and usually I'm delighted with multiple orgasms.

The rotating head gets my hips moving and has me working with it. Furthermore, I am never left wanting something else when I use it.
Follow-up commentary
3 months after original review
Though I still like the foreplay kit 2 for its functions. The noise level has gone up significantly with use. Though it was somewhat loud before, after putting it to use quite a few times, there is no way to be discrete with it.
This content is the opinion of the submitting contributor and is not endorsed by EdenFantasys.com

Thank you for viewing
Orgasmic foreplay kit 2
– vibrator kit review page!