Let your fingers do the flirting.
The flirt finger vibrators are perfect for anyone. It doesn't matter if you are experienced, or not so experienced. You can use it for some lite play, or to warm up yourself. The vibrations are perfect for just about anyone, although some might not see the vibrations as strong enough. It's made of medical grade silicone, so it's non-porous and good for sharing.
Published:
Pros:
Silicone, Small, Cute, Perfect for anyone, Comes with batteries, Textured, Removeable bullet,
Cons:
Uses AG5 batteries, One setting, Too weak for some,
Finger vibes aren't my thing; I've only tried about two or three. When I came across this, I loved it from the start. I don't know why, I'm guessing it's because it's made from silicone, and I personally love all things silicone. I also love the different designs, and textures it comes in. The flirt finger comes in three different styles; they come in a rabbit form, and two nubed texture ones.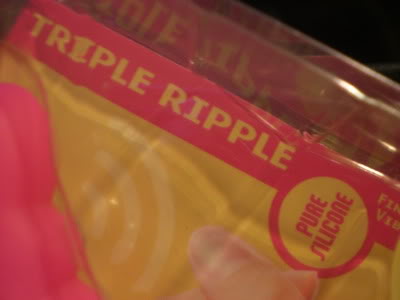 Now, when you receive the flirt finger, it comes inside of a large clear package. The casing is purely clear and may not be perfect for gift giving. Personally, I was surprised by the size of the casing. I was surprised by the size of the finger vibe itself, but we will get into that. The case is overly large, way too large for the finger vibrator. It also has a paper insert and the insert has a picture of a hand with the toy on it, and it's showing you how to use the toy. The back of the toy also has a picture of the toy on it along with some information.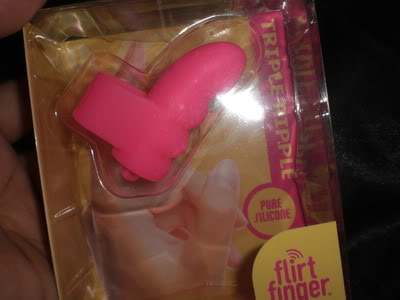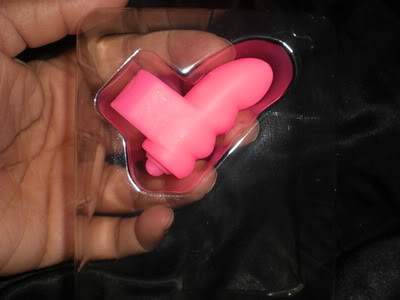 Such as,
Waterproof
One-Button control
MGS Medical Grade Silicone
Phthalate Free
Ribbed For Added Pleasure
It also has some extra information about the toy on it.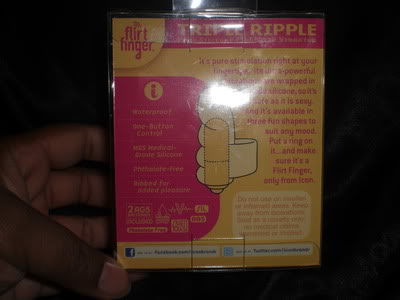 Now for the flirt finger itself, it's a very beautiful and compact toy. It fits on any finger, and can be use on just about any part of the body. The toy itself is made up of two different materials. The first would be the outer sleeve. This is made from Medical grade silicone; this is the silicone that is used to make medical items. It's completely body safe, and non-porous. It's completely smooth besides the rigged texture. The silicone sleeve also has a ring that you can place your finger into, and it's completely stretchy, and can fit any finger. The silicone doesn't have any type of smell or taste. It should be used with only water based lubes.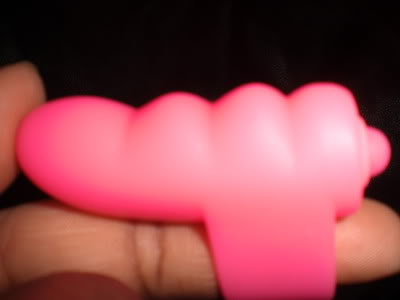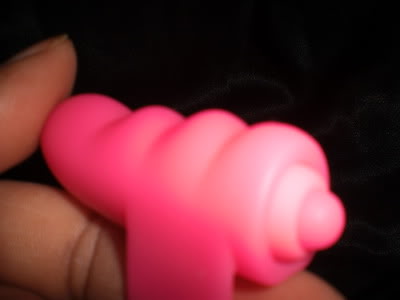 The second of the two materials coming from the bullet, the bullet is made of plastic, which is also completely body safe. The bullet itself is about 3 inches in length. It's about the length of a pinky finger. This is also where the vibration comes from, the bullet is completely waterproof, so you can take it into the shower or bath.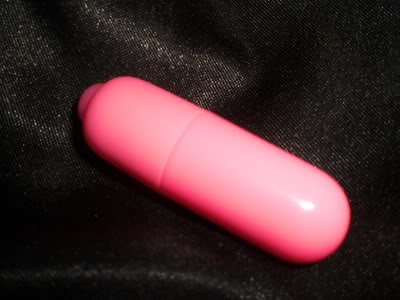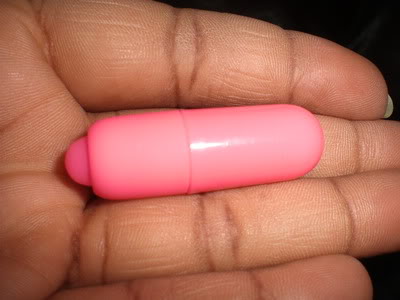 The flirt finger runs on two very odd and very small batteries. I've never had a toy that ran on batteries this size. The flirt finger runs on two AG5 batteries. These batteries are much smaller than your normal watch sized batteries. They are very easy to lose so when changing them be very careful to not lose them.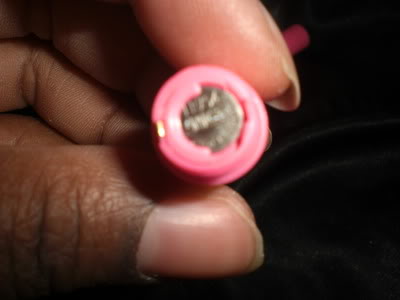 The flirt finger is operated by one single push button at the very bottom. The flirt finger only has one vibration setting, which is a major downfall, but it something that you can live with. The vibrations are easily felt throughout the finger vibe. It's kind of loud. When you are using it, it lets off a high pitched buzzing noise. It isn't loud enough to hear through a closed door, but it can be heard from under the covers. It is suitable for shared roommate living. As for the vibrations itself, the one vibration pattern is about a strong medium. It's perfect for most users.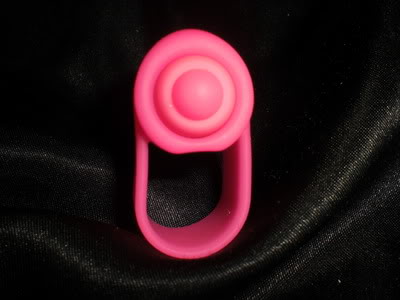 Experience
Continued...
The flirt finger itself is very small. It's about 3 ½ inches in all. You can carry it around with you. You can store it in your pocket and head out the door, or you can place it into your purse. Storing it without the case works the best, only because the case is so large, and the actual toy is much smaller.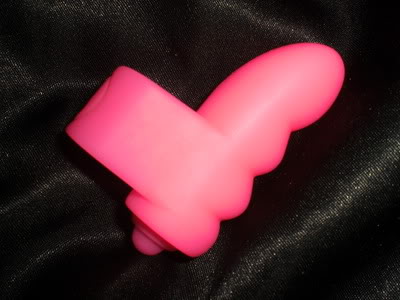 When you are using the flirt finger you can insert it as long as it's attached to your finger. I wouldn't recommend trying to insert it without it being attached to your finger. You cannot insert it anally, but you can use this to stimulate the sensitive areas around the anus. You can use it to stimulate your inner thighs, and nipples. The only one I think you would have trouble inserting would have to be the rabbit shaped on. I say this because of the ears.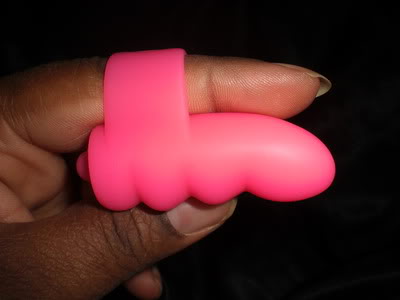 When you need to clean the flirt finger, you should use mild soap and water. You can also use your favorite toy cleaner. If you are keeping it loose, you should wash it before and after every use. You may even need to remove the bullet from the sleeve, because I notice that juices and lube can get in-between them.
Experience...
I haven't yet used this alone. The first time I used this was with my boyfriend. Upon first touching it. I thought I wasn't going to be strong enough, so I almost didn't try it. When we actually used it, it was a different story. I was at first worried about my brother hearing it, now that he lives with us. We later found out he wouldn't be able to hear it. If it wasn't for the texture I don't think he would have be able to get me off. The vibrations just weren't that strong to me, but the texture was amazing. I do recommend this item just because of the texture.
This content is the opinion of the submitting contributor and is not endorsed by EdenFantasys.com

Thank you for viewing
Flirt finger
– finger vibrator review page!