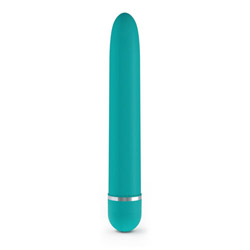 Luxuriate
Slimline vibrator
by Blush Novelties
"Luxury" for Beginners
As toys meant for "beginners" go, the Luxuriate is a steal. It is quieter, stronger, and has "better" vibrations than most toys in this market, while remaining affordable. Advanced users might find this toy boring, but for a beginner, this toy can help discover one's preferences without forcing them to accept sub-par quality.
Published:
Pros:
Gorgeous color
Relatively quiet
Good vibrations
Inexpensive
Great for beginners
Cons:
Battery hog
Cap can come off
Cannot be sanitized
Not whisper quiet
Dull for advanced users
I have been on a quest for quite some time for the perfect internal vibrator to recommend to my friends as a starter toy - something not intimidating in its appearance, relatively strong, not too loud, and, most importantly, affordable. At long last, I have found one - the Luxuriate by Blush Novelties.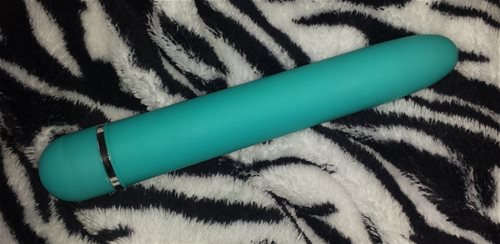 DESIGN
The Luxuriate is a "traditional" vibrator, in the sense that it is straight and lacks any form of curve, bump, ridge, or other type of texture. This is a design that is not at all new or innovative, but stands as a solid constant in the world of sex toys. Even the size is a standard; the Luxuriate is about 1 inch in diameter (just under 3 1/4 inches in circumference) and has an insertable length of about 5 1/2 inches. It's not too intimidating for beginners and the tapered tip aids in insertion, letting even the tightest of users not struggle too much. The tip is also great for clitoral stimulation. Keep in mind that this design is not anal safe, though, due to the lack of a flared base.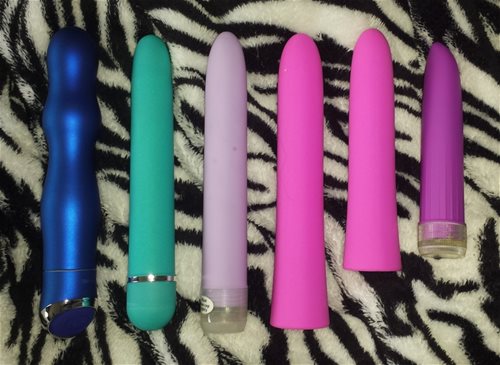 Comparison: Cal Exotics Body & Soul Seduction, Blush Novelties Luxuriate, Doc Johnson Velvet Touch, Jopen Envy Three, Jopen Envy Two, Ladyfinger 5" Vibrator
The Luxuriate is made out of PU coated plastic, which is a type of hard plastic with a coating that makes it feel a little softer rather than slick like ABS. This material is body safe, as it is latex- and phthlate-free, hypoallergenic, non-porous, and food grade. One of the advantages of PU is that you can use any type of lubricant with it without worry.
FUNCTION
The vibrations of the Luxuriate are moderately quiet, relatively strong, and somewhat rumbly - something which I found surprising. I was expecting loud, buzzy vibrations, like those of the Velvet Touch, but, thankfully, this toy exceeded my expectations. Granted, it is far from the quietest toys around, but I would wager that it cannot be heard through a closed door. If you're very concerned, you can always turn on a little background noise. I liked the quality of the vibrations as well; it would rate a 6 on a scale of 1 (buzzy) to 10 (rumbly), which is actually one of my favorite types of vibrations. It's deep enough to go past surface, but not so much that they shake your entire body. Alas, although the vibrations are centered in the tip, they do travel to your hand a little, but not so much to be very annoying.
This vibrator has multiple speeds, changed by a turn-dial control. I normally find such controls annoying, as I prefer buttons, but on the Luxuriate it works. I wasn't able to count the speeds due to the amount of overlap in the controls, but they go from one to three (maybe with a half) bees smoothly. Be careful to not twist the toy down too much, or you can accidentally open the battery compartment mid-use.
This vibrator runs off of two AA batteries. Be careful not to throw away the little piece of plastic inside the compartment, since it's necessary for the vibrator to work. Sadly, this toy is a bit of a battery hog; it lasted just over an hour during my tests (I did keep batteries in the toy overnight, so some of the power might have leached out). Regardless, I find that this is a small price to pay, when the quality of the vibrations and price are so nice.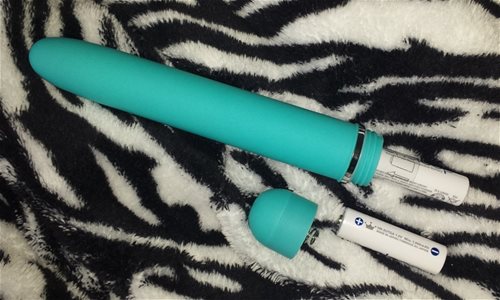 MAINTENANCE
To clean this toy, you can use either warm water and soap or your favorite toy cleaning. Because this toy is waterproof (and has passed both a shower and submerged test with me, but, again, be careful turning it down when submerged), you don't have to worry about water getting into the motor while cleaning it. To give it a bit more thorough of a cleaning, you can either wipe it down with rubbing alcohol or with a 10% bleach solution, but these might deteriorate the coating with time and excessive use. If planning on sharing, you should use a condom or toy cover.
You can store this toy in any way that you would like, though I would recommend keeping it out of direct sunlight. I would recommend a plastic bag or other type of cover to prevent the coating from being scratched, but this is by no means necessary. This toy is not a lint magnet.
As always, my review is too long and will continue in the "Experience" section
Experience
VERDICT
This is far from my favorite vibrator; other toys have that honor. However, I cannot help but wonder if, had this been my first toy (instead of the monstrosities that turned me off of sex toys for years), I would have gotten into sex toys sooner. The Luxuriate is a great "first" toy (or first insertable toy) and, in my opinion, is far better than the majority of toys out there meant for beginners.

Sure, I prefer g-spotters over traditionals and, in the realm of traditionals, my Jopens over the Luxuriate, but not everybody can (or is willing to) afford more expensive toys, and this is something that has to be taken into account. Because of this, I am rating it five stars rather than the four that it would rank when compared to the rest of my rather extensive toybox.

Advanced users should probably pass this one, but if you're new to the sex toy world, this is a steal that will help you discover your own preferences. It's well worth the cost!
Follow-up commentary
5 months after original review
Alas, my vagina is spoiled by the joys of more "luxurious" toys, so the Luxuriate does not get much use anymore. However, it remains my go-to toy for those moments when I want to return to the basics... And the one I recommend to people seeking a first toy and adamant about wanting this shape.
This product was provided free of charge to the reviewer. This review is in compliance with the FTC guidelines.

Thank you for viewing
Luxuriate
– slimline vibrator review page!