Metal bound i4
The metal bound is an adorable mini rabbit styled vibrator. It has different settings. The metal bound is waterproof friendly, suitable for beginners and the more advanced. With the TPR sleeve being removable makes, it easy to clean. Strong vibrations and added clitoral stimulation.
Published:
Pros:
Waterproof, Multiple setting, Removeable sleeve, Easy to clean
Cons:
Odd shape of the head
Who knew metal could be so much fun.
I'm becoming more, and more of a California exotic fan. I have about 8-10 items from them, and I have loved just about all of them. Thank you, for Eden fantasys along with California exotic. I was able to try another awesome item from them.
I received the metal bound rabbit styled vibrator some time ago. I'm not going to lie when I first tried it out I did not like it. I was not going to give it another chance, but you cannot write a review on ANYTHING without giving it multiple tries. I'll leave that for the experience section.
The metal bound is a cute mini rabbit vibrator. I call it mini because it is not the normal size of most rabbit vibrators. Yet it still has the look and shape of a normal rabbit vibrator. When you receive the metal bound vibrator you notice the plastic casing. It is not a large one. It is an all plastic clear case. It has some writing, and a clear picture of the toy itself on the back of the box. The sides of the box do, have some information on the toy as well as the front. The box has information such as How many setting of vibrations, what type and how many batteries to use. That it is waterproof. This may not make it perfect for gift giving in a non adult situation, at a bridal party or a party strictly for adults. You could give it as a gift. If, you do not have storage you can use the casing as storage.
Vibrations are as followed:
1.On
2.Low (3bees,2vrooms)
3.Medium(3bees,3vrooms)
4.High( 3bees, 4vrooms)
5.High pulsations(3bees, 4vrooms)
6.Off
Measurements are as followed:
Length:4 1/2"
Insertable length:4"
Circumference:5"
Diameter:1 1/2"
Width:1 1/2"
When you remove the toy from the box, the first thing you notice. It was the first thing I noticed is the bulbous head! It is very oddly shaped! It is like a circle at an angle. Which make is it suitable for g-spot stimulation for some women. Although, some women may have a hard time inserting it because of the odd shape. The metal bound is very hand friendly, as I said it is not the size of a normal rabbit but is small enough where you can hold it in one hand. The metal bound is made up of TPR. You can use water and silicone based lubricants with this toy only.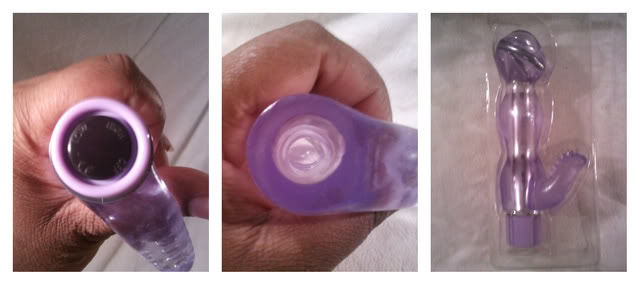 The metal bound does have a little bit of texture; the texture is mostly located at the "rabbit" tip that comes in contact with the clit. When looking at the toy, you could think it was a bit hard. (That is what I thought) Shockingly it isn't in the least bit. It is very soft. It is softer than a finger touch.
The texture is extremely friendly. It was perfect for me because I do not like too much texture in direct contact with my clit. When the vibrations are going you, can actually feel the vibrations flow through the clit tip. Another thing I LOVED about the metal bound is that the outer part of the toy is fully removable. It is a sleeve. Yes, a sleeve. I do not know if they are going to come out with interchangeable sleeves for this line, but it would be awesome if they did. When you remove the sleeve all the toy is one slip traditional vibrator! That by far is my favorite part of the toy.

Cleaning the toy is very easy. Because you can fully remove the part that comes in contact with your body, you can take it off and wash it in the sink with mild soap and water. You can also use your favorite toy cleaner. So cleaning this is the best. When storing You can use your plastic case or place in into your favorite toy box. I would keep this away from jelly toys mostly because I do not think it would be safe. Your toy could possibly start melting. The toy is very friendly. It is very travel friendly. It is not too large. You can store it in your bag and head out the door.
Experience
I was a little worried about this toy when I received it. I was worried because of the oddly shaped head of the toy. I pushed the worry out of my head, and decided to give it ago. The very first time I used it was alone. I wanted to try it without my boyfriend. When I had it in my hand and felt the texture I was quite happy with it, I was also very happy that the texture on the clit stimulator was not a hard texture. It was very soft.
Now came to using it. I had a hard time inserting it. I tried it a couple of time, but I was not going to let that keep me from using it. I took my time and slowly inserted it. I did find it uncomfortable, and a little hard to move it around. Which quickly turned me off from the toy. I was upset because, I wanted to use this so bad. I tossed it to the side. Finally, after a couple of days. I decided to give it another go.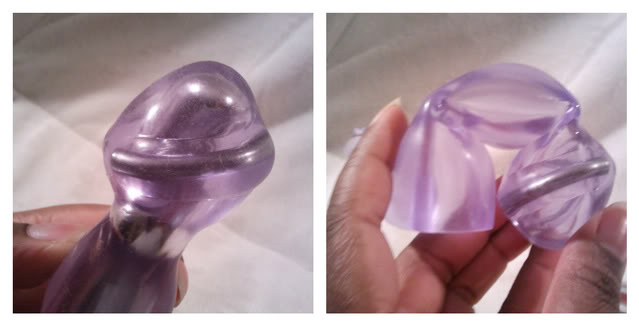 This time I did something I did not do last time. I used some extra lubricant. I did not use it last time because I thought I was wet enough. I was wrong. I learned that time you could never have too much lubricant. I just added some unflavored, water based KY lubricant. The metal bound slid in very smoothly; fifty million times better than the first go around. I was able to move it around and get it where I needed to place it to get me off. With the vibrations and the texture of the clit stimulator, it got me off quite fast. I was so happy because I have the worst luck with rabbit styled vibrators.
When I went to clean it was when I noticed that the TPR part was a sleeve. I was very excited about this because it made cleaning so much better. I was able to take the sleeve off, and thoroughly clean it along with the vibrator part. I partly wish all toys came with removable parts, so cleaning would be easier.
This product was provided free of charge to the reviewer. This review is in compliance with the FTC guidelines.

Thank you for viewing
Metal bound i 4
– rabbit vibrator review page!