My Very First Rabbit! I Love You EZ-Bend Triple Tease xoxo
This rabbit has changed my life.. Okay, maybe not my LIFE, but definitely my solo-play. Never having experienced a rabbit before the EZ-Bend Triple Tease, I wasn't too sure what to expect. After using the product, I don't think I can ever go back to a regular vibrator again. With it's flexibility and ten functions, you're sure to enjoy this product as much as I had!
Published:
Pros:
waterproof, ten functions, dual motors, good on battery power
Cons:
may be a bit girthy for those who enjoy a thinner insertable
I am happy to say that I now have a rabbit vibrator! With that being said, I have not had any other rabbit to compare this to. My perspective is one from a beginner level of sex toys, and a completely new user of rabbit vibrators.
I'll admit, when I first seen the vibrator's girth through the transparent plastic packaging, I was intimidated. The packaging of the product is a plastic shell case which you can see through. On the front of the package, you have the product name, brand logo, a picture of a female, and some of the features of the product are stated. The back of the package has the same items as on the front, but also has the company contact information, copyright notice, etc. (the basics you find on most products). The qualities that the EZ-Bend Triple Tease states on the package are as follows:
-Soft, textured shaft moves with you or locks into perfect positioning
-10 intense functions of vibration, pulsation, and escalation
-Waterproof
-Instant on/off button
-Soft, silicone push button controls
If you notice in the photo below, you can see through the transparent packaging that there is an instruction manual inside the casing (on the back of the product). The manual states the battery insertion instructions, what to do if there is an electrical malfunction, instructions for use, and warnings. The instruction manual is printed in six different languages. I am a big fan of this because I feel like the company is going the "extra mile" by providing us with this information. Most of the products I have, did not come with this.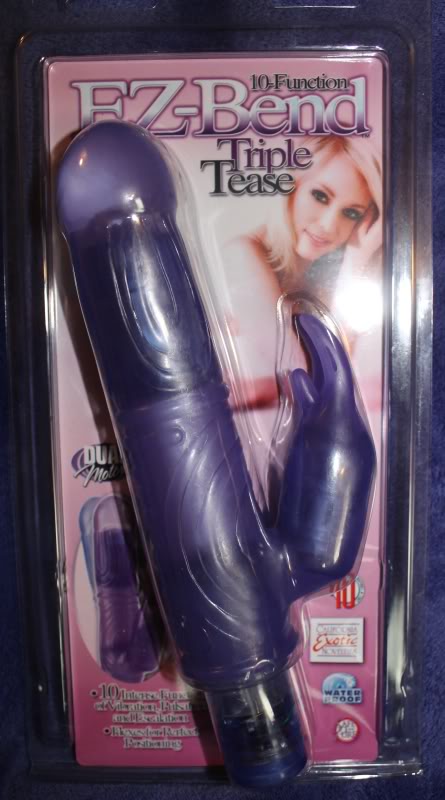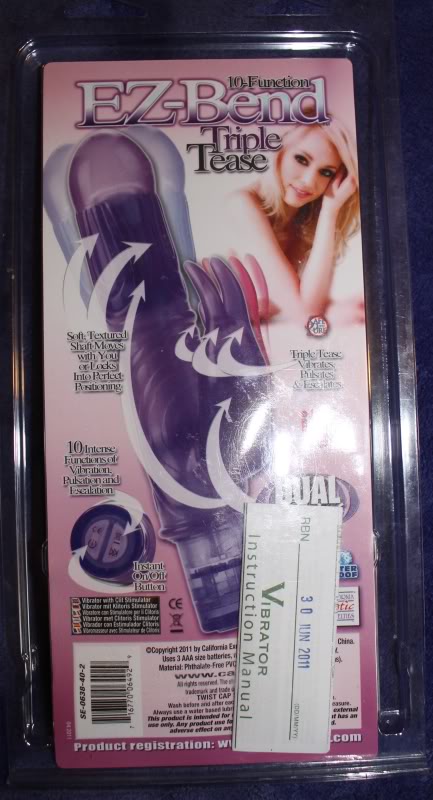 When I opened the package, I did not notice any strong odors coming from the product. However, I did notice that there was dust and such already on the product (sort of, stuck to it). I washed it off with soap and water, and did a test to see its "stickyness". My couch is where my cat lays, so there is hair on it. I took the vibrator and gently swiped the couch. You can probably already guess the results... The product picked up everything off the couch. Be sure to wash the product BEFORE AND AFTER you use it.
The vibrator requires 3x AAA batteries which are not included. The battery compartment is located on the bottom of the vibrator, and has a nice twist-and-lock cap on it to ensure it is sealed tightly (this is especially important when using it in water).
As for the design, shape, and size:
The vibrator is a purple colour that is transparent.There are slight textures in the shaft, but they cannot really be felt when inserted.
Length: 9 inches
Insertable length: 5 1/2 inches
Circumference: 4 1/2 inches
Diameter: 1 1/2 inches
The materials that make up this product are plastic, PVC, and silicone. It's important to note that the insertable part of this product is NOT silicone. The product page does not tell you which parts are which materials so I am going to clear this up...
Vibrator material= PVC
Battery compartment cap material= plastic
Control button material (on very bottom of vibrator)= silicone
So the only part of this product that is silicone is the buttons. You can clean the product with soap and water or a universal toy cleaner. Also, if you use lubricant on the vibrator, both water-based as well as silicone can be used because it is PVC.
The EZ-Bend Triple Tease is extremely flexible and can easily bend to a 90 degree angle. Below you can see a photo of the vibrator before being bent, and afterwards.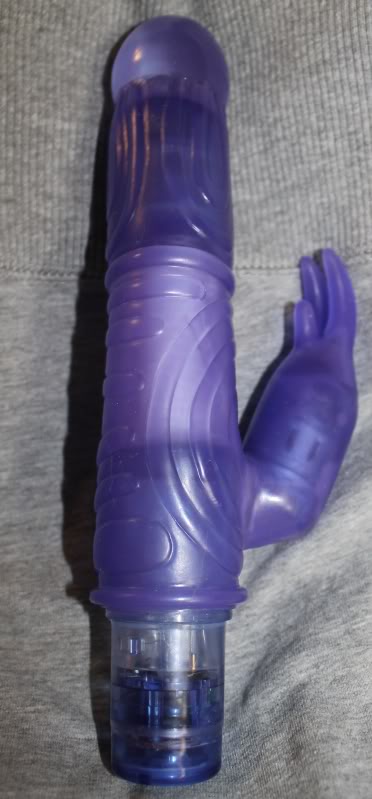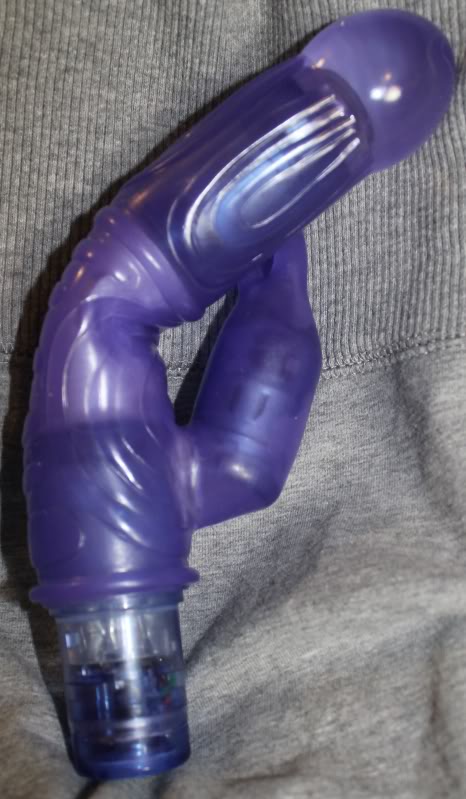 The vibrations of the product can be switched by pressing the button beside the power button on the bottom of the product. There are ten different "modes" you can switch through that include vibration, escalation, and pulsation. The modes range from slower paced to high intensity.
I found that the noise-level of the product was quite low. You can not hear the product when it is on through a closed door. All of the ten functions are relatively around the same noise level.
Like with most products, if you plan on sharing, cover the product with a condom.
Experience
I didn't have any brand new triple A batteries on hand, so I stole three from one of our remotes. Surprisingly, the product worked with the crappy, no-name batteries that have been in our remote forever. I also used the product for about 15-20 minutes. This is FABULOUS news because it means the vibrator does not eat away the battery power like some products do.

As I mentioned above, this was my first experience with a rabbit vibrator. The girth of the product did intimidate me a bit when I seen it for the first time. I am used to insertable products that have a slimmer body to them, and that do not have such a wide tip. I had to use a lot of lube because of this.

At first I found the girth to be a tad bit uncomfortable, but after a minute or so, the discomfort was completely gone.

I loved the fact that it stimulates both internally and externally. I've used both a vibrator and dildo at the same time before to get stimulation to both areas. It was nice only needing to use one hand to handle the product.

I liked all of the different modes, but preferred the more intense modes over the slower ones. The variety of modes is great because no matter how you're feeling, there WILL be a mode that suits your preference that day.

Would I suggest this product to other beginners like myself? Absolutely. I'd even suggest this to the more advanced toy users as well. Though, if you are not a fan of larger girthed insertables, or you are working your way up in size and not ready for a thicker product, then this product may not be what you are looking for.

Overall this product gets a 5 out of 5 from me. It comes with a manual, has ten different functions, is water-proof, stimulates both internal and external areas, is extremely flexible, has simple buttons for use, and it's purple (my favourite colour); what more could I possibly ask for!
Follow-up commentary
1 month after original review
I still love the EZ-Bend Triple Tease as it was my first rabbit style vibrator. Since my review though, I have tried another rabbit style vibrator which rotates in the shaft, and does not have such a bulbous head (which I prefer). The EZ-Bend Triple Tease has not had much action with me since my review because of the newer rabbit I have. It's definitely still going to stay in my collection and it will get used, but I found the larger head to be a tad bit uncomfortable compared to my newer rabbit.
This product was provided free of charge to the reviewer. This review is in compliance with the FTC guidelines.

Thank you for viewing
EZ bend triple tease
– rabbit vibrator review page!