Not a pokeball.... :(
Namaste Clarity is a very unique toy by California Exotics. This vibrator is perfect as part of the green movement as it is fully rechargeable by usb port. You can pull it apart or leave it together, the decision is up to you.
Published:
Pros:
USB CHARGER!!!, unique in design, nice and smooth
Cons:
when pieces are together makes a lot of noise, not strong enough for clits-o-steel
Namaste Clarity is multifaceted, there is more that meets the eye with this one. At first glance it looks rather like a Pokeball, but it pulls apart to a new shape that is easier on the hand.
It can be used in different styles; rock and roll it against body parts, or pull it apart to pin point where you are aiming for. Any males out there might enjoy the subtle vibrations as well, my S.O. did!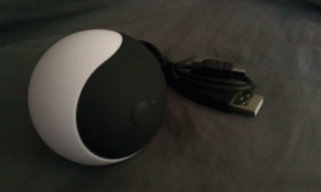 I was curious about this one because of the shape; a round vibrator is something I haven't had any experience with. At the time I speculated that it would pull apart but wasn't sure because there was no prior information.
The Namaste Clarity is made from ABS plastic coated with PU---the kind that feels velvety soft. PU coated plastic can be used with both water and silicone lube. Do not boil it to clean it but use another method; wipes, cleaner, etc.This toy is not waterproof due to the usb port, the soft plug cover is not enough to keep water out of this guy. Because of the materials it cannot be fully sanitized, but since it isn't used externally you should be able to decent job otherwise.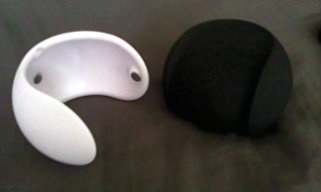 Length:
2 3/4"
Circumference:
8 5/8"
Diameter:
2 3/4"
Overall it's about a smidge smaller then a baseball in size. And the white shell piece takes shape of the pattern of one half of a baseball---2 U shapes together. The other half the black, is a full circle in shape but has a shaved effect on the half that snaps off. So it fits perfectly in your hand if you close it around it. Holding it that way proved to be uncomfortable but I found holding once again like a baseball was the best grip for me. (The grip I use is almost as if I am pinching it with more fingers.)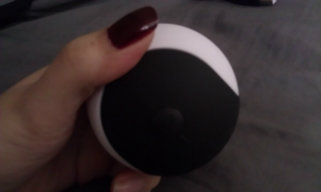 The function button is made out of silicone unlike the rest of the toy. It is located on the black and bulk half---when in use it will light up in a purple/pink color.
There are 8 functions to this "massager" they are as follows:
1. On and low
2. Medium
3. High
4. Pulse
5. Faster Pulse
6. Escalation
7. Pulse in a low, medium, high vibration (sounds like a robot singing tbh)
8. Pulse and pause
To turn it off you hold the button down for 3 seconds.
During vibration if the 2 parts are together it will make a really annoying sound. I guess this is from the pieces vibrating next to each other. So you are better off using the black part without the white.
Experience
A cool feature is that it charges by USB port. A full charge will last for an hour and half. The plug goes into the side of the bulky half and is covered. You cannot feel this during use because of its location off to the side. I wasn't really sure if my toy was charging or not because there was no pop indication on my computer. To test this out I let the toy run till the power died---I can confirm battery life on a full charge is about an hour and half a little more. It did heat up with continual power so I really wouldn't recommend doing this. I plugged it into the USB port and turned the on button on to make sure it didn't just break (call me a skeptic) it shot on immediately!

Overall, I thought this was really innovative but lacked the power my clit-o-steel needs. But on the other hand my S.O. really enjoys it as a preface to sex, so maybe we finally found a toy for him! If the power was upped and they figured out how to make the pieces together not as noisy this toy would be a home run.
This product was provided free of charge to the reviewer. This review is in compliance with the FTC guidelines.

Thank you for viewing
Namaste clarity
– discreet massager review page!