Orange You Full of Unexpected Surprises?
I was so surprised with how great this little toy is. Its color is fabulous, and even with only one setting, I've had multiple orgasms with it and really enjoy it. It isnt silicone and most likely not waterproof either, but you could have fooled me if you told me it was either. It's easy to use, but tedious to take apart and put back together. And if you have lube on your hands or fluids, you may have some difficulty turning it on and off. Fun little toy, though.
Published:
Pros:
-Great orange color, I love neons!
-Stronger orgasm than anticipated
Cons:
-Probably not waterproof
-Feels like silicone, but isnt silicone
-Only 1 setting
Eden's Velvet G is, to me, like the equivalent of a large bullet vibrator. I'd say it has about the same amount of power, too. At exactly 5 inches long from tip to g-spot tip with a diameter of 1 inch (and a circumfrence of 3 1/4 inches), I did not expect this to be very pleasurable at all from the looks of it. I tried it out clitorally first and I was surprised at how good it felt for being so little and only having one setting. I ended up inserting 4 inches of it (so yes I got vaginal fluids on basically the whole thing, even though on the product page it says only 3 inches are insertable) and though I also didnt expect to orgasm very easily from this tiny vibe, it happened, and it was pretty good. I did use my new Royal Intruder butt plug and French Kiss dildo in conjunction with this.
With only one available speed (aka the "on" setting) it is not extremely powerful, but boy it got the job done! So as you can see, it's insertable from either end of the toy. Either end is safe for vaginal or clitoral use, and I can also feel an equal amount of vibrations from both ends. This toy isnt safe to use anally as it has no flared base, but with a g-spot angled tip, as I've mentioned, it's got pretty good game in that field.
The velvety material makes this toy easy to hold, giving it a good way to be gripped, so it shouldnt slip from your fingers too easily unless you've covered it from top to bottom in bodily fluids or lube. I thought it was made of silicone at least partially, because the toy's material feels like silicone, but instead it is PU coated ABS plastic. PU means polyurethane, which I think the product page should go into more detail on. It is phthalates free, of course, but I do wish it was made with at least a coat of silicone on top of the plastic.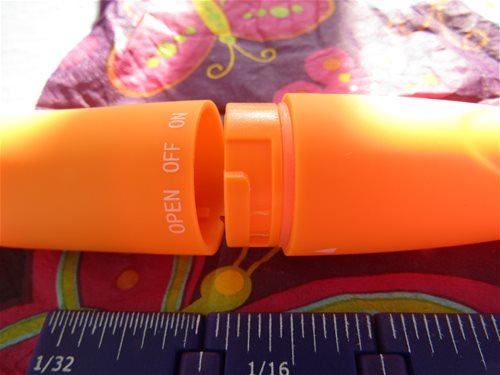 I had also assumed this was waterproof, because the insides of it and the way it twists on (none too easily, either) makes it look like there is a seal. However, there is minimal information on the product page or on the thin plastic packaging that it comes in that will give me a full answer of yes or no. So I cannot tell you it is or isnt waterproof, but I will forewarn you not to submerge it in water, just in case. I did wash it by running it under the faucet and cleaning it with anti-bacterial hand soap, but I dont think I got any water inside of it, hopefully. I dont want the AA battery inside of it to corrode or for the toy to get ruined. I kind of like this toy, more than I thought I would.
I want to mention that this is hard to turn on and off when there are liquids of any kind on it; friction is needed to hold the plastic and turn it to "on," "off," or "open," so I tried to keep my hands as dry as possible for when I needed to do this. As far as getting it open, taking it apart to install/replace the battery it needs, it's not easy to maneuver this thing. If you grip the g-spot tipped end of it with dry, clean hands, you can turn it to whatever "setting" you want. For example, if you turn it to "open," then you should gently pull both ends apart. Inside you can see what I mean by there being a "seal" of some kind(which is what made me assume it was waterproof when it probably isnt). You can also see the "L" shaped "cuts" in the plastic where the opposite side will connect to it. It kind of reminds of 3D Tetris or a puzzle, with these types of connectors.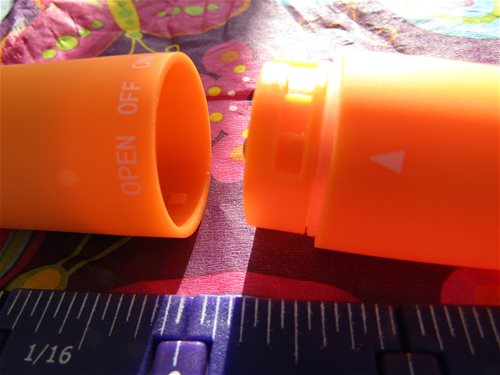 Be gentle when you are taking it apart or putting it back together, and make sure you are connecting it properly from the right places. If you try to force it apart or force it together, you may put the wrong connection piece in the wrong place and even end up breaking it. I've learned the hard way to be patient with things like this. There's a reason it's made the way it is, after all, and the way it connects is not a bad thing.
Experience
My last comment is on how much I love the bright color! I love neon colors, so when receiving this toy as part of a promotion I was excited to try it! There are many rainbow, neon, and colorful toys out there, and I can honestly say I want a lot of them. EdenFantasys picked a great color, for a good toy, that, though not fitting for everyone, is aesthetically pleasing and unconventional. I love the Eden logo on the side of it which features the Eden leaf as the "e," and I love how the pointed end looks kind of like a lipstick vibrator. I think this toy is adorable and I like it a lot more than I thought I ever would. Kudos to you, EF.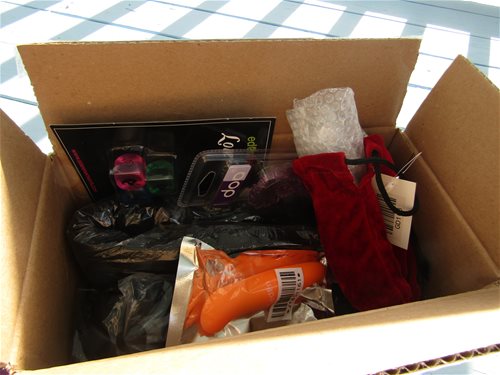 This content is the opinion of the submitting contributor and is not endorsed by EdenFantasys.com

Thank you for viewing
Eden velvet G-spot vibrator
– sex toy review page!