Pink Passion
The Passion Clit Tickler is more than your average bullet. With a flicking and fluttering attachment it is almost close to simulating oral. Be careful with how much you push on it though as a lighter touch and hold will suit you better here.
Published:
Pros:
Patterns are fun! Waterproof. Adds to the bullet experience with flickering!
Cons:
TPE covering, with too much pressure the vibrations halt.
The Passion Clit Tickler does exactly what the name suggests, the tip attached to this bullet flutters against your clit bring you to orgasm. With a TPE covered bullet and an ABS plastic remote, this thing looks as if it were a barbie accessory. Because of how this toy functions I think it is best suited for concentrated single person pleasure, unless a partner was there to use it on you. It works best as a clit tickler but I suppose it could also be used to flick and tickle other parts of your body as needed.
I must start off the bat by saying I smelt this toy the second I opened the package, it was overwhelmingly rubber. The second thing I noticed was its appearance---almost like a honey comb with feathers attached to the end. The texture is pliable and rubbery and since it's a sleeve will move around slightly with force.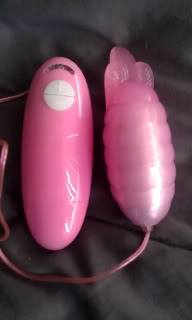 Without the attachment included this toy is 3" long, add another inch and a quarter for the attachment. The standard silver bullet underneath can be taken out of the TPE covering, but not without it being a hassle. This could very well ease your troubled minds while cleaning it, if you despite its waterproof claim it worries you. You can use water or silicone lube with this and cleanup is standard. (soap water, cleaner, whatever)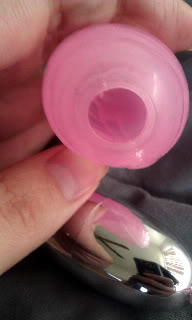 The pink TPE covering is see-through, so you get a bit of the silver underneath giving it a really cool looking effect. The honey comb body party has a nice bumpy shape to the rather smooth texture. On the back the 3 feathers break off into 2 on the sides and one longer down the middle---this rather looks like a tongue in some aspects.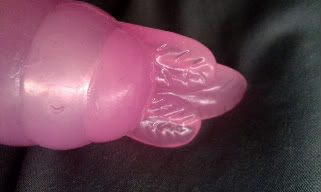 The ABS remote is 4" in length with the battery compartment an inch from the bottom. It harbors 2 triple A batteries and easy to open and close. Though the bullet itself is waterproof I wouldn't recommend taking the remote in the water as well, lucky enough the cord has a decent length. The functions button appears on the opposite end right below a led strip to indicate the power. Three lights at the top will show you what power setting you are on by lighting up and or flashing and pulsing.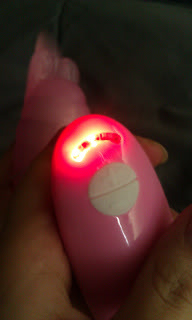 (picture of cylon... I mean remote)
Experience
Bringing me to the functions which there are 5:
1. Low
2. Medium
3. High
4. Pulse
5. Escalating

What I found out is that the power actually does really well as long as you don't put too much pressure on the fluttering attachment. If you leave it be, it'll flicker across your clit almost simulating oral---but the second you add pressure it halts. Because of the way it performs I kind of wish there was more options in the patterns and functions since this was more enjoyable than the regular ones! This was shocking to me since I am usually a just turn it on high kind of gal---the way the pulsations and patterns worked out really sold this one for me. I would say its mid-range when it comes to sound, while it is somewhat quiet on its highest setting, the noise increases as it makes contact with your skin.

Overall, I actually kind of dig this toy. I would change things about it like the TPE covering and make it silicone, Id add more pattern functions---just a few little things about it. I wish you didn't have to concentrate on how you are holding it during use but other than that it is not a BAD toy.
This product was provided free of charge to the reviewer. This review is in compliance with the FTC guidelines.

Thank you for viewing
Passion clit tickler
– contoured clitoral massager review page!