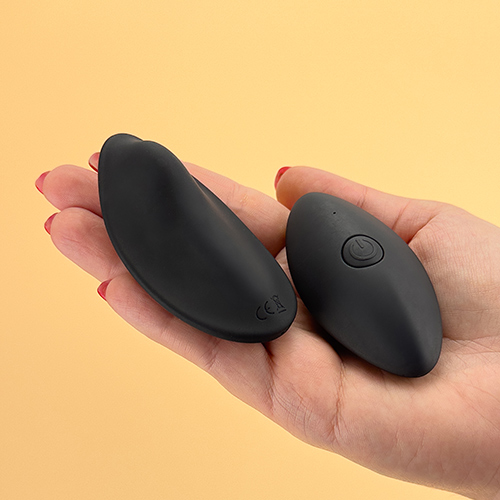 Tootle
Panty vibrator with magnetic fixation
by EdenFantasys
Power-packed panty pleaser
This is a great, well-made toy that will add some excitement to couples (or solo) time. The magnet could be stronger, but this could also be solved by wearing something other than loose shorts or a skirt. Overall, however, this resulted in an exciting, stimulating evening, and in the end (or on the clit), everything actually stayed right where it should be. I should have just relaxed!
Published:
Pros
Strong, silent vibrations. Well-constructed; fits nicely and stays right where it's supposed to!
Cons
Maybe it's just in my head, but I couldn't stop worrying about it falling out of my shorts!
I'm going to write this by myself and leave the hubby out! We received this in the mail in a nondescript brown box. Opening it up revealed a small, white, also non-descript box. Actually, this was a little bit of a downer; most toys come with exciting packaging that kinda gets you thinking. Nope, just a plain white box with the items sitting inside. In the packaging was the vibrator (with the magnet attached), the remote, and a charging cable. There were directions... but this isn't rocket science! The charging port is a little bit difficult to find, but a small icon on the tip finally revealed its location. OK, let's charge this baby up! The remote was a little more difficult to get going. Opening the battery door revealed the battery in place, but the darn thing won't turn on. Finally (my husband found this one out) we realized there was a small, clear piece of plastic under the battery that had to be removed. Voila, we have lift-off!

The first thing I noticed was that the magnet did not seem as strong as I'd expected. It holds nicely to the vibrator, but it did get me thinking about how firm this was really going to be on either side of my panties. Cycling through the different levels of vibration revealed the normal - three different strengths of straight vibration followed by different patterns. Typically during sex, I like one constant thrum, but I've discovered that the other patterns are actually quite titillating with a wearable vibe.

The cover is smooth, and the devices both seem very well-made, waterproof, and easy to clean. There is a small nubbin for rubbing just on the right spot and seems to nestle nicely between the labia, putting gentle yet pleasurable pressure right on the clit. The size is perfect to be both powerful but easy to hide; a great combination for a panty vibe!
Experience
OK, let's try this baby out! I actually surprised my hubby and decided to try this vibe out at a party with friends. I didn't even give him the remote to start with! After everything was adjusted and sitting nicely, I slipped on my panties and shorts, and we headed out. Several minutes later, my mind started wandering... what if this magnet falls out? Wearing shorts, would it simply fall down the leg, causing everyone to wonder what just fell out of my pants? Would the vibe then fall out and answer all of their questions? Honestly, this stayed in my mind for much of the evening; however, I am happy to report that nothing embarrassing happened. Just like playing with the toy at home, the vibes were pleasant and strong, stimulating just the right spots. I couldn't really turn it on in the middle of a conversation (it can be distracting), but taking a seat or leaning against a wall for a few moments was very, very nice!

When we arrived home, I shared the remote with the hubby. He was surprised, and I was happy to know that the noise was not at all noticeable to anyone else, even though he was standing next to me for some of the evening. In the quiet of our own home, sitting on the couch, he could hear the buzz, but I doubt anyone would notice it even on the strongest setting if they weren't paying attention to it.

My only reservation continues to be the strength of the magnet. Maybe a stronger magnet would be more reassuring? I also thought about wearing something over my panties...maybe a pair of boy shorts or stockings...just to ensure everything would stay put. Jeans would also solve this. Wearing loose-fitting shorts was part of the problem, and although my fears were never justified, as the weather cools down, I look forward to warming things up in a pair of jeans!
This product was provided free of charge to the reviewer. This review is in compliance with the FTC guidelines.
Thank you for viewing
Tootle
– strap-on vibrator review page!