Pretty Doesn't = Right Vibe
If you're a beginner or just like small vibes with lots of power and options, give this baby a try. A waterproof G-spotter with ten functions - what more do you want?!
Published:
Pros:
- Powerful
- Easy to clean and maintain
- Lots of options to get you off
Cons:
- Small
- Semi-loud
- Limited to water-based lube
Ok, so I got my third assignment from Eden and I was very happy, because it was a vibe that I had read about but never actually tried before, and it was very pretty. Although I must say, please don't buy your vibes because they are pretty or your favorite color; base your purchase first on function and what your wants and needs are, and then choose a color from there.
Packaging
It came in a white box with a picture of it on the front and metallic purple writing saying Body & Soul and, at the bottom, the name of this particular vibe ("Lust"). On the back in five different languages it says:
- Iridescent soft satin finish
- 10 functions of vibration, pulsation, and escalation
- Very powerful
- Waterproof
- Easy-push button
- Hold for 3 seconds to turn off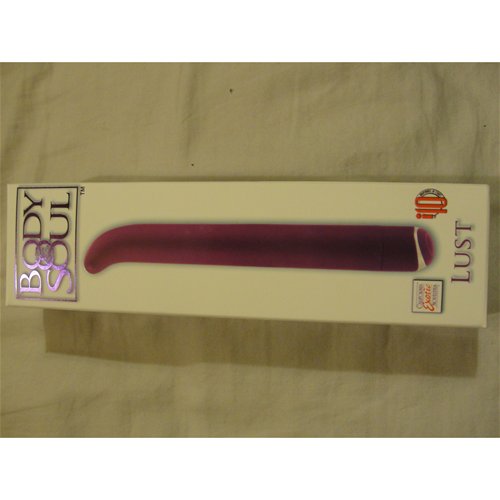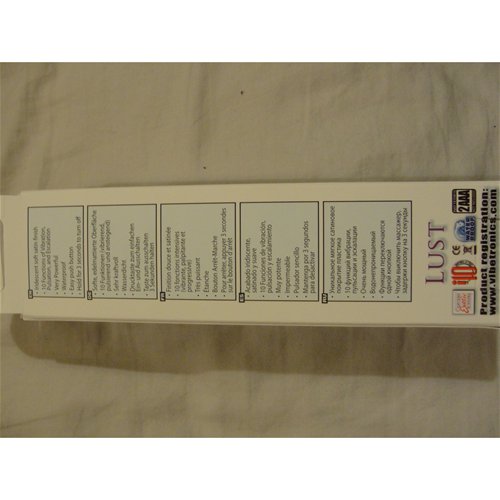 First Impression
When I opened it I noticed it was packaged very well. When you pull the vibe out of the box it is in a plastic bag inside a bubble wrap pouch, which is great because sometimes shipping a vibe without this material in colder weather could crack it. It was a very pretty purple and shiny, but I was bummed; I had hoped it would be a bit bigger.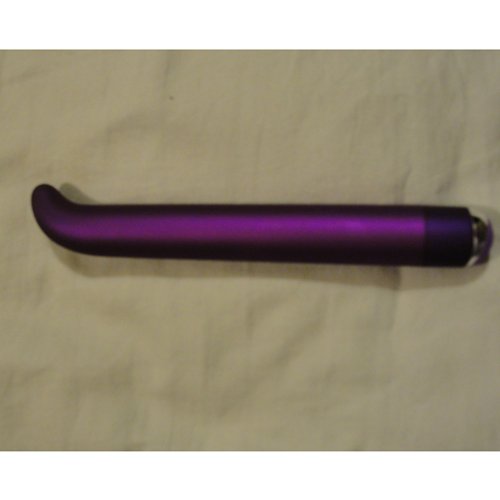 Measurements Of Vibe
Now the box says it's 5.75" but this is what I get:
From top to bottom - 6 1/2"
Insertable part - 5 1/2"
Insertable part circumference (at widest part) - 2 1/2" (it tapers down to be smaller at the G-spot end)
G-spot bend length - 1/2"
Circumference of G-spot bend - 2"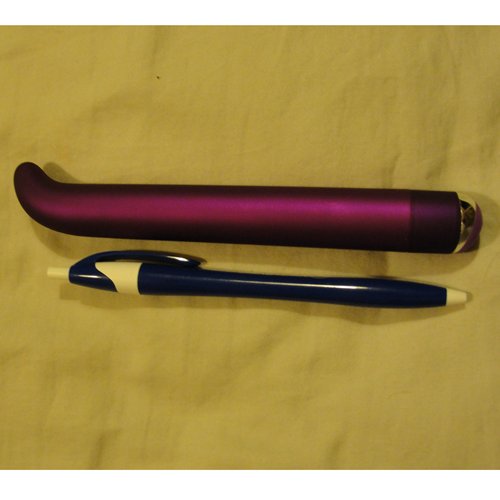 The Material/Care
This vibe is made out of ABS (which is a common thermoplastic used in making vibes) with a metallic plating in purple. The sliver plating is also made from ABS, but the control button is made from silicone, so I would suggest using a water-based lube with this. It is waterproof so clean up is simple: use either your favorite toy cleaner or soap and water. Plus, since it's small, storage won't be an issue either, and you won't have to worry about fuzz sticking to it since it's not made of silicone.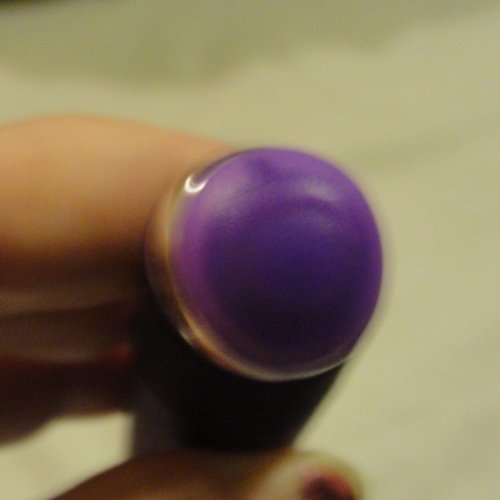 Power/Functions
This vibe takes 2 AAA batteries. When you open it to put them in you will see a cardboard insert - leave it in. If your vibe doesn't turn on it might be because the cardboard is up too high and blocking the metal tabs, so just take it out; it's okay, trust me. Now you should be ready to rock and roll. The ten functions (hopefully I got them all right) of this vibe are as follows:
1) low
2) med
3) high
4) pulsating
5) 2 short bursts followed by 1 long and repeated
6) high vibrations followed by low and back to high
7) 4 short bursts followed by 1 long and repeated
8) short bursts of low, then med, then a long high and repeated
9) 3 short bursts followed by a 1 long (all high) repeated, then 1 short followed by 1 long, then the whole pattern repeated
10) 2 short bursts of high, 1 long, then escalating.
To turn it off hold the button down for about three seconds, but know that every time you turn it off it will start over with the first vibration pattern when you turn it back on.
Experience
I was pleased with the power it had, but most plastic vibes have good power because there is no material absorbing it; instead the plastic works like a conductor. But size-wise I was disappointed, and it did nothing for my G-spot. So I got creative and used it for clitoral stimulation. It's nice to use like that because you have a longer handle. I'm still not a fan of having to go through all the functions over and over again when I want to switch it up, though. But that's just me; it is a great toy for beginners.
This product was provided free of charge to the reviewer. This review is in compliance with the FTC guidelines.

Thank you for viewing
Body and soul lust
– g-spot vibrator review page!