Ridged, strong and soooo quiet.
The ridged softee is a cute little g-spot vibrator could pass as a fantastic clitoral vibrator. It has multi setting. The ridged softee is strong and whispers quiet. It has added texture for stimulation, but it is not overwhelming and can be used even by the moderate texture users. It is waterproof and can be paired up with another toy. It is perfect for clit stimulation during penetrative sex.
Published:
Pros:
Textured, Strong, Quiet, Waterproof, No smell, Can be used as a clit vibe,
Cons:
Awkwardly shaped, Texture can be to much for some.
I have a hard time finding my g-spot. I do not always find it, but when I do it is always surprising. I still never give up hope that I'll find that one magical toy that will always hit that spot. If not, most g-spot toys make incredible clitoral vibrators. I was excited when this came up for review. When I received the rigged softee it came in an all clear package, it is extremely straightforward. It has no extra pictures or colors. It does have a white paper insert. On the back of the paper insert is a picture of the toy. The picture size is almost true to the actual size of the toy, so when giving it for a gift would be best in an adult setting. The case can be used as storage. The back does have some basic information on it. Such as,

It is waterproof
Multispeed
Curved for optimal touch
Whisper quiet

When you touch the rigged softee for the first time. You would notice that the texture is somewhat tacky and has a drag to it. You can not just run your fingers over it. You would have to use some pull. The softee is made up of TPE and ABS plastic. TPE is a family of rubber like material that combines the best characteristics of rubber. TPE offers a fantastic, flexible, efficient, recyclable material. The rigged softee being made of TPE give is some give. You can not force it and bend it too much, but you are able to bend it just a little bit. It is mostly in the neck of the toy. TPE can be used with water and silicone based lubes. The rigged softee is also made up off plastic, but the only plastic part is the cap itself.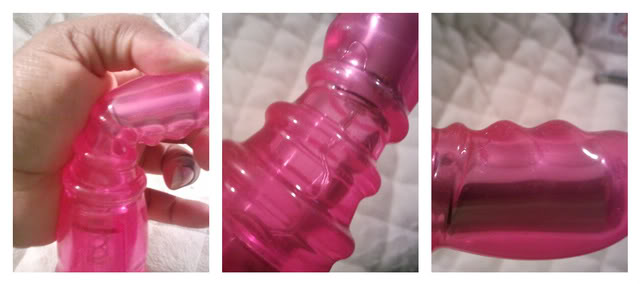 The rigged softee does have a considerable amount of texture to it, and it is not overwhelming, but it could be too much for the sensitive users. The softee does have a rigged/bumpy texture along the neck and two smaller bumps on the head of the toy. There is also texture on the handle. The rigged softee does not have any fancy settings, or patterns. It is just your normal low, medium and high. I would it did have different settings; I wish it would have had at least one pattern. It runs on two double A batteries and is operated by a turn dial control. The turn dial is at the bottom, and is texture so changing when using lube is extremely easy. The vibrations come from a bullet that is placed inside of the tip of the vibrator.

The softee is not a large toy, but it also is not extremely small. In all the softee has a length of 6 ½ and an insertable length of 4 ¾ of an inch. The bottom body of the toy is large and can be awkward for some people. The neck is curved at a slight angle for g-spot stimulation. The added texture is perfect for those whose g-spot needs a little more stimulation. The curve of the neck makes it perfect for those who love clitoral stimulation. The neck makes it, so you can use it during intercourse, solo play, or You can pair it up with your favorite dildo.

The vibrations are extraordinarily strong and are focused at the tip of the vibrator. The vibrations are remarkably quiet. It does have a buzzing noise, but it has a low pitched buzzing. You can maybe hearing through the covers, but not through a closed door. The vibrations are not felt through the whole body, and the handle you do feel the vibrations, but it is extremely subtle. The softee is waterproof, so you can take it into the shower or bath. When used in water, the vibrations are not died down. They are still majority strong, but when used in the water the softee is virtually quiet.
The softee is not large and can be traveled with. You can put it into just about any sized bag, and because it is so quiet you can use it anywhere too. When needing to store you can place it into your top drawer, or in the bedside table. When cleaning, you can fully submerge it, so you can wash it with mild soap, and water. You can also use your favorite toy cleaner. You can wipe it down with a dry cloth to dry it off. When sharing because, TPE is still a bit porous, you should use it with a condom. The odd shape of the softee would not make inserting it anally possible.
Experience
When I first got the softee home, I did not think I was going to like it. I'm all for texture, but I'm not crazy about texture being on my clit. Although, it was made for g-spot stimulation I always like using those same items for clit stimulation. So, when picking a g-spot toy, I also make sure it is something that would be comfortable with both. Only because I do not want to buy a toy just for G-spot stimulation, and dislike it and never use it again. I did try and use it for g-spot stimulation, but I had a hard time with it. I could not get it angled right. I thought I had it, but I did not. I tried a few time and got a little frustrated. I just decided to use it for clit stimulation. When used for clit stimulation, it was perfect. The texture was not overwhelming and did not cause any discomfort. I did not use it with a toy, but it can easily be used with another toy. I was able to use it during penetrative sex with my boyfriend, and it was extremely easy. I thought it might have been a little awkward to hold because of the wide body. It was not at all I was able to hold it between us without having to keep moving around, or just tossing to the side.
This product was provided free of charge to the reviewer. This review is in compliance with the FTC guidelines.

Thank you for viewing
Ridged softee
– traditional vibrator review page!