Simple, a bit cheap and strangely uncomfortable. Actually, that WAS my college crush.
If you don't mind a slightly cheap feel, a simple set of control options and a tip so sharp you'll hold off on inserting OTHER toys then this might be just what you're looking for. If you want something to insert, look elsewhere. The curves do offer a couple different external options and the low medium high cycle goes the correct direction. All in all, not for me, but definitely has its place in the pantheon of toys.
Published:
Pros:
Simple operation, good feeling surface
Cons:
Sharp tip means you can't insert it, a little cheap feeling.
This is an interesting item. At first glance it seems nice.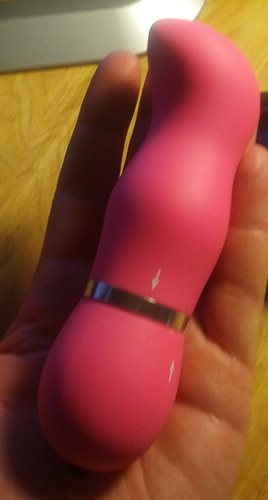 Squat little compact shape, pleasing curves, comfy, soft touch coating on the plastic, a button that clicks forcefully when you push it. All good things. But when you look deeper it becomes a bit disappointing.
First things first, it's not terribly big, but it is girthy and most importantly that tip is really sharp. It's unlikely that you'll ever insert this thing unless you're some kind of masochist (not that there's anything wrong with that). That said, it might not be a deal breaker. The vibrations are a bit thin, but not buzzy. Pretty high quality for this price range. There are only three vibration patterns. High, medium and low. In the correct order! Finally, someone realizing that one might wish to start on a low setting and then press a button to ramp up rather then start on high and drop down with each press of the button, before cycling through a dozen off putting patterns to get back to high. But I digress. Simplicity in this case is actually really nice. It's made of soft touch plastic which I think feels really nice, it isn't as safe as something like silicone and definitely shouldn't be shared without covers. But if you like a hard toy with a velvety surface nothing beats it. The wife mentioned that it felt like a throwback, like the basic vibes of yesteryear. A bit plasticy and rattly, but not bad, exactly. In essence, it's a plasticy external vibe with a poking hazard on one side and a superfluous extra bump.
The batteries can be hard to get in correctly, the labeling is clear on clear,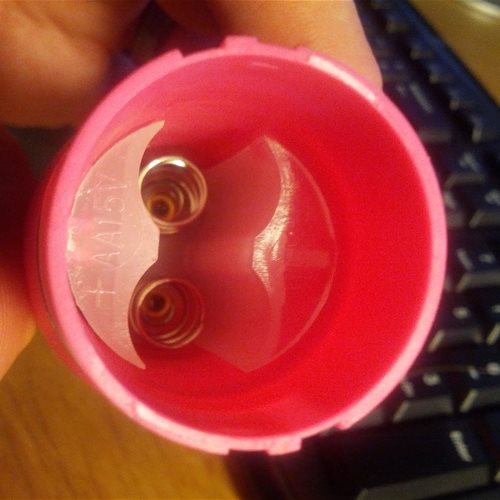 so make sure to assemble in good light. The twist off end cap is really convenient. I like it much better then the screw on caps, but you so seldom have to worry about that I can't imagine it really being an issue. It does use readily available batteries, so that's nice. The button on the back is firm enough to not be hit accidentally, but still easy to hit when you want to. Operationally, if you're not a pattern fan this vibe is pretty much perfect.
No objectionable smells, the packaging is easy to open (if not discreet at all), and the shape certainly looks interesting.
All in all this has been something of a disappointment. The shape and size are interesting, but the poky tip has made it difficult to enjoy any of the good points. I'm willing to give it more of a chance, rotating the tip away from her delicate bits, but it seems that if the tip (the most unique part of this vibe) isn't in use then you might as well get something shaped differently.
Experience
This is the first toy the wife has stopped in the middle of a solo session to change up. She said things were going along fine, but when she realized that inserting it was going to hurt a lot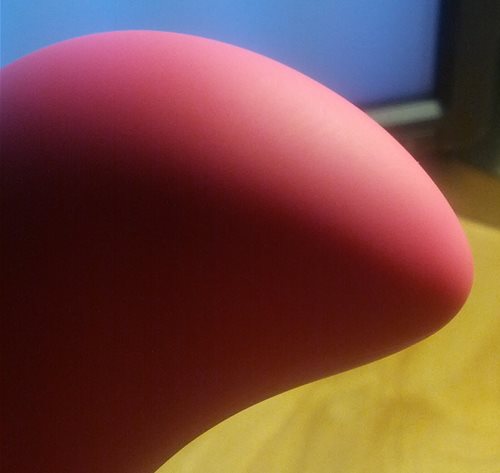 she ditched it in favor of an old standby. When I used it on her it actually went very well at first. The vibrations were acceptable, the shape cupped her clit well and allowed for a good arm position for me and got out of the way for a little finger action. I then made the mistake of trying to insert it. Usually, when she's adequately aroused something of that size and approximate shape would have been a good bet. Even something a little larger would have been wonderful. This was just too sharp at the tip and it stopped feeling good even before I got it in her, when I was rubbing the tip around the opening. It kind of brought everyone down and I had to swap it for other toys. Sad. I had hoped that the shape would have given some nice stimulation to the opening and clit simultaneously. Not the case.
This product was provided free of charge to the reviewer. This review is in compliance with the FTC guidelines.

Thank you for viewing
Shane's World college crush
– g-spot vibrator review page!