The Jopen that couldn't
The Pyxis by Jopen was a promising finger vibe that seemed unlike any other vibes of similar nature. It had a unique design and I was confident in it because I love all of my other Jopens. It's waterproof, rechargeable and easy to care for. Unfortunately, the fit was kind of awkward and the vibrations were next to nothing. I gave it many chances, but it's just not for me.
Published:
Pros:
Neat design, great packaging, rechargeable, easy to clean and care for
Cons:
weak vibrations, poor performance, awkward fit
The Pyxis is a finger vibrator by Jopen from the Key Line. Shaped like a ring, it can simply slide on a finger to enhance clitoral stimulation. The Pyxis can be used to tease other areas of the body, as well as erogenous zones. Being waterproof, it can be enjoyed in the shower and be cleaned easily. It's rechargeable and it's ideal for travel. It's probably one of the most discreet toys I own. I can leave this charging from my laptop without any worry. No one has questioned it yet! It has 5 patterns of vibrations controlled by one push button. It really is innovative, but it does lack in performance. I chose mine in lavender, though they also come in blue and raspberry.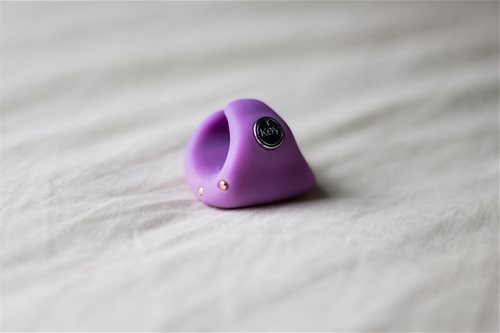 Pyxis is made of Shinetsu silicone, which is some of the softest, nicest silicone I'd felt. It's so smooth and powdery, it feels nice on any part of the body. Shinetsu silicone is used in healthcare, automotive, electronics and aerospace! It's really high quality. Totally non-porous and hypoallergenic. Water-based lubricant is recommended. I do not plan on doing a patch test with silicone lubricant with it because it is not insertable. It's rated a 10 out of 10 on the safety scale, making it body safe and easy to care for. It's somewhat flexible, so I'm sure this will fit most fingers. The control button is made of stainless steel alloy and has the 'KEY' logo embossed in it, just like the other products from this line. These materials make cleaning a breeze. It can't be disinfected by being boiled or put in the dishwasher because the inner motor can be destroyed. All it takes is a mild soap and water or an antibacterial toy cleaner. This type of silicone collects next to no lint, dust or hair, which is always a plus. It won't look like a small animal if left out. The flat pad on the toy measures 1.5 x 1.5 inches and 4.25 inches in circumference. At its widest point, it's only about .25 inches thick. Excluding the button, the toy is smooth and there's little ridges on the pad.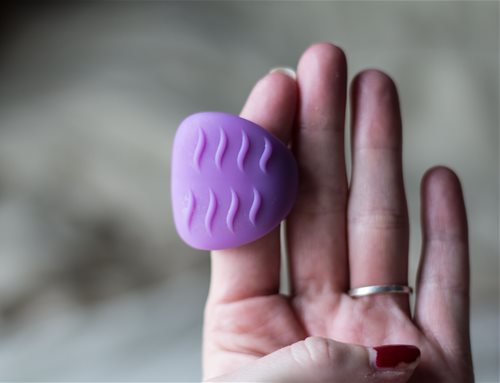 To recharge the Pyxis just connect the USB charger to the two magnetic points that are on the side of the vibe. It can be plugged into any standard USB port. When attached to the vibe the 'KEY' logo on the charger needs to be facing toward the band where it would go around the finger. Once it is attached properly, the Pyxis will glow red and will disappear when fully charged. It takes about 2 hours to be completely charged and will hold it from between 1.5 - 2 hours. You can see my video to see how it charges.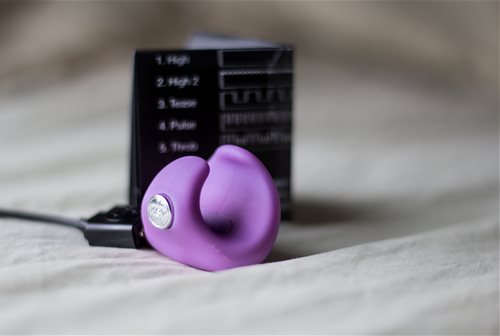 Experience
Mine came with zero charge, so I had to wait out the hour in anticipation. It is operated by one button. Just hold it to turn it on and continue to press it to cycle through. It has 5 'intense' patterns of vibration. To turn it off, just hold the button for about 2 seconds.
High is a steady vibration. High 2 is more of a really fast pulse. Tease is an escallation. Pulse is the same as High 2 but slower. Throb is two really quick pulses with a short burst of steady vibration. All of the patterns are pretty buzzy. This is unlike the Jopen vibrations I've come to know and love; like the ones from the vanity line. It is extremely quiet, though. At least it has that going for it's performance.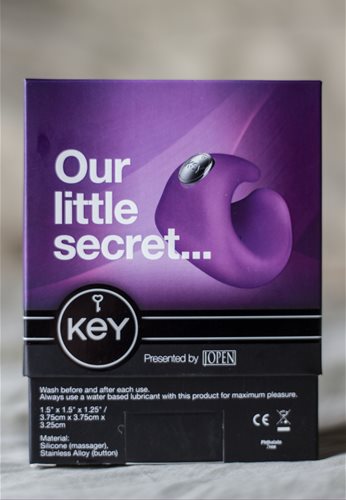 Jopen supplies us with really neat packaging with this one. It has a flip lid box with a foam insert for the Pyxis to rest. It can be used as storage. It's small enough to be displayed on a shelf or tucked a away hidden. The box is 5 x 2 x 3.5. It also comes with a little nylon pouch for the toy and charger to fit in. The pouch measures 3.5 x 6.5 and the drawstring works really well. It actually stays closed. Like I mentioned earlier, this toy is ideal for travel. It can fit in a small bag or purse and no one would suspect a thing.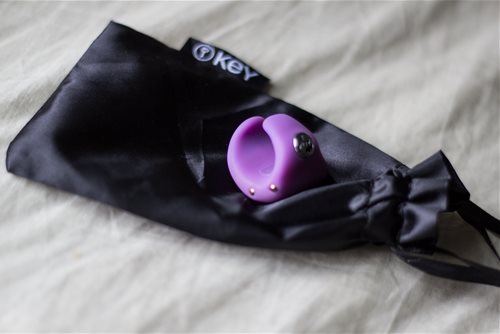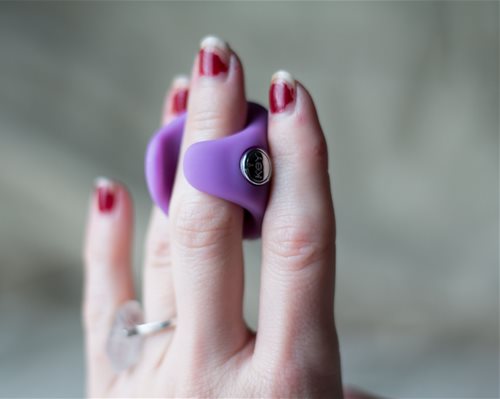 The Pyxis had so much going for it. The great ring-like design, the size, waterproof and rechargeable. I wanted it to be the perfect bring-anywhere/use-anywhere vibrator. It fit on my fingers quite awkwardly. Ideally, it would have rested near my top knuckle, but it would just twist around, so I had to put it on my lower knuckle which just wasn't right for me. I actually had more luck by just holding it, which kind of defeated the purpose. And the biggest let-down were the vibrations. It's as weak as your average c-ring. I tried and tried, but it just wouldn't let me love it. I ended up just getting frustrated with it and switching it out for another toy. I honestly wouldn't recommend this to a lot of people. Maybe if you absolutely can't have an average sized vibrator and you have to be completely discreet, I'd recommend it. Or, if you like weak to moderate vibrations. If you're a diehard package appearance fan, maybe? Jopen, why?!
Follow-up commentary
5 months after original review
I still don't love the Pyxis. It's very weak and lacks luster. It's just sitting in its box collecting dust.
This content is the opinion of the submitting contributor and is not endorsed by EdenFantasys.com

Thank you for viewing
Key Pyxis
– finger vibrator review page!