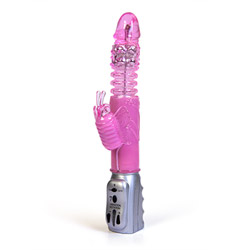 Eden thrusting butterfly vibrator
Rabbit vibrator with rotating beads
by EdenFantasys
The Thrusting Was A Bust
Unfortunately, the Eden Thrusting Butterfly Vibrator joins the ranks among Eden's Sway (Catalog ID: ET0680021) and Air Flirt (Catalog ID: MC43142016) as being toys I was extremely excited about receiving, due to their special features, but was let down by their performance. Since I found the thrusting action lackluster, and I have other toys with better clitoral vibrations, there isn't much to make me come back to the Thrusting Butterfly. It's large, noisy, and I prefer silicone toys over TPR.
Published:
Pros:
Powerful Rotations, Easy Controls, Strong Clit Vibe
Cons:
Extremely Noisy, Not Much Thrusting, Not Silicone
Packaging and First Impression

The shipping box containing the Eden Thrusting Butterfly Vibrator was longer than most of the packages I receive from EdenFantasys, but that was to be expected given the roughly 13" length of this toy from the base of the control panel to the tip of the head when fully extended. It was still a typical, plain brown cardboard box, so my secret contents were secure and arrived discreetly.

The product's box isn't nearly as discreet. It is a long, rectangular black box prominently featuring the words "Butterfly Thrusting Vibrator" on all four of the main faces of the box, and including EdenFantasys name, logo, and website so your naughty goods could easily be tracked to their source should your box be discovered. I noticed the box states that the toy itself is sold as a novelty item, and while it was designed in the USA it was made in China.

Inside the toy was held within one of EdenFantasys' mesh drawstring bags, albeit a larger one than what my other toys arrived with. The toy requires four AA batteries, so there was no charger or added accessories in the package.

When I removed the toy from the pouch I noticed an odd... stickiness to the toy, primarily on the plastic control panel of the toy. It had a mysterious wetness I could not identify. I carefully washed it off with soap and warm water.

I was not overly impressed with the design of the toy, but I don't particularly dislike it either. I prefer the aesthetic and texture of silicone much more than TPR - the squishy, rubbery feel and look of TPR has always given off a "cheap" vibe to me. The pronounced head, nubs over the rotating beads, and large butterfly clitoral vibrator weren't anything revolutionary.

My Experience With The Eden Thrusting Butterfly Vibrator

So, while I was unimpressed with the aesthetic of the toy, I was hoping its functionality would be enough to make up for it in spades. But... it didn't. It just didn't.

There are four notched sections under the rotating beads that are made to be this way so the toy can stretch and retract when thrusting. It is only slightly over an inch in length, perhaps 1.5 inches. If that meant the toy was capable of thrusting an entirety of 1.5 inches that may have been better, but it wasn't capable of retracting and extending that much when thrusting. The length could not have shifted any more than an inch - if that - when thrusting. Which, when inside me... went primarily unnoticed. I could clearly feel the rotations of the beads but the thrusting may as well have been nonexistent.

The toy utilizes two motors, so the clitoral vibrator is powered by its own motor. It packed some fairly potent vibrations, and there are 7 settings you can toy around with, but for me that just isn't enough to justify using such a large and clunky toy. I have other toys I can use for clitoral vibrations.

If someone else is in the house, or you live in an apartment with neighbors just on the other side of a wall, this toy is not convenient to use - its functions are noisy! When inserted, the sound can get muffled a little, but I also think this was due to the motor occasionally getting caught when the toy's movements were obstructed.

Final Thoughts

I wish the toy had more pronounced thrusting, that it was quieter, and that it was made from a more luxurious looking and feeling material like silicone. As it is, I can't see myself using the Eden Thrusting Butterfly Vibrator very often, aside from perhaps attempting to give it a second chance at another point in time.

A few miscellaneous notes. For the Butterfly clit vibrator, I am somewhat concerned with the precarious nature of the butterfly's antennae. I have another toy with a butterfly-shaped clit vibrator, also made from TPR, and the antennae did not last long with my rougher play style. Without much attaching them to the larger body of the butterfly, they ripped off. I'd be worried about the same thing happening here if this were a toy I wanted to use frequently.

As a second note, I had difficulties with the battery compartment. Whenever I finally managed to get it to snap off it sent the back casing and the small bottom component flying, along with the batteries when I needed to retrieve them.

All-in-all, the toy has a nice shaft length, strong clitoral vibrations, powerful rotating beads, and an easy-to-use control panel, and I'm positive there are others who will be more sensitive towards the slight thrusting of the toy, but for me this sadly was not enough.
This product was provided free of charge to the reviewer. This review is in compliance with the FTC guidelines.
Thank you for viewing
Eden thrusting butterfly vibrator
– rabbit vibrator with rotating beads review page!