This Time, Baby, I'll Be Bulletproof!
The arouser is a triple disappointment. The flexible sides are far too rubbery to feel any pressure from, the material sticks to everything, and it smells burnt. The one star rating is for the bullet, which was fantastic and totally waterproof, plus it is easily removed.
Published:
Pros:
The bullet can be taken out and is totally waterproof.
Cons:
The entire cover is a con.
The material is too flexible and smells burnt.
Been there, played with that, messed around.
I'm having an O as soon as I put the cover down.
I'll admit this bullet swept me off my feet.

But the cover...I won't let you in again.
The vibrations you tried to send...
The two ends just aren't going in.

Burning smell from this rubber mix,
I'd like to break it because it needs fixed.
I'm not turned on to this because it's cheap.
I hope that some of you will catch on to my spoof of La Roux's "Bulletproof"!
On a more serious note, there is really a lot to cover with this arouser.
Have you ever tried to put a soft penis inside of yourself? Well, then you know what it's like to try the two ends from this arouser. They are far too rubbery and flexible for insertion, or even to get any pressure against your clitoris. In fact, they remind me of those sticky hands you get out of the quarter machines.
Of course, that's not even the worst part. Upon opening the arouser, I noticed a burnt smell. It was strong enough to convince me that something was wrong with the item's bullet, and that it may have just caught on fire. Therefore, I pulled the bullet out of the easily removed casing. Now, for the surprise! It wasn't the bullet that was the source of the burnt smell...it was actually the casing!
The material is TPR, which is a 7 on the safety scale because it is porous, but it is less porous than cyberskin. This material is a rubber blend, and it smelled like burnt rubber after all. It cannot be sterilized, and it is generally cleaned with mild soap. In this case, washing with soap and water did nothing to dissipate the burnt smell. In fact, I took the arouser into the shower with me in an attempt to more thoroughly wash it, but the smell persisted.
Silicone or water lubricants can be used with this. Quite frankly, you are not going to need lubricant when the only part that might even possibly be insertable is the middle probe (which is similar to the size of a quarter's circumference).
The vrooms on this toy are pretty intense, even with the cover on. The front of the packaging boasts "30% more power!" The bullet, as a stand-alone, can easily be rated 5 vrooms - earth-shattering. There is, however, a down-side, which is that this item only turns on or off. There is no variety of vibrations, just one mode.
Speaking of turning off, the power button is a rubber dot on the end of the bullet. It doesn't actually click when you push it in. It's also easy to accidentally turn this toy off since the power button is so near to you, and it doesn't actually have to click to turn off.
Let's talk about the one part that probably pulls in a lot of buyers, but doesn't do its job either. The end with the nubs seems like a solid idea. However, because it is flexible, and the nubs are flexible, it's impossible to apply pressure or to feel the texture.
Noise: I can definitely hear this toy through the covers (both the bullet alone or the entire toy). However, I cannot hear it through a closed door, and if you use the middle probe for insertion, you can't actually hear it through the covers.
One more note: The vibrations are not felt through either of the ends. Only the center probe where the bullet is placed actually vibrates.
A one-star rating is not easy to decide upon, but in this case, the one star is solely for the removable bullet. The bullet is great, though it's not particularly appealing to look at. The toy as a whole is the worst toy that I have ever tried. I even considered writing to California Exotic Novelties.
Now for some pictures for size-comparison and such: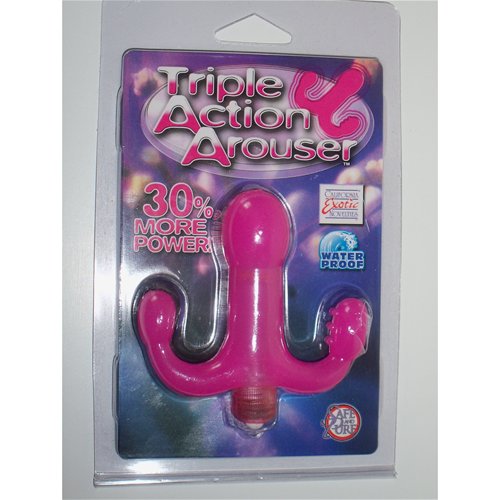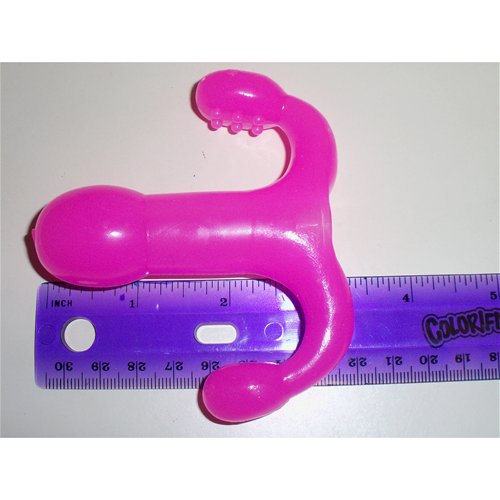 This one reminds me a little of anatomy...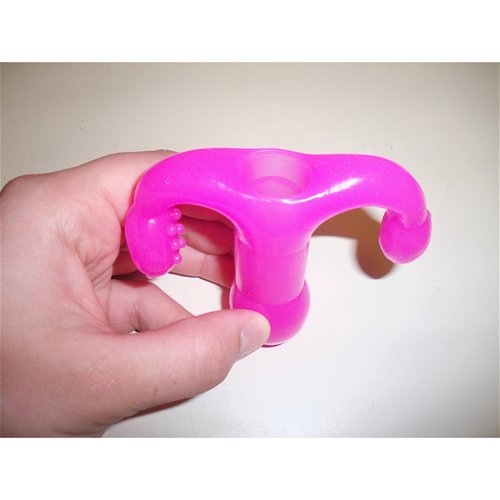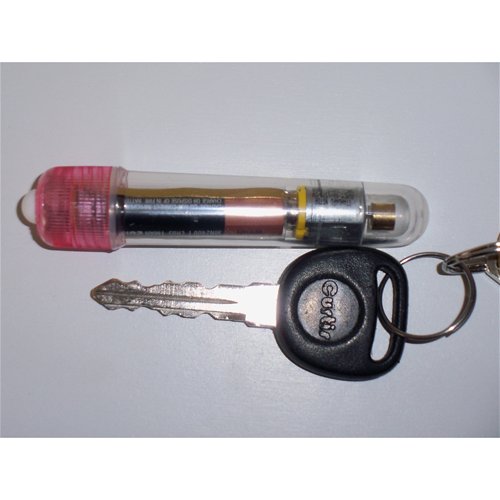 Experience
In my experience, the cover is useless. The smell, the texture, the stickiness...all of these things mean that it's probably just best to toss the cover. It also takes forever to dry after being cleaned.

The bullet, which is easily removed, has fantastic power. One triple A battery is required, which is not included. The bullet is also completely waterproof and even passes the test for being submerged. It's length ensures that your clitoris and all surrounding areas receive stimulation. However, it also feels fantastic when placed on my nipples.

I actually encourage you to play with this bullet before clothes come off because it makes for a great tease, even through thicker material. It has that much power!
Follow-up commentary
4 days after original review
I still don't like it. As a matter of fact, I disliked it enough that after about three attempts at finding something that I did like about this, I decided it was improbable and threw away the cover. I really don't believe in throwing away toys...everything has to have a redeeming quality, right? I did salvage the bullet from within, but I wouldn't recommend purchasing this arouser off of that alone. There are probably bullets with more benefits and a more pleasing appearance, as I can see the battery compartment right through this clear bullet. I imagine that eventually I will be replacing the bullet with something more aesthetically pleasing, making this toy a complete loss in the end.
This content is the opinion of the submitting contributor and is not endorsed by EdenFantasys.com

Thank you for viewing
Triple action arouser
– triple stimulation vibrator review page!