Will it blend in?
It's a non-threatening toy with mediocre vibrations and very little texture. It's okay for someone who isn't too picky and isn't hard to get off. I won't be indulging in this smoothie too often due to blandness.
Published:
Pros:
Small, long-lasting batteries, seamless plastic, simple.
Cons:
Strange battery type, not powerful enough for me, only 3 buzzy vibration levels.
It's a rather standard vibrator with a non-standard battery (
N-2
) that thankfully has a decent battery life. I've had the toy for several months now and it has not died on me yet. I've used it about 20 or so times for when I just want a slow orgasm or a decent warm-up. (Not my favorite toy, clearly.)
I doubt you'll want to share this toy, but when you do, pop a condom on it. Plastic is still porous and you cannot sterilize it between partners or orifices. (Although, I hope people only use it to stimulate the outside of the anus, never penetrating it, as it may get sucked in.)
It's made of standard plastic that's compatible with all sorts of lubes, be it silicone, water-based or some random oil that won't bother your sensitive bits (no sticking it up your bum, there's no base to prevent any slip-ins). Best of all, it's absurdly easy to clean. Just some soap of your choice and warm/hot water will do the trick.
It had no taste or smell upon opening the minimal-looking package. I suggest a wash-up after opening anyway, as there may be some residue left over from production on it (better safe than sorry).
It has three levels of buzzy vibration accessible via the push-button on top of the toy:
1st level: 2 vrooms, 1 bee
2nd level: 2.5 vrooms, 2 bees
3rd level: 3 vrooms, 2 bees
You have to cycle through all levels to shut it off or remove the cap if you're in a hurry.
At 6 inches long and 3.5 inches in circumference at its widest point, it's a newbie's step up from your standard bullet.
(size comparison to a tin of Altoids)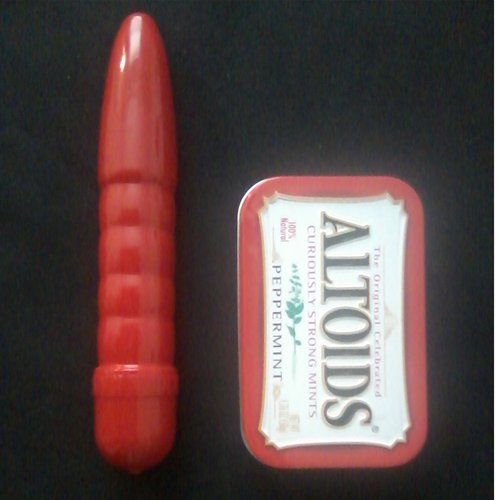 It's water-resistant thanks to a clear O-ring near the battery compartment and I have used it in both the shower and tub with no ill effects.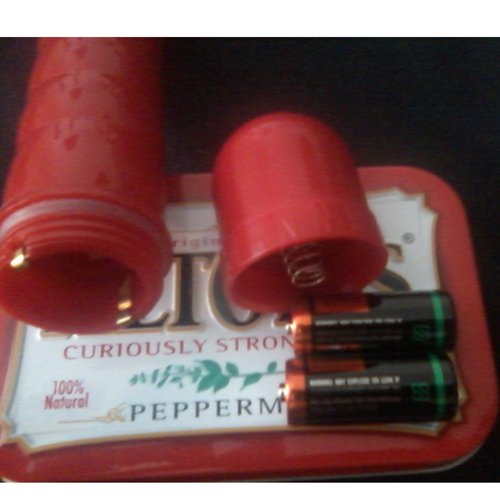 The packaging was just some recyclable clamshell-style packaging that wouldn't be great for storage nor for a discreet gift in front of family.
Experience
Unfortunately, I was unable to review this quickly as life events took over, but more importantly, how forgettable this toy is. I actually forgot I had it for a while and when I used it, it was lackluster. It did the job, but only if I wanted to put some real effort into it.

It's far too thin for me to enjoy using it internally and there's no curve at all to stimulate my rather shallow g-spot. I only used it for clitoral stimulation and a bit of exploration on my partner's thighs and neck. It's mainly a light, teasing sensation that's just fine for a warm-up.
This product was provided free of charge to the reviewer. This review is in compliance with the FTC guidelines.

Thank you for viewing
Smoothie
– traditional vibrator review page!