Willy: Make you Cum
Overall, Willy's an excellent choice. With so many features, the 10 speed vibrator makes it towards the top of my list. Despite the fact that the speed was lacking, it was enjoyable and good for multiple orgasms, which is the best testimony it could get. Mix it up by alternating the pulses and it will really spice it up and make you hot. I plan to recommend it to all my friends, so buy one for you and your friend.
Published:
Pros:
Only needs one battery,
small, cute, and discreet,
10 speeds were hot and made me cum.
Cons:
Not powerful and I just skipped over a couple of the pulses as they didn't offer much.
As soon as the package arrived in the mail, I couldn't wait to try it out. It didn't leave me disappointed. I would have to say the best thing this toy has to offer would be the variety of settings. Willy includes 10 different pulses and I'd have to say my favorite is number six and eight, surge and even step. The high speed vibration was nice but it didn't have the power behind it to back up the claim of high speed, but where it is lacking in power it makes up for simply by giving you so much choice. It only uses one battery which is great because you don't have to constantly buy more batteries which saves you money and as any girl knows the less batteries the better because you don't want to find yourself without power when you're in the mood. Plus if you use rechargeable batteries it's easier to charge and use less of your stock of rechargeable batteries.
Sensory wise it's aesthetically pleasing, or more simply put cute. The purple is a good shade and it's not too girly so your man or any man will feel comfortable using it too. As to smell, the toy is completely odorless, though prior to cleaning it can retain some of your scent. It doesn't have any real taste so it's tasteless which is good because a rubbery taste isn't great. Sound wise it's relatively discreet, about a two on the sound meter. My body reacted intensely to it, instantly making me horny. I didn't use it with other toys and it made for a great masturbatory tool. It was easy to clean. A sanitary wipe should do the job or at least it did for me. Overall I really enjoyed this toy and am extremely glad that I tried it. In my opinion, it's a great toy with only minor faults that are made up for with other features. It's made out of 100% silicone so it's semi-organic, it retains heat, is hypo-allergenic, it repels dirt and bacteria, and water works as well for lubrication.
I would recommend switching between the different modes as it makes for an interesting experience. I really enjoyed using this for solo play and I can't wait to try it out with a partner. I used it primarily for clitoral stimulation and it was great and really got me going. Once I found the rhythm that worked for me, it got me the orgasm I was trying for. The slight angle of the tip is great for lightly touching it to your clitoris for just a little stimulation or as a little tease of running it up and down your vaginal lips and lightly circling it around the hole. Just keep it upright so it barely touches you in a great way (if you haven't tried this method) to introduce foreplay into solo or partner play. The teasing method, as I like to call it, is also a nice way to make it feel realistic. If your partner is playful as many of mine have been, then I'm sure he's used the tease method on you before continuing to penetration, but either way it feels good and makes everything last a little longer either for solo or partner play. My new little friend Willy here is a great addition to any bedroom and sex toy collection.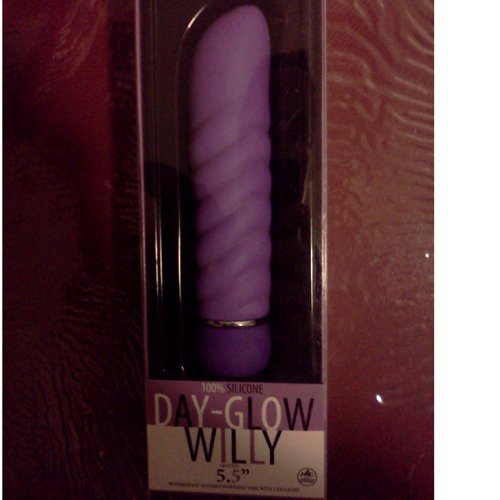 Experience
As for other intended uses in the interest of writing this review, I used it in a couple other ways in order to share my experience. As for insertion, the day glow Willy is excellent. It glides in easy enough with only light lubrication needed. Natural wetness should work, but if you have trouble producing natural lube, then just buy a little tube of lube to go with it. You can find them on here for a great price if you don't already have something in your collection. I had no problem with penetration and the ridges added for great stimulation along the vaginal walls. The slanted tip makes it easier to hit the g-spot while the pulses make stimulating it a lot easier. The vibration goes a long way towards getting you to the big bang (while you bang) and again the variety of vibes really spices things up. It got my motor running anyway.

As with any vibe, it can be used for light nipple play and feels good to tease your breasts. I haven't used it anally so I can't comment on that aspect, but based on past sexual experience and my new experience with this particular toy, I'd say that it would be a good tool. It's got a good length at 5.5 inches. Not too short, but long enough where you aren't left disappointed. To me, vibration adds to the experience so the fact that this is a vibrator should make it much more enjoyable and sometimes makes it easier. As with any anal experience, I recommend a lot of lube and to only do what you feel comfortable with. Don't let a partner push you into something that makes you uncomfortable. It's okay to say no. Remember to prepare yourself. If pain isn't your thing, then preparation is key. It won't take all the pain away but stretching yourself is always a good idea. Most of my partners employed the finger method inserting one, then two, then three before entering, which is why this type of toy would work better with a partner.

If you go it alone, it could be used by yourself as long as you position yourself to be able to get it in comfortably. On your side would work best I think. I just tried the position and without actual insertion it seemed comfortable enough and like it would be an effective way to go about it. Sorry, when using a vibrator that way I usually only go there with a partner so I'm not much help on the best way to self penetrate anally. During one of the times, I have gone solo. I did use the side method as it didn't involve too much bending and wasn't as awkward as some of the other methods. Plus, it's easier to hold it while you insert it. Get creative. Once you try Willy you'll figure out ways to make it fit your sexual personality and how you want to use it. Willy is versatile enough to accommodate anyone's taste or fantasies.
Follow-up commentary
1 month after original review
I enjoy my day glow willy frequently and to much pleasure. It might not be as powerful as some vibrators but the variety of settings and the texture make up for it. The texture is amazing; it feels so good in all the right places; it turns me on to even just rub it up and down my clit as a tease prior to turning on the vibration. As for insertion, it's just enough without being too much. If you're creative then willy is for you. At the very least it's erotic and at best it's a heck of a lot of fun; it has great build up to an orgasm especially of the stop and go variety so yes after continued use I still enjoy and highly recommend this product.
This product was provided free of charge to the reviewer. This review is in compliance with the FTC guidelines.

Thank you for viewing
Day glow willy lavender
– traditional vibrator review page!