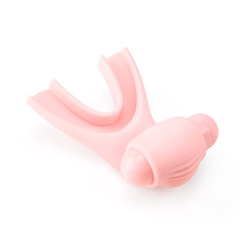 Oral sex vibro enhancer
Oral sex vibrator
by EdenFantasys
Your Teeth Will Rattle!
If you like to have sex while bursting out in laughter this is the device for you. It really will make your teeth rattle! Perfect for group sex parties that like to play games (who can hold it in their mouth the longest without laughing from the tickling!). So go ahead and try something a little different. There is nothing else like it!
Published:
Pros:
Fun
Cons:
Vibrates your teeth, tickles your lips
This vibrator fits over the teeth. You just bite down and there you go. The only problem is that the vibrations carry a little too well throughout the toy, meaning your teeth, lips, and mouth also vibrate. So, this toy is not so much a sexual enhancer as it is a fun gag or party game.

Why is it so good for a sex party? Because the person wearing it looks like, well, an insect! The bulb on the end, while providing intense pleasure to the receiver, kind of looks like a proboscis. So go ahead, share a few drinks, and get the fun started. Make it a game of pleasure and fun and see who can keep it in their mouth the longest without bursting into laughter from the tickling sensation on their lips.

Now, this does feel pretty good for the receiver. It can be used to lightly caress and vibrate the penis during oral sex or the nipples during licking. A nice addition to a sexual encounter. In addition to parties, couples who just want something a little different and love to have fun will enjoy this. They can compete with each other to see who can go down on who the longest before breaking out in a fit of tickle-induced laughter. It really is a lot of fun and an interesting twist.
The vibrations in the bullet are pretty mild. The bullet has a single speed, and the vibrations are uniform throughout it. On the teeth, it feels a lot more intense than it actually is, because well, teeth don't normally vibrate. Because the vibrations from the bullet are not intense, it is good for extremely sensitive people. The ripples on the front of the toy also provide some nice texture, but the vibrations do not carry as well through them.
The entire toy is about 3 inches long. The bullet is about an inch. It fits comfortably in the mouth and does not get in the way of oral sex (meaning there is not too much in the mouth). However, sucking while wearing this toy is close to impossible. You want to have your lovers penis or nipples over your tongue and gently caress them with both your tongue and the vibrator for the best effect.
This product was provided free of charge to the reviewer. This review is in compliance with the FTC guidelines.
Thank you for viewing
Oral sex vibro enhancer
– oral sex vibrator review page!