Spreader Bar
A spreader bar is simply a construct that keeps a submissive, or bottom, immobile. This is done by spreading either their hands or feet apart. A typical spreader bar is just a cylindrical metal piece with one cuff, either ankle or wrist, on each side. They typically look like this and sell upwards of fifty dollars: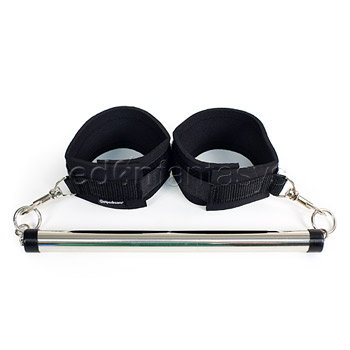 The problem with this typical product made for the "every-person" is that it doesn't fit all user's bodies. If you make your own spreader, you can measure and fit it directly to your own body, or the body of your partner. You can also decorate the bar to your own tastes; you can choose your own cuffs, your own colors, and even choose the weight that you are most comfortable with.
I prefer longer bars that actually hurt my partner and I because we have to stay in such uncomfortable positions. Our bar has detachable metal cuffs, is made of wood, and covered in black paint. If you can't afford/don't want leather cuffs, it's supremely easy to attach metal cuffs to a wooden spreader bar.
The Supplies You Will Need/How To
One 1.25" diameter dowel, cut to the length you are comfortable with. (Oak is the best wood for this, but if you choose to coat your wood in latex-based paint, the differences in woods won't be perceptible except in weight.)
Two ring hooks or ring screws. These will screw into the ends of your dowel, which should look like a short shower rod. I like this part because I feel like you can get really creative with which hooks you can use to bind your cuffs to the bar. Because I have Aslan cuffs which use silver accenting, I bought plain silver O-ring hooks, just large enough to hold a climbing hook, which is what the handcuffs will be hooked onto.
If you want your spreader bar to be semi-escapable, you will want to buy two threaded climbing hooks, which are hard for a submissive to undo. You have a ton of options for the body of your spreader bar. Personally, I like coating my wooden dowel with black liquid latex-based paint. Spreading the paint evenly with a brush will give your bar a very sexy, dungeon, PVC look and makes it easy to wipe down and clean after play. Others might prefer coating their wood with a metallic paint, or simply leaving the wood exposed.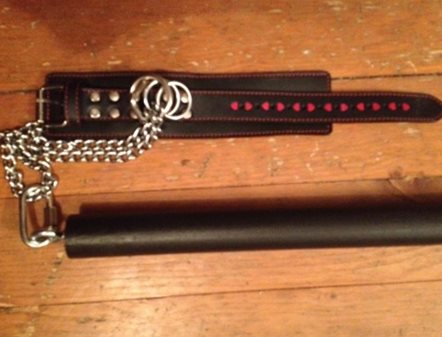 Your partner's hands won't be able to escape this spreader, and you can see how easy it would be to attach half a pair of metal cuffs, instead of fancy leather ones. Metal cuffs on EdenFantasys.com go for as low as ten dollars.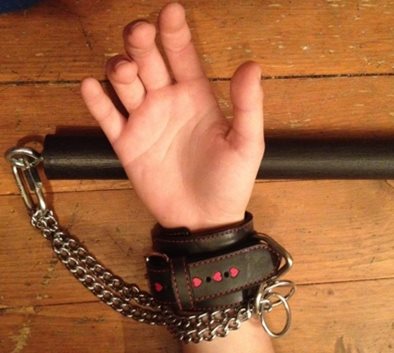 Oral Sex Stool
Sex furniture is expensive as hell, and shipping it to your house adds to that cost. Online sex stools can run up you up to two-hundred dollars, but if you make one on your own you will probably only have to spend about twenty dollars.
It's difficult to find furniture tailored to your body and some of it is just plain ugly. If you build your own sex stool, you can make it how
you
want, not how someone else imagines an addition to your sex life to look like.
The Supplies You Will Need/How To
Oral sex stools are useful for people who do not want to kneel over their partner's faces for long periods of time. They aren't hard on your knees and give your partner the perfect angle from which to kiss, lick and fuck.
You will need to either scout for a small wooden stool, by scouring yard sales or thrift shops, or go to your local hardware store and buy a plastic stool. The stool should stand at least eight inches tall. The purpose of this furniture piece is to allow a person to slip their head under the seat, but they can always be propped up with a pillow so don't worry about the stool being too tall. If the stool is too short, however, it won't work at all.
The main body of this stool should be primarily resting on a frame with four legs, and the majority of the stool's weight should be located on the outer edges, or frame, of the furniture. This is important because, although oral sex positions are called "face sitting," you don't want to literally have the stool break and have a crushed face to take care of. Some oral sex stools incorporate sadistic twists, like toilet seats. These fairly simple seats can cost as much as two-hundred and fourteen dollars. The cheapest toilet seats at Ace Hardware generally run about twenty dollars, but this step is certainly optional.
Necessities:
Wooden/metal stool
Toilet Seat (optional)
Liquid Latex
Paint Brush
Metallic Paint
Blood Play Table
If you need a table for edge BDSM play, chances are you don't want something that can't be sterilized or isn't mobile. If you don't have a table, utilize two sawhorses and a piece of plywood for a functional "operating" table. Over the plywood, drape a thick piece of painter's plastic, which comes in black, and staple the plastic down, on the underside of the table. This plastic is disposable and cheap, so rather than having to wipe down every square inch of your table, or worrying about the sanitation of your station - you can simply switch out painter's plastic between sessions.
*
Before engaging in any blood play, wipe down your station with alcohol and make sure that your makeshift table gurney/table is stable.
Homemade paddle
I have seen a ridiculously variable amount of objects used as paddles: glass cheeseboards, silicone kitchen gloves, or metal fryer pans, but right now, I simply want to discuss how to create a simple wooden paddle, what you will need, how you may want to decorate it, and what the finished project may end up looking like: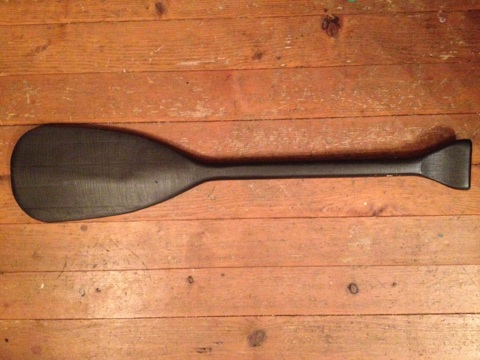 I painted mine quite intricately, with a form of Australian Aboriginal dot painting, incorporating a lizard and a roach. This paint, stippled like it is, is 3D in texture, but I don't recommend the painted side for paddling.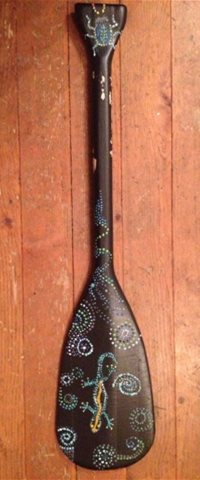 To start, I simply coated a tiny paddle I had already made with black latex-based paint. I then coated the handle with liquid plastic, which feels very similar to the texture of PVC. After painting, I used latex-based paints that you can find in any paint store, to paint on my scene. I don't recommend using the painted side of the paddle for punishment, as it may ruin your art, even though it does provide a great sensation for your bottom!
Homemade Nipple Clamps/Body Clamps
These are quite easy to make, simple to use and a lot of fun. Just dip your clothes pins in latex based paint, let dry, dip them in plastic, and let dry again.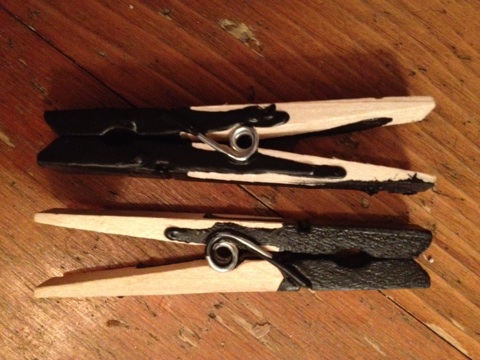 The materials are shown here: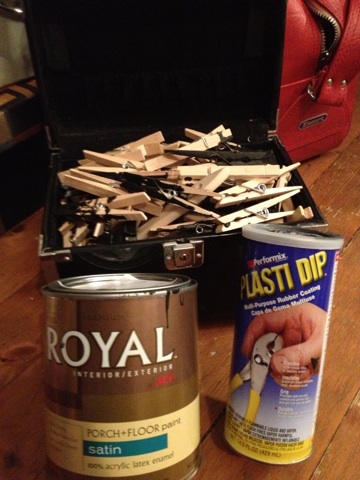 These clamps can go pretty much anywhere, and they are a lot easier to wipe down than typical clothes pins. They also won't leave you with splinters and are genuinely a great deal more comfortable on your skin.
Cane
Canes usually need to be made out of a snappy material that has a lot of give and won't snap. Cured bamboo is a great way to go. I have also heard of fiberglass and plastic, but I haven't given those a go yet. Here is my first ever cane, with a gold handle: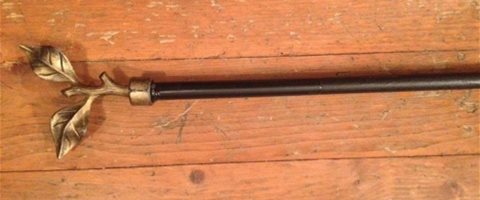 This cane was fairly simplistic to make. I coated this bamboo with latex-based black paint and dipped the handle in liquid plastic, the two necessities shown above next to the clothes pins. This cane is easy to make and just as easy to use. I suggest taking a few hard blows to a piece of furniture before using the cane in order to make sure that the bamboo isn't too brittle.