Introduction
Pet play is a BDSM activity that revolves around one person becoming an animal, and the other becoming the "owner" or "master". Pet play is a form of role-playing that causes an inevitable shift of one person into the dominant role, and one person into the submissive role. This shift is where the sexual appeal lies. When you are an "animal" or a "pet," you rely on the other person, and you give them your full trust. It also lets you be more carnal, as you do not have to act as appropriately. There is a freedom found in removing some of your humanity; you can let go of your inhibitions and break social protocol. You can just act how you want. Just to clarify, pet play typically does not have any bestiality aspect to it. The person who is the pet may have sexual acts performed with them, but the eroticism does not stem from bestiality.

So, pet play typically revolves around the person being a single type of animal. This is typically pony play, puppy play, or kitten play, but there are other variation, too, such as bunnies, wolves, and anything else a person might identify with. The most common ones I mentioned are domesticated animal, and they tend to be good animals to play as because they can be trained. Prearranged protocols exist for the domesticated animals; you can find lots of books on how to train a puppy, for example.

So, now I will talk about the various toys that can be used during pet play.
Collars -- These would typically be for puppy or kitten play. A collar is symbolic of ownership, but it also adds to the mentality of being owned, further adding to the sub/Dom dynamic. Collars are a symbol of something being controlled, of ownership, and of being property of someone else. Collars are very psychologically thrilling for many people into BDSM, and the act of putting them on can cause them to take on new personalities. You can include collars in other types of play. too, such as pony play; it just doesn't mimic "real life" as much, but role-playing is supposed to be fun and whimsical, so there are no hard and fast rules. You can buy collars that are made for BDSM play, which are often made out of leather or metal, or you could make one yourself out of rope. You can even buy one from a pet store.
Eden sells quite a few collars. Here is an example of a pink and white leather collar.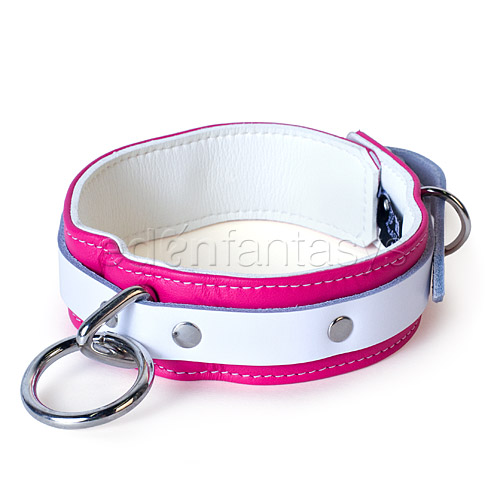 Leash/Reins -- So, if you have a collar, you could walk your pet with a leash. This just further adds to the mentality of pet play. With pony play, you can use reins, which are fairly similar to a leash. Reins just attach to two points, whereas leashes attach to one. With reins, you could attach the two points to a bit gag, or to pony headgear (mentioned later in this article). Leashes can be bought online from BDSM stores, or they can be bought from a local pet store. Leashes are often made out of leather, rope, or chain, whereas reins are normally made out of leather.
Butt Plugs -- So, there are butt plugs that have a tail attached to them, as well. These plugs go in like normal butt plugs do. They provide anal stimulation while adding to the animal role-play at the same time. There are many different types of tails; you can buy both real and faux animal tails, for instance. They can get to be pretty expensive, though, as this is quite a niche market.
Bondage mitts -- These do not need to be a pet play item, but they can be. The idea is that an animal does not have the same dexterity as we do; they cannot use their hands. So, you can place bondage mitts on the pet so they cannot have human dexterity. Bondage mitts confine the pet and force them to use their mouth, or to ask for help in order to accomplish tasks. It also prevents the pet from undoing any other bondage toys you might have them in; with their hands in mitts, it becomes difficult to remove items such as wrist cuffs, humblers, etc.
Humblers - So, what a humbler does is prevent a male from standing. If you stand, it stretches your testicles away from your body, which causes pain that prevents you from standing. This toy is used in pet play because it forces the pet to remain on all fours, preventing them from standing (which is a very human activity). It also makes them feel more helpless, forcing them to rely on their master. For example, they could not get something off the counter, so they would have to beg if they wanted it.
So, speaking of keeping a person on all fours, there are other ways. With a ball stretcher, you could use ankle and wrist cuffs, running a rope or chain through the stretcher to the other restraint (left arm to right leg, and right arm to left leg). Then, if the person stood, it would be similar to a humbler. There would not be enough slack, and the testicles would be pulled downwards, away from the body, causing pain.
Vet Wrap -- Vet wrap is actually used by vets. It adheres to itself, yet it does not stick to the skin or hair. This means that you can apply it without it being painful to remove. Vet wrap can be used for other things (such as mummification, which I will mention in another article), or just as a general bondage implement. You could also use bondage tape to tape someone like this. Bondage tape it is very similar to vet wrap; it only sticks to itself, so it is painless to remove. The other option would be to use thigh cuffs and ankle cuffs, and then just attach them together. Doing this would hold the bottom leg to the top leg, making it so that a person could only walk on their knees. This causes them to walk on all fours, much like an animal does.
Gags - So, a gag can be used to just prevent human speech. So, you can use a gag to get a more animalistic experience. The bit gag looks just like a bit that is used for horses, so it is commonly used during pony play. They also prevent speech, which is a very human characteristic
Shock collars -— Shock collars can be used in pet play, especially during pup play. Real shock collars used for dogs are often used, with the collar attached to the thigh. If the pet was "bad" and needed to be "taught," then dominant shocks the bottom. There are extra precautions though, because the heart uses electrical impulses to regulate itself along with the spinal cord. So, please read up on how to safely play with electricity before you use it.
Puppy/kitty toys -- If you are going for the whole pet experience, you could buy real dog toys and equipment. You could buy things like dog chew toys and things like that, and then have the pet play with them. Eating food out of a dog dish is something commonly seen, as well. Both real dog food or human food put in a dog dish. Anything that is actually meant for an animal can add to the mentality and mindset, making it more fun and authentic. Doing this can also solidify the Dom/sub dynamic.
Hoods -— So, a hood is something that goes over your head. There are many types of hoods; there are leather and latex ones, and then there are different styles. There are hoods meant for sensory deprivation, and there are also hoods that are meant specifically for pet play. Hoods provide both an aesthetic appeal and a controlling appeal. They cause you to look more like the animal you are mimicking, and they are also a form of bondage. They control your sight, you speech, and, in certain cases, your breath
Bondage boots -- There are boots that make walking more difficult for pet play. Hooves are commonly used for pony play, and there are also boots that are more general and for any sort of pet play. These boots make it harder to move and interact. The boots also make you look more like the animal you are trying to be. There are also hobbles, because actual hobbles are used for horses.
So, you can use as many or as few of these toys as you desire for pet play. The more you use, the more of an authentic experience you can create, but these can be expensive toys. Fundamentally though, pet play does revolve around role-playing. It is about creating a sub/dom dynamic, and these toys are not needed to create it. You could role-play without any of the toys, for instance. Pet play has lots of behavioral aspects to it, which can be fun. So, if you have a puppy, you might need to train him to use the bathroom, take him on walks, play fetch with him, or even have him lick you a lot. Really, you can take on the behaviors and tasks associated with the animal. So, in pony play, ponies often pull carts, till the ground, or are taught to trot and run properly.
If you want photos of any of the toys, I suggest you Google them. There are lots of photos of these toys, and having photos might make it easier for you to properly visualize the text.
As always, if you have any questions about this type of role-playing, feel free to ask in the comments and I will respond when I can.