Bengali director Q and actress Rii have emerged as a creative force to be reckoned with in Indian cinema and society. Romantically involved in real life, the couple is the brain trust behind two recent and controversial films that made their way onto the big screen at international festivals and caused the industry to sit up and take notice.
The dark and disturbing
Bishh
(translated as "poison") is a stylistically gritty narrative feature film that follows three young women over the course of one night in Kolkata, India. Jilted and jaded, the friends make a pact at the start of the evening to take revenge on men by having a contest to see which of them can have sex with the most men for money in a 24-hour period. The events that transpire include prostitution, S&M, queer sex, HIV, and snuff porn—not exactly the vision of India that readily comes to an American mind.
The more current release,
Love in India
, is a significant departure from
Bishh
, although there are some recurring elements. The aesthetically interesting documentary explores the tensions of traditional Indian ideals of love and sex in a rapidly changing urban environment. Q and Rii's own unconventional relationship binds the narrative together, and I spoke to the pair about their inspiration and intention for these recent projects.
Although they appear quite different on the surface, all the films you've made so far have similar themes—sex, desire, relationships, taboos—and push the boundaries of what is acceptable in Indian cinema. Why do you choose to make films about these contentious topics?
Q:
Bishh
was an attempt to break some of the rules we have in Bengali cinema, particularly the boundaries of womanhood and how far women are allowed to go. Although we were constrained by time—we had only 10 days to write, shoot, edit, and finish the film, which left us very little space to delve into the issues we feel very close to—we tried to get as close as possible to the central focus of our work: sexuality from the point of view of women. The other issues are incidental since female sexuality in the Indian context immediately connects to taboo, repression, and the curious perversions of desire.
Rii: We make films about these topics because there is an absence of any strong dialogue on this subject in Indian cinema. Cinema in most parts of this country, barring the occasional south Indian film, is bereft of the extreme. With its self-importance, its lust for the sheen, and essential hypocrisy, our cinema is pure middle class.
Despite the title, Love in India is more about sex than love. Do you think the exploration of sex on film is changing Indian society?
Q: Sometimes we feel
Love in India
is entirely about sex. (Laughs.) Ideas about sex are shifting rapidly in India, especially in urban India where globalization and a high density youth population are pushing old ideas out. However, this new sexuality has, in its core, a deep sense of confusion. Hundreds of years of moral policing and patriarchal practice has successfully transformed sex from an organic bodily action to a highly transgressive social action.
Also, the sudden boom of public sexual thought is due to an overdose of sexuality in our popular culture. Every other ad or film has suggestions of subversive sexuality that are embedded in a young mind. Change is great, but right now, the idea that alarms us is that sex is increasingly being equated with money.
The film points out how contradictory the messages are about sex and love in India. What is the effect of so many conflicting messages?
Rii: India is the land of contradictions. This is true for almost anything you can see, not only sexuality. The differences of opinion about sexuality between men and women are huge, as the two genders grow up completely detached from each other. Also, there is little opportunity for an Indian boy or girl to know about their sexuality, and perhaps more importantly, that of the other gender. This inevitably leads to a tremendous gap between men and women, and that plays out in the messages.
Rii's final scene in Bishh were quite disturbing, and there were times in Love in India where a similar kind of violence was present. What do you want viewers to take from these moments in your films?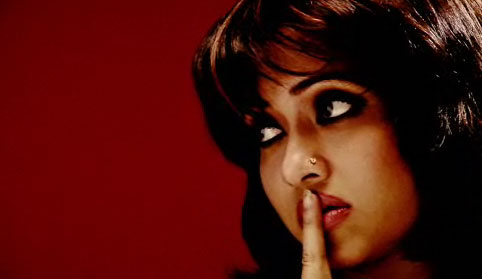 Bishh
Q: That we don't have a notion of how to behave when we are in love. Love is what we experience from external influences that surround us, and what surrounds us is a veil of morality. Through cinema, advertising, and popular culture, we have been exposed to a culture of excess, but we live in a time when repression is rampant. Love is not the priority of society. It is a shield, a fantasy to deflect the harshness of reality.
The violence you feel in both
Bishh
and
Love in India
are brief reflections of our society, where these images and sounds of repression is a part of everyday reality. However, as a society, we refuse to confront these images. Through our films, we want to confront the viewer with the images of an alternate India, far removed from the romantic trappings of the established media image.
Homosexuality was in integral to the plot of Bishh's, but it is not so blatant in Love in India. What was the impetus for that choice?
Rii: For us, there is an alternate sexuality moment in
Love in India
. It comes when the little boys,
gotipuas
, are dressing up, and is intercut with [my character] dressing up as well. This is part of the elaborate ritual of
shringaar
, which is the sexual rasa of meeting one's lover. It is meant to celebrate beauty and understand the idea of the feminine existing within every being. In
Bishh
, there was space to explore a socially categorized homosexual encounter. In
Love in India
, the protagonist was Krishna, who dressed up as a woman every now and then and made love with Radha, who played the man. We do the same in our relationship.
We are not arguing that you cannot categorize sexuality, but for us, it has never been a walled issue. Sex is fluid, like a river. It's not a stone. The river can take any shape, and the idea is the flow, not the form.
You are in a relationship that many Indians, and some Americans, find objectionable because you are unmarried, live together, and (one assumes) have sex. Why have you chosen an untraditional path?
Q: Unmarried, yes. Living together, yes. Having sex, of course! Super sex!
Rii: We can't say we have been accepted by our immediate family, although since we have lived together for quite some time, people have become more flexible. Acceptability has a lot to do with time, that's what we have learned.
Q: The question here is: Why is there a need to be accepted by everyone? Peace and happiness are personal issues, and society, more often than not, doesn't play a role. We don't feel like ground breakers because the ground has been broken many times, and it will be broken again and again. We simply exist and try to be happy, which is quite a task in itself. The non-traditional path is, most importantly, far cooler and interesting than the traditional. That was an easy choice.