Go to buy a piece of luggage and you might be under the impression that Goths are the only people who like to go places. Same goes for the fetish department of any adult store. Certainly black is hot—it's sexy and kind of goes with the kinky territory. But it can also be a bit of a deterrent for newbies for whom, thanks to media stereotypes, black leather may have scary connotations. While being tied up and tortured adds shock value to mainstream cinematic fare (Bruce Willis, ball gag, anyone?), in real life, it's more likely you'd be tied up and lovingly kissed by your partner until you have-to-have-them-right-THIS-very-second-or-you'll-s'plode. (The only scary thing about that might be the subsequent orgasmic scream that wakes the neighbors.)
Certainly you can find vibrators in
more styles
than you can find handbags these days. But what if adult product companies didn't just go a little upmarket, but way-the-hell upmarket, paying homage to consumer darlings from Martha Stewart to Ikea? Dollars to donuts a helluva lot more people would try out bondage sheets if they came from Tommy Hilfiger, or strap-ons courtesy of Crate & Barrel.
Speaking as someone who thinks it wouldn't have killed God to do a few plants in Burberry, I believe there should be sex paraphernalia for people who are more at home at Macy's than Hot Topic. And so we present SexIs' "If Only…" Adult Entertainment Catalog for Quality Kink that even Charlotte York might appreciate.
(Note: Do not attempt to order the following items. They DO NOT exist… at least, not yet.)
Tommy Hilfiger Bondage Sheet
Now you can really get off on Tommy. This 400,000-thread-count Egyptian cotton sheet, (modeled after the
Sportsheets bondage bed sheet
) has four Velcro pads for secure wrist restraints, and leg restraints in matching navy blue, emblazoned with the Tommy logo. If you're already a label slave, you might as well really get to enjoy it. Spray some Polo around the room, wear a blindfold and imagine your lover is someone much hotter from the Abercrombie & Fitch catalog.
Crate & Barrel Strap-On Set
This dong is 100 percent medical-grade silicone with a Japanese raku faux finish and basil green silk harness. It would be beautiful enough to display as art—if it hadn't been up your boyfriend's ass. Dishwasher safe (the strap-on… not your boyfriend's ass).
Pier 1 Imports Sex Sling
Made from 100 percent cotton, traditional hand-woven Guatemalan fabric—and not half as itchy as it looks. Hangs from the ceiling via hand-woven jute ropes, and comes with lamb's wool stirrups and wrist restraints, so that you can be bound in eco-friendly comfort. Indoor/outdoor fabric allows open-air sex. (Caution: If you're going to use it outside, hang out of view from the neighbors. Nothing says buzz kill more succinctly than having the cops harsh your party.)
Ikea Teddy
Genuine birch finish makes you look just comfortingly like a nice, clean CD rack, bookcase or other object people want to put things in.
Izod Corset
Who says a corset can't have a collar and short sleeves? A schoolgirl outfit without the plaid skirt, it's a perfectly tight polo for a perfectly tight young lady. Student council membership and secret coke habit not included.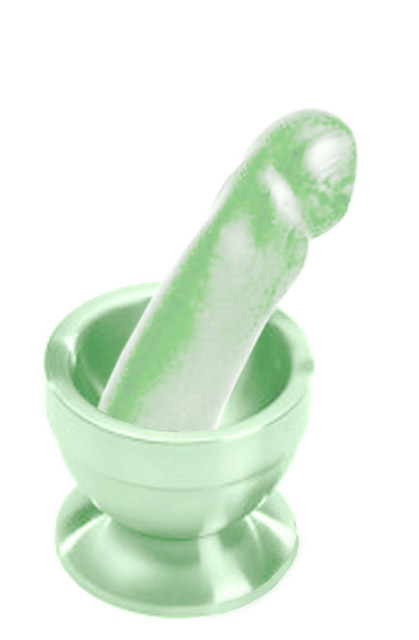 Martha Stewart Depression Glass Pestle Dildo
Depression-era glass is the epitome of simple good taste, its soft green color reminding one of fresh grass, spring blooms and newly minted money. Soak it in warm water for a few minutes and it will be guaranteed to help relax even the tightest crevices. Comes with a hand-carved, green marble mortar for display purposes. Your guests will never give a second thought as to what it really is, plus the time you'll save looking for hiding places is time you can spend using your nipple clamps to pull weeds out of your window box herb garden.
Coach Blindfold
With Coach products you don't see much but the logo anyway, so having a blindfold on shouldn't make a huge difference. Advisable to put on product before looking at the price tag. Warning: Looking at price tag may cause non-auto-erotic-asphyxiation.
Combination Sundial/Cat Feeder/Butt Plug from Sky Mall
Sky Mall is the apex of spiffy gadgets, and we love the kind that come in disguise. Sundials are one of those quaint, decorative antiquities that look great in the yard of anyone who can't afford to fly first class. The nodus, made from medical-grade silicone in an attractive verdigris faux finish can be used as a butt plug (just make sure to detach it first). But wait! There's MORE! The ball opens up to reveal a cat feeder that can be set on a timer to provide for your pussy twice daily—once in the morning, once in the evening—for the weeks when you're on a jet-setting jaunt and have no one to tend to Mr. Tiddles. (Oh, come on…we both know you don't travel enough to need a fucking automatic cat feeder.)
Williams-Sonoma Orange Apricot Marmalade Body Paint
Comes with several brushes, so you can achieve anything from an impasto finish to a Pointillist masterpiece. This delicious blend of fruits, hand-preserved the old-fashioned way, will bring you right back to grandmother's kitchen, because that's what you want to be thinking about when you're licking someone's hairy nipples.
Mmm, Grandma
.
Pottery Barn Sex Accessory Organizer
Hardwood rack lets you store the things you use when hard wood is not available. Holds a dozen dildos, three month's worth of condoms, and has refrigerated compartment for brie-flavored edible panties by Dean & Deluca.
Caswell-Massey's Blackberry Almond Edible Underwear
Because your partner would be better if he was a pie. Also, excellent on scones.
J Crew Masturbator Sleeve
Fabulously soft, inviting and snug, this elastomer sleeve is a relationship that works: You come in it, and it comes in six shades of plaid.
Laura Ashley Inflatable Sex Pillow with Floral Linen Cover
You can be a pervert without having your home textiles announce it to the whole world. This positioning pillow is available in peony on pastel yellow, poppies on pastel green, petunias on pastel blue, and primrose on pastel pink (busy prints camouflage those telltale stains until your cleaning woman arrives).
Museum of Television Gift Shop Good Girl Sex Dolls
There are tons of sex toys out there for guys who are looking to get it on with a porn star, or just with a porn star's vagina, mouth or booty, but what about a guy who just wants a nice girl? Introducing Good Girl Sex Dolls, high quality, realistic-feeling "ladies" designed to look like the nice girls of your dreams from '50s classics to HDTV. Choose from the following character models: June Cleaver, Our Miss Brooks, Julia (as portrayed by Diahann Carroll; Julia Child is out of stock), Charlotte York, Dr. Quinn, Mary Richards, Emma Pillsbury, Gidget, Ann Marie (
That Girl
), and many more. Heavy, unrevealing clothing and white floor-length eyelet nightie included.